Hanukkah recipe: Bulgur latkes with pomegranate sauce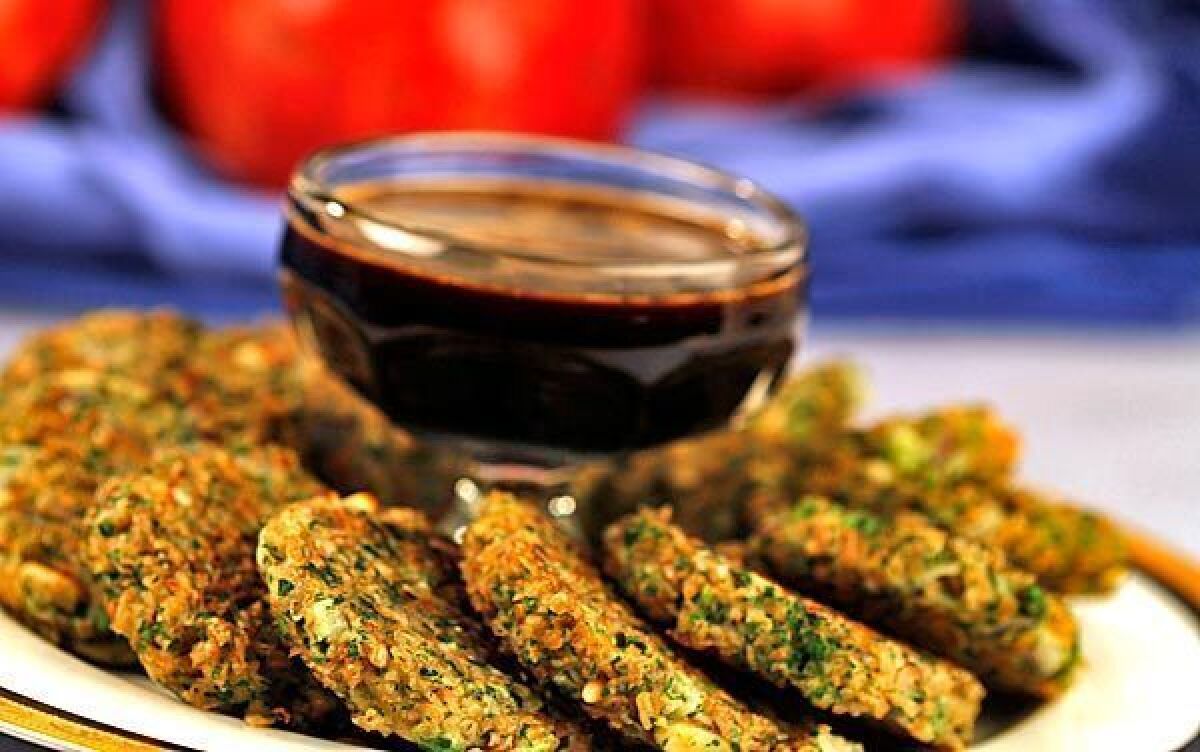 Potato latkes are traditional for Hanukkah, but cookbook writer Phyllis Glazer points out that in the Middle East, where the holiday began, potatoes were unknown before the time of Columbus. Enter the bulgur latke, made with soaked wheat, which would have been found in abundance.
Bulgur latkes with pomegranate sauce is one of the favorite holiday recipes we've collected in our "Los Angeles Times Holiday Handbook." The book shares more than 110 seasonal recipes to help you celebrate Thanksgiving, Hanukkah, Christmas and New Year's. We've also updated last year's "Los Angeles Times Holiday Cookies," so it now includes 65 recipes from a wide range of sources, including world-famous pastry chefs and home cooks.
Each book is $4.99. They are available at the Los Angeles Times bookstore for Kindle, Nook and iBooks.
ALSO:
Mac 'n' cheese recipes galore!
Go behind the scenes at the L.A. Times Test Kitchen
You can find Noelle Carter on Facebook, Google+, Twitter and Pinterest. Email Noelle at noelle.carter@latimes.com.
Bulgur latkes with pomegranate sauce
Total time: 45 minutes, plus soaking time for the bulgar
Servings: 6 to 8
Note: Bulgur can be found at cooking supply stores, as well as select well-stocked markets. Pomegranate concentrate can be found at Middle Eastern stores and select well-stocked markets.
1 cup fine bulgur
1 1/2 cups plus 1/3 cup cold water, divided
1/2 cup chopped Italian parsley leaves (or half parsley, half cilantro), plus extra for garnish (optional)
1/4 cup toasted pine nuts or chopped walnuts
1/2 cup chopped red onion
1 green onion, chopped
1 egg, lightly beaten
3 tablespoons unbleached all-purpose white or whole wheat flour
Salt and pepper
1/3 cup pomegranate concentrate
1/3 cup maple or agave syrup
3 tablespoons olive oil, for frying
1. Place the bulgur in a bowl and pour over 1 1/2 cups water. Cover and set aside until completely tender and the water is absorbed, about 1 hour (the bulgar can also be soaked the night before in a covered bowl). Fluff with a fork.
2. Add the parsley, pine nuts, red onion and green onion and mix well with a fork. Mix in the egg and flour and knead the mixture with one hand until it sticks together easily. Season with salt and pepper. Add another tablespoon or two of flour if necessary and knead well.
3. Put a bowl of cold water near the work surface. Dip your hands in the water, take a bit of the mixture and roll it between your hands to form a ball approximately 1 1/2 inches in diameter. Flatten into a 2-inch patty. Repeat with the rest of the mixture and place the shaped patties on a piece of parchment paper. This makes about 1 1/2 dozen latkes. (May be prepared in advance: Cover uncooked latkes with plastic wrap and chill. Remove from refrigerator 10 minutes before frying).
4. Heat the oil in a large nonstick frying pan over medium-low heat and add the latkes (you may have to do this in two batches). Fry on both sides until golden brown, about 2 minutes per side, raising the heat to medium and adding an additional teaspoon of olive oil if necessary. Transfer to a serving dish.
5. Make the pomegranate sauce: Place the remaining one-third cup water, pomegranate concentrate and maple syrup into a screw-top jar and shake. Bring to a boil in the same frying pan in which the latkes were cooked, then reduce the heat to a gentle simmer and continue to cook until the sauce begins to thicken, about 3 minutes. Remove from heat and serve immediately with the latkes, topped with additional parsley or cilantro if desired.
Each of 8 servings: 220 calories; 4 grams protein; 32 grams carbohydrates; 4 grams fiber; 9 grams fat; 1 gram saturated fat; 26 mg cholesterol; 13 grams sugar; 16 mg sodium.
---
Get our L.A. Goes Out newsletter, with the week's best events, to help you explore and experience our city.
You may occasionally receive promotional content from the Los Angeles Times.