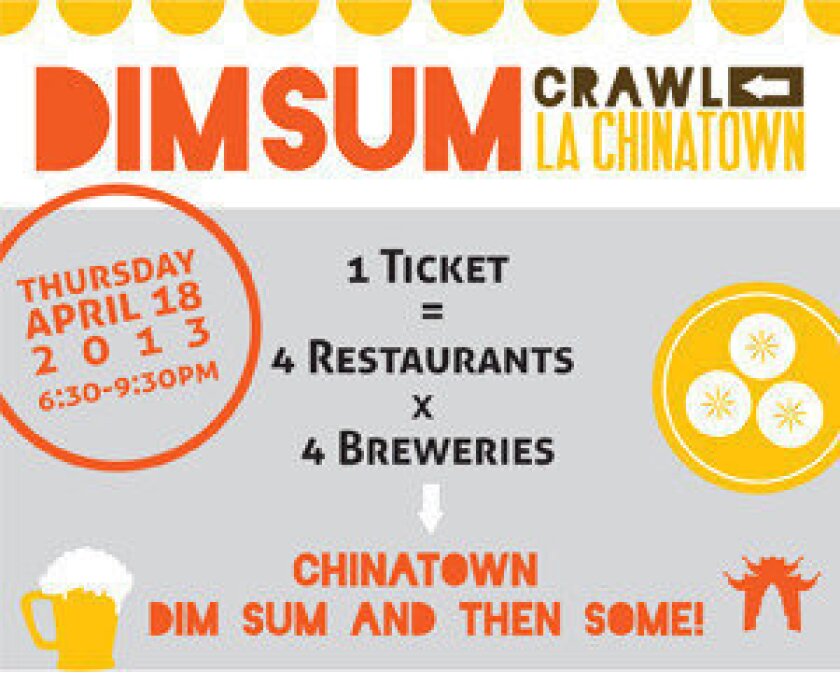 Dim Sum Crawl: Chinatown's Dim Sum Crawl is scheduled to take place on April 18 from 6:30 to 9:30 p.m. The crawl will include dim sum from four different restaurants, including Empress Pavilion, Mandarin Chateau, Hop Woo and Plum Tree Inn, and beer pairings which will be provided by local breweries. Tickets, available online, purchased before Sunday are $50 per person and after that will be sold for $60 per person. www.chinatownla.ticketbud.com/dimsumcrawl.
Eagle Rock Brewery dinner at Muddy Leek: On Wednesday, Chef Whitney Flood of Muddy Leek in Culver City is teaming up with Eagle Rock Brewery for a five-course tasting menu to be paired with the brewery's craft beers. Tickets are $65 per person. Call for reservations and menu details. 8631 Washington Blvd., Culver City, (310) 838-2281, www.muddyleek.com.
Mignon's winemaker dinner: Mignon in downtown L.A. will be hosting a four-course, market-inspired dinner on Thursday featuring wines from Austrian winemaker Ilse Geyerhof's winery. Menu items will include charcuterie, a market salad, a to-be-determined entree and cheese course. There will be two seatings offered throughout the evening, at 6:30 and 8:30 p.m. Tickets are $45 per person. Call for reservations. 128 E. 6th St., L.A., (213) 489-0131, www.mignonla.com.
ALSO:
Culinary SOS: Brown butter cookies
5 Questions for Crossroads' Tal Ronnen
---