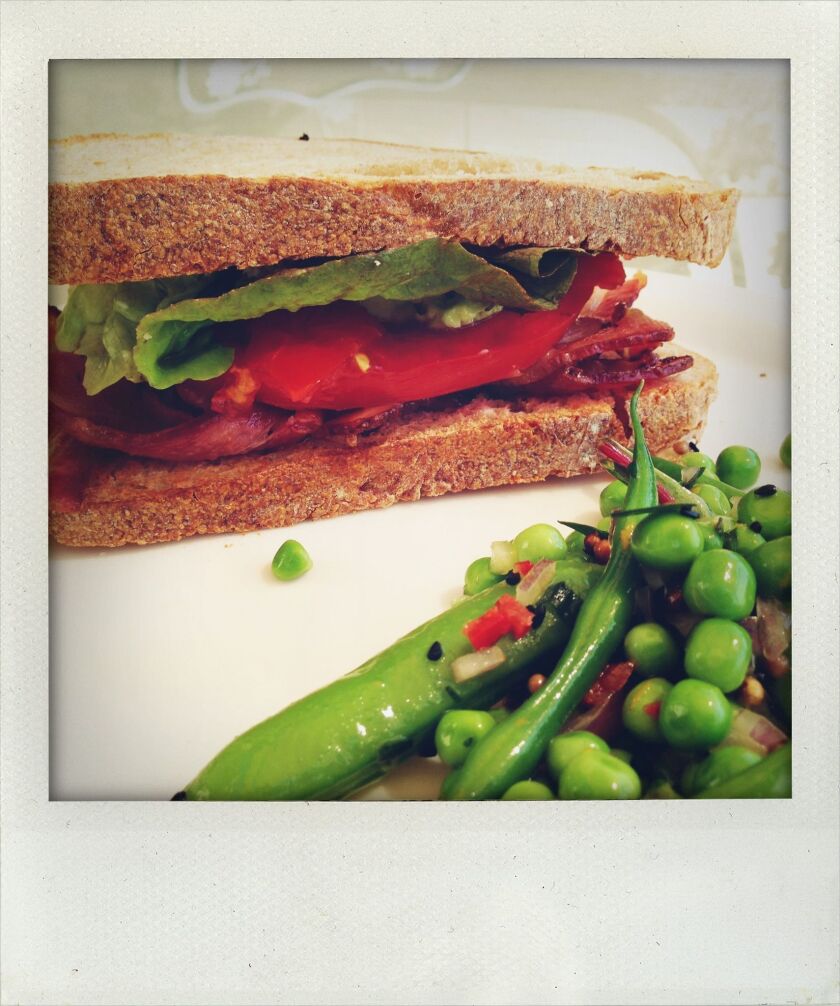 The first BLT of the season is always a moment to celebrate. Pick a sunny day. Get yourself some good tomatoes (I know, I know, they're not at their height yet, but do what you can). My friend Dan found his giant beefsteak tomatoes from a farm stand in the valley.
Then you need a loaf of dense-textured bread (I used Acme Bread Company's classic pain au levain, which a visiting friend had brought me from Berkeley). No pre-sliced loaves, please, or anything too squishy. Do your best.
Fry up some bacon. We used Nueske's applewood-smoked bacon. Get yourself some leaf lettuce from the farmers market. Maybe a ripe avocado, too.
Dan rubs his bread with tomato before putting the sandwich together to give it a more emphatic tomato flavor. Spread with Best Foods or homemade mayo.
Assemble and eat, tomato juice spurting into the bread, the avocado mashing into the crisp bacon, all the flavors melding together. The taste of summer, early.
To drink: a white wine. Nothing too serious, but not too delicate either. I went with an Arneis from Giovanni Almondo. He makes a regular cuvée of the indigenous Piemontese white grape, but also a much richer, aromatic "Bricco delle Ciliegie." That was the wine and it had the stuff to stand up to the tomato and bacon.
ALSO:
What beers go with Dodger dogs?
Ga pao! Sticky Rice is open downtown
Jonathan Gold knows flowers, do you?
Twitter.com/sirenevirbila
---