Cochon 555 makes its way to L.A. on May 5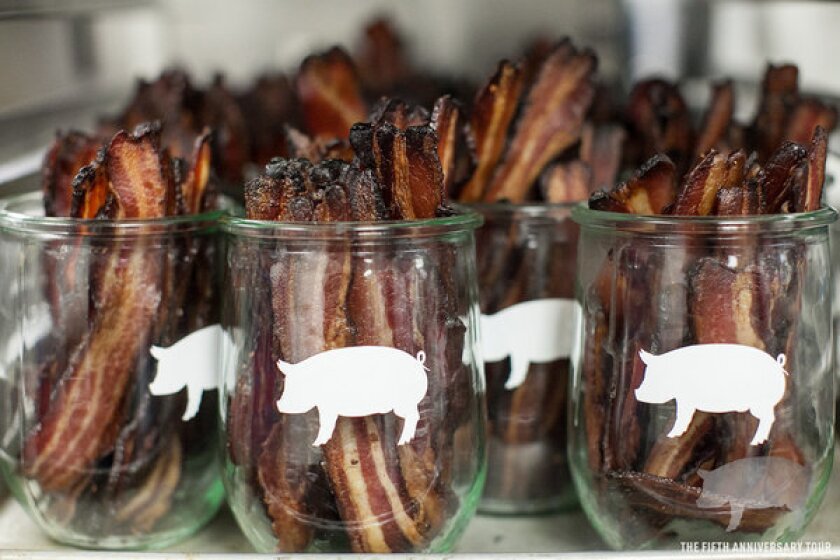 The "five chefs, five pigs and five winemakers" culinary competition known as Cochon 555 will be making its way to Los Angeles next month where chefs will vie for a shot at the Prince or Princess of Pork title at the House of Blues in West Hollywood. It takes place on May 5 (that would be 5/5).
Now in its fifth year, Cochon 555 is a culinary competition promoting sustainable pig farming through its 10-city tour. Competing local chefs -- in L.A.'s case, Joshua Whigham of Bazaar by José Andrés, Gavin Lansdale of Ford's Filling Station, Ray Garcia of FIG Restaurant, Jet Tila of the Charleston and Sean Dent of House of Blues -- prepare a menu using a whole hog from snout-to-tail in an effort to win the votes and appetites of the event's audience and 20 judges, including our Food editor Russ Parsons. Regional winners from each city will go on to compete at the Grand Cochon finale on June 16 at the Food & Wine Classic in Aspen.
To celebrate five years, the L.A. event will also feature a barbecue-style family meal prepared by Chris Fuller of Alleghany Meats and Christian Page of Short Order, a bourbon tasting, craft cheese bar, butcher demonstration by the ladies from Lindy & Grundy and a Cinco de Mayo after-party.
Tickets are $125 per person for general admission or $200 per person for VIP privileges, which include early access and special tastings, and can be purchased online.
ALSO:
Sharing food photos: Make that dish look as good as it tastes
---
Get our weekly Tasting Notes newsletter for reviews, news and more.
You may occasionally receive promotional content from the Los Angeles Times.