Recipe: Deviled oysters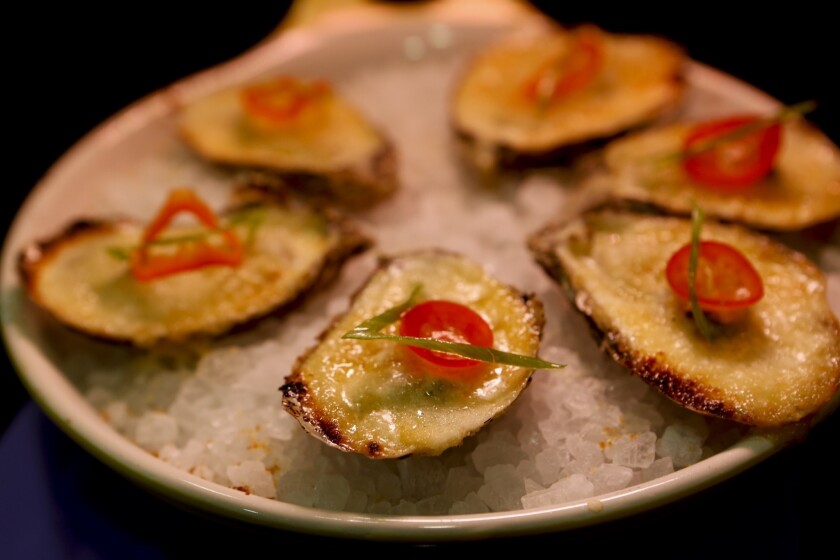 30 minutes, plus cooling time. 24 oysters
2 tablespoons (generous 1 ounce) butter, divided, plus melted butter for drizzling over the oysters before baking
Scant ¼ cup (scant 1 ounce) thinly sliced shallots
1/2 teaspoon dry English mustard powder
1/4 cup plus 1 tablespoon (2½ ounces) white wine
Scant 2½ teaspoons (1/3 ounce) fresh-squeezed lemon juice
1/2 cup (4 ounces) heavy cream
1 1/2 tablespoons (1 ounce) Dijon mustard
About 1/8 teaspoon sea salt
24 medium oysters, preferably East Coast oysters with a deep cup, such as Naked Cowboys, Malpeque, Beau Soliel or Wellfleet
1/4 cup fresh white bread crumbs
24 slices green onion, green parts only (cut on a bias as thin as you can, hold them in ice water)
24 slices red jalapeño (cut paper thin, hold them in ice water)
1. Melt 1 tablespoon plus 1 teaspoon butter in a small, stainless pan over medium-low heat. Add the shallots and cook them until translucent but without browning, about 3 minutes. Add the mustard powder and cook for an additional minute, then add the white wine and lemon juice, scraping any flavoring from the base of the pan. Reduce the liquid by half. Remove from heat and strain through a fine mesh sieve, pressing the shallots with the back of a spoon or spatula to squeeze out any additional liquid.
2. Place the reduction back over medium heat and add the cream. Reduce by almost half, 2 to 3 minutes, stirring constantly, then remove from the heat. Whisk the Dijon mustard into the reduction, and add the remaining 2 teaspoons butter and salt. Taste and adjust the seasoning if needed. Strain the sauce once again and cool the sauce in an ice bath if you are not using it immediately. The sauce can be made up to 1 day ahead, covered and refrigerated.
3. Before finishing the dish, heat the oven to 350 degrees. Shuck the oysters and place them on a bed of rock salt in an oven-proof dish. Be sure the oysters lay flat in the dish so you don't lose any of their liquor. Warm the sauce gently on the stove. (To lighten the consistency of the warm sauce, pulse the sauce with an immersion blender a few times or whisk vigorously before spooning over the oysters.)
4. Spoon enough sauce over each oyster to fill the shell completely. Sprinkle each oyster with fresh bread crumbs and then drizzle each oyster with a little melted butter. Bake the oysters for 3 minutes, then finish them under the broiler to brown them. The bread crumbs should be golden brown and the sauce should be bubbling. Top each oyster with a very thin slice of scallion green and a thin slice of red jalapeño. Serve immediately.
EACH OYSTER
Calories 41
Protein 1 gram
Carbohydrates 2 grams
Fiber 0
Fat 3 grams
Saturated fat 2 grams
Cholesterol 13 mg
Sugar 0
Sodium 63 mg
---
Get our weekly Tasting Notes newsletter for reviews, news and more.
You may occasionally receive promotional content from the Los Angeles Times.