Meal plan with some of the best Italian food from The Times' 101
Antico
When word of dining room closures came down from Sacramento in March, Chad Colby didn't hesitate: He veered right away from the handkerchief pasta draping beef cheek-veal tongue Bolognese and the lamb shoulder chop flecked with pistachios and mint he'd been serving in the restaurant. Converting a plancha into a makeshift oven, he began baking focaccia-pizza hybrids big enough to feed a family of four. The flatbread may be Italian in notion, but the ingredients that crown Colby's summon the neighborhood American pizzeria: pineapple, bacon, pickled jalapeño; a pork fest of a meat lover's riff; a supreme pizza that actually earns that distinction. For dessert, there is arguably the finest ice cream made in Los Angeles. Chef de cuisine and pastry chef Brad Ray deserves credit for the intense, improbably smooth creations. Honeycomb and cookies and cream have become standards in his repertoire, but scan the takeout menu for simple-seeming variations, such as strawberry or nectarine, spun with fruit from California's best orchards. They are wonders that freeze the season.
More Info
Birdie G's
Couldn't we all use a big bowl of matzo ball soup right about now? Jeremy Fox makes the one to beat. The matzo sphere is almost pudding-like; it sits in a moat of concentrated chicken broth sparkling with dill and undulating with sneaky umami from carrot miso. Other dishes that hearken to Fox's Jewish heritage, including apple-y noodle kugel and a clever corned brisket platter, bring similar solace. Birdie G's menu as a whole reads like Fox's autobiography: His Midwestern upbringing and Californian awakening converge in the mesmerizing relish tray with five-onion dip.
More Info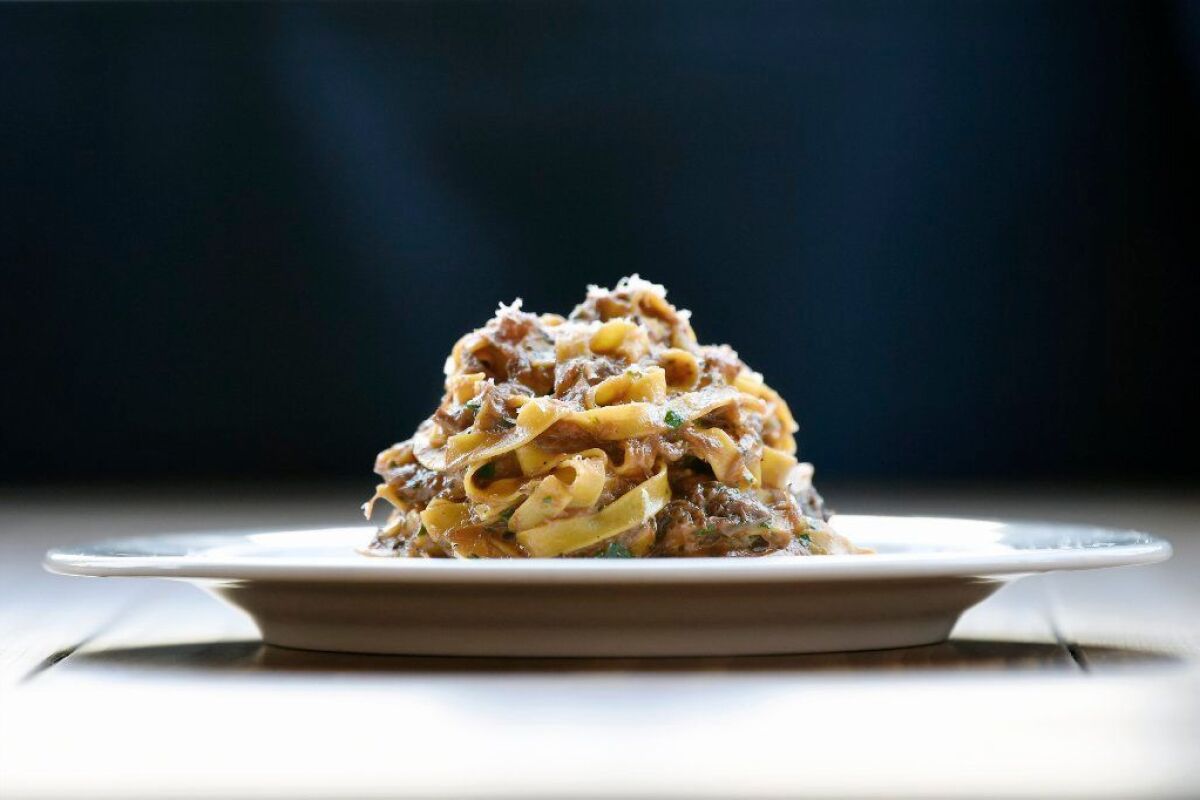 Hippo
Highland Park
Italian
$$$
Hippo won a new level of devotion from me during the darkest days of the spring quarantine. A delivery order I'd placed from the Highland Park restaurant included fettuccine with pork ragù. The strands sprang from a small container like a dozen clowns climbing out of a compact car; they mystically filled a bowl, precisely al dente and almost too hot to eat. A truly stellar experience with takeout pasta is rare, though Matt Molina is one of the city's deftest masters of the genre.
More Info
Pizzana
Los Angeles has needed all shapes and styles of pizza to see us through. Daniele Uditi comes from a family of bakers in Naples, Italy; in California, he finds the optimum point between tradition and innovation. His pizza-topping combinations that riff off of pasta sauces — the cacio e pepe being the hardest to resist — have become part of the local canon, deservingly. Looking at the takeout menu, I laughed out loud at the pie nicknamed Sacrilegio, crowned with roasted pork, cubed Spam, jalapeños, smoked fior di latte cheese and a side of pineapple jam to dollop on top. Wit and humor will sustain us. (The sacrilege was delicious too.)
More Info
Rossoblu
Downtown L.A.
Italian
$$$
Chef Steve Samson's most revered dishes include exemplary tortelloni stuffed with ricotta and chard; ribbon-smooth tagliatelle served in a Bolognese sauce, more meaty than saucy; and down-home minestra nel sacco, plump, squarish dumplings in fortifying chicken broth. The restaurant focused its efforts on carryout meals this year, affordable, sophisticated, seven-course dinners packed with Rossoblu hits. Recently there were tiny coal-roasted turnips salted with bottarga; lamb meatballs with ricotta; and potato and cheese raviolini tossed in butter, thyme and Parmigiano, its richness lovely and fathomless. Even in dark times, Rossoblu knows how to feed us well.
More Info
Get our L.A. Goes Out newsletter, with the week's best events, to help you explore and experience our city.
You may occasionally receive promotional content from the Los Angeles Times.