Mother-daughter duo cook side-by-side at Belizean pop-up No Reservation L.A.
Dorla McKenzie thought she had retired from professional cooking. It took her 29-year-old daughter, Tina, to coax her back into the kitchen.
Now you'll find the duo cooking side-by-side under pounding dancehall music and a colorful wall menu at No Reservation L.A., their late-night, weekends-only Caribbean soul food pop-up at Annie's Soul Delicious in Little Ethiopia.
Dorla came to Los Angeles from Belize City in 1970. In 1982, she opened McKenzie's Restaurant alongside her husband's South L.A. auto body shop; she claims it was L.A.'s first Belizean restaurant.
After closing the business in 1983 following a family emergency, the couple sold their equipment to Joan & Sisters, still among L.A.'s best-known ambassadors of Belizean cuisine.
While there's a sizable Belizean population in L.A., its cooking and customs are still unfamiliar to many Angelenos.
"We've had this invisibility cloak for a long time," Tina said. "This is our way of putting Belize — not just the food but the culture — on the map."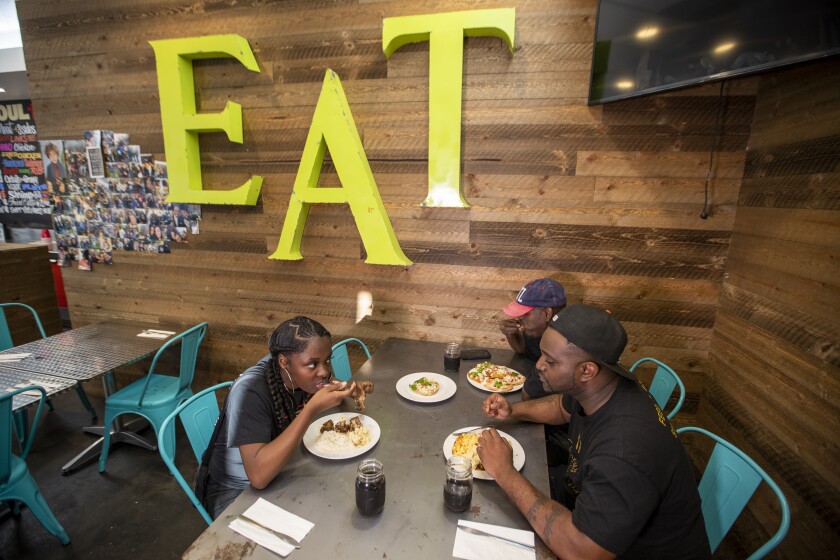 No Reservation's focus swings toward the coastal cooking of Dangriga, where Tina's father is from. The southern city is the cradle of the Garifuna, a culture born from the intermarriage of indigenous Caribbeans with West Africans who escaped slavery through a shipwreck on St. Vincent. The many cultures that comprise Belize's population, including Mayan, Creole, Mestizo and Caribbean influences, are reflected in the cooking.
Start with the Griga Sampler, a sextet of handheld snacks made with fresh masa, including salmon-stuffed panades, or empanadas; tostada-like garnaches smeared with refried beans; and salbutes, light, fried discs of dough dyed red with achiote paste known as recado, then topped with chicken, sprinkled Parmesan and a scattering of lightly pickled cabbage, onion, tomato and bell pepper that Belizeans call "onion sauce."
This same condiment provides acidic counterpunch to a whole tilapia, offered grilled or fried, its earthy flesh easily parting from a grid of bones. Oxtails are cooked for five hours in coconut oil and fresh herbs after marinating in paprika and recado, rendering the tough cuts into slightly sticky, strikingly tender hunks of beef in a pool of natural gravy and red beans. Oxtail is also available in tacos that, although not alien to northern Belize, are a nod to L.A.
"With my cooking, I'm transforming my Belizean heritage with my Los Angeles roots," Tina says.
Seafood plays a prominent role, with dishes such as lemon pepper crab legs, baked salmon, crab soup and battered shrimp. Sides include sweet corn tamales known as dukunu, lobster fritters and fried okra, one of many vegetable-centric bites.
Mother and daughter sometimes materialize out of the kitchen to let tables sample something, maybe the coconut white rice or a bread pudding that derives from Belize's colonial British past.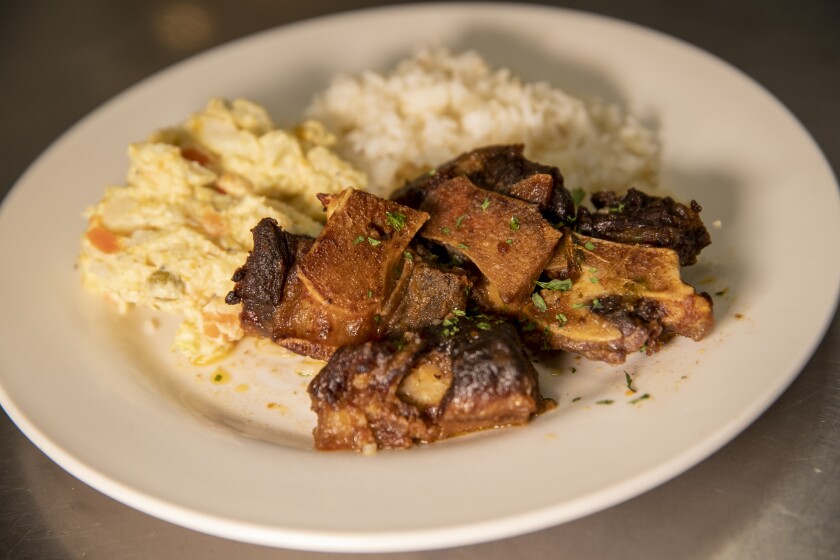 In time, the family hopes to introduce other regional favorites, including cow foot soup, black chicken soup and conch fritters.
For now, however, the mother and daughter are simply happy to be cooking together and feeding the city they call home.
Location: 1066 S. Fairfax Ave., Los Angeles, instagram.com/noreservationla
Hours: Fri.-Sat. 10 p.m.-2 a.m., Sun. 7p.m.-11p.m.
---
Get our weekly Tasting Notes newsletter for reviews, news and more.
You may occasionally receive promotional content from the Los Angeles Times.