The South Bay is best known, food-wise, for its excellent Japanese restaurants.
But if you know where to look, you can find bowls of really good khao soi, Korean fried chicken and cheesy mulitas. Here's a rundown of places to eat in the area.
Dulan's Soul Food Kitchen
Dulan's scratches an itch for a kind of food that comforts on a deeper level. The family-owned company has two locations in Inglewood and a sister restaurant called Dulan's on Crenshaw. At both of the Inglewood restaurants, you walk up to the counter and make your way along cafeteria-style, perusing the sides of black-eyed peas, macaroni and cheese, smoked turkey with collard greens and candied yams. There's excellent fried chicken, baked smothered chicken, oxtails, pork chops and meatloaf too. Even if you manage to finish everything on your plate, there always seems to be room for peach cobbler.
202 E. Manchester Blvd., Inglewood, (310) 671-3345, dulans-sfk.com
Al Noor
The chicken tikka at Hasan Zaidi's two-decades-old Pakistani restaurant is what you crave, only the chicken is more tender and the sauce more luscious than you remember. The garlic naan is textbook delicious. The spinach-packed palak paneer should probably replace your daily multivitamin. But the sleeper hit is the chicken tala gosht: pieces of chicken in a thick tomato stew studded with chiles. It's an addictive combination that's heavy on the ginger, cilantro and chile.
15112 Inglewood Ave., Lawndale, (310) 675-4700, alnoor-restaurant.net
Coni'Seafood
I end up recommending this Nayarit-style seafood restaurant in Inglewood to just about everyone. The food is big, bold and fun, with palate-zapping aguachiles, plates piled high with shrimp saturated in garlic/chile/butter sauces, and some of the best shrimp tacos in the universe. But the dish you find on most everyone's table is the pescado zarandeado. It's an impressive presentation of grilled snook, butterflied and splayed out on a metal platter surrounded by disks of raw cucumber, slices of red onion, a dish overflowing with salty caramelized onions, and a basket of hot, fresh tortillas.
Coni'Seafood, 3544 W. Imperial Highway, Inglewood, (310) 672-2339, coniseafood.com
Sweet Rice
Sweet Rice in Gardena is in the business of comfort food. The restaurant opened in June, tucked into the back of the Pacific Square Shopping Center on Redondo Beach Boulevard. Its sister restaurant, Bowl Thai, is a Gardena standard for Thai staples like fried rice, pad Thai and mango sticky rice. Sweet Rice has a more limited menu and specializes in bowls of khao soi, juk and tom yum soup. And for dessert, an impossibly creamy coconut ice cream with your choice of toppings like red bean, fresh coconut and lychee jelly.
1630 W. Redondo Beach Blvd., Suite 4, Gardena, (424) 344-2054
Honey Dress Fried Chicken
You know your favorite Korean chicken wings in Ktown? The ones at Honey Dress are just as good. The batter is similar to the one at Willie Mae's in New Orleans: a little on the thicker side, but so crisp it shatters. The shtick at Honey Dress is the honey. Choose between honey soy (the ideal balance of salty and sweet), honey soy garlic (add the bite of fresh garlic to the equation) or honey spicy (like dunking the chicken in a mixture of honey and vinegar-based hot sauce). The chicken tastes best with a side of pickled radish and some tart apple cider vinegar coleslaw.
24002 Vista Montana, Torrance, (310) 373-3733, honeydresschicken.com
Kagura
Jonathan Gold in 2016 called Kagura the best place to get tonkatsu in Los Angeles. At lunch, salarymen with their ties slung over their shoulders occupy most of the counter seats, each with his own tonkatsu set: a perfectly fried, panko-bread-crumb-coated pork cutlet served atop a metal grate, a bowl of white rice, a cup of clear broth and tiny ramekins of pickles, tofu, edamame and salad. There are a couple of variations of tonkatsu available, but all the cutlets come coated in that same feathery-crisp veneer. The star is the millefeuille, made with fatty slices of black pork layered on top of one another so that it resembles the French pastry after which it's named.
1652 Cabrillo Ave., Torrance, (310) 787-0227, littletokyorestaurant.com
Love and Salt
Chef Christopher Feldmeier presents a strong argument for eating pizza for breakfast at this bustling Manhattan Beach restaurant. You could order the brisket hash, the chilaquiles or the shakshuka for brunch, but don't sleep on the wood oven pizza portion of the menu. The leopard-spotted pies are puffy, chewy and golden. The anchovy and fried caper pizza is inundated with slivers of salted anchovies, capers, basil and Calabrian chiles for a jolt of spice and salt. If you must have eggs for brunch, there's the duck egg pizza, which comes covered in ribbons of pancetta and fior di latte with a soft duck egg in the middle.
317 Manhattan Beach Blvd., Manhattan Beach, (310) 545-5252, loveandsaltla.com
El Barrio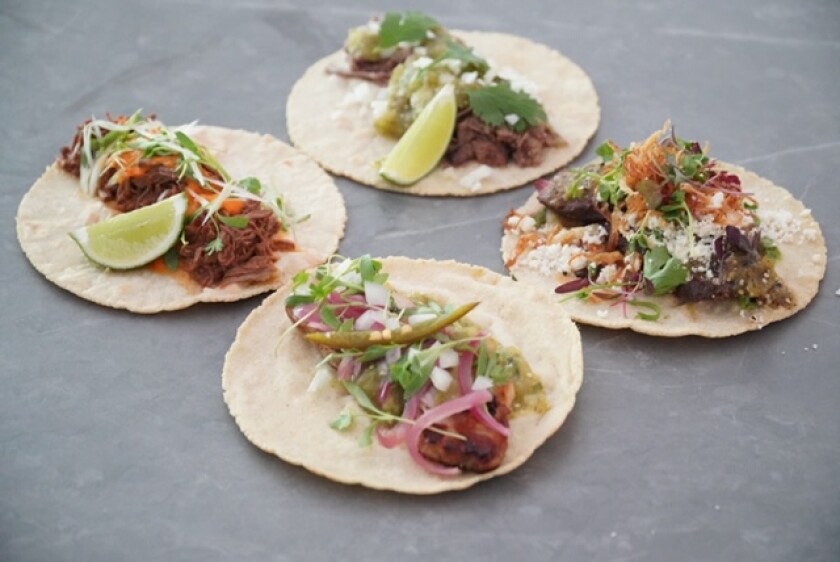 Ulises Pineda-Alfaro and Jesse Duron, also the chefs at Umi by Hamasaku in El Segundo, are turning their attention to tacos and mulitas at this new taco shop in Redondo Beach. They are making tortillas with corn from farms in Oaxaca and stuffing the griddled rounds of masa with al pastor made with spit-roasted Beeler's pork, birria made with stewed U.S. Wagyu beef brisket, and shredded Mary's chicken. You can order almost any of the proteins and vegetables as a taco, a mulita or a torta built on soft but sturdy Telera rolls made for the restaurant. Don't forget to order a Chu Nut (churro doughnut) for dessert.
1505 Aviation Blvd., Redondo Beach, instagram.com/elbarrio_tacos
Zacatecas Restaurant
My colleague Gustavo Arellano says the birria de res at this Hawthorne restaurant is some of the best in town. He's right. The shredded beef comes swimming in a rusty, heady sauce of dried peppers and herbs. You can order it on a plate or ask for the birria in tacos or a burrito. If you order it as a plate, be prepared for a feast. The birria is served with rice and beans, small bowls of dried oregano, chopped onion and salsa, and your choice of flour or corn tortillas. The restaurant is also known for Tom's burrito, a not-so-traditional burrito full of nubbins of soft carne asada or chicken (or birria if you ask for it), guacamole, cheese, sour cream and beans. The entire thing is completely covered in a spicy green chile sauce and more cheese. And it's the size of your forearm.
13737 Inglewood Ave., Hawthorne, (310) 679-5161, zacatecasrestaurant.com
Al Watan
If you want a quick lunch of exceptional chicken tikka masala — oilier than most, with super-tender chunks of chicken thighs — and a basket of hot naan, Mohammed Mumtaz's Indian-Pakistani restaurant in Hawthorne is the place for you. But it's also a great spot to try a bunch of things: For lunch or dinner, you can order a sampler with an assortment of lamb and chicken korma, tandoori chicken, seekh kebab, stewed vegetables, lentils, rice pilaf and naan. Mumatz is also making a chana masala, aggressively spiced with cumin, coriander and turmeric in tomato sauce.
13619 S. Inglewood Ave., Hawthorne, (310) 644-6395, alwatanrestaurant.com
Sushi I-naba
There are just six counter seats at chef Yasuhiro Hirano's sushi restaurant in Manhattan Beach. His specialty is aged fish, with some aged for up to 22 days before being served. The flavors are heightened, with the fish taking on deeper flavors than their fresh counterparts. At dinnertime, it's reservations-only, omakase-only: Four options are available, ranging in price from $120 to $220. If you're looking for something a little more casual, the restaurant is also open for lunch, when Hirano serves an abbreviated version of the dinner omakase or you can order hand rolls, chirashi and poke bowls.
1300 Highland Ave., No. 107, Manhattan Beach, (310) 545-3345, sushi-inaba.com
The Arthur J
Each dinner at David LeFevre's Manhattan Beach steakhouse feels like a party. The evening should start with a Boss martini at the bar, made with dill-infused gin and garnished with Gruyêre- and mascarpone-stuffed olives. The friendly bartender will give you a couple of extra olives to eat while you wait for your table. Then into a booth in the dining room for the main event: meat. The steaks — dry-aged Tomahawk for two, Kansas City strip steak, Wagyu — are the star here, but the accouterments are just as fun: shrimp cocktail or crab legs to start, a side of creamed spinach and sauteed mushrooms to round out the meal. And for dessert, there's an ice cream sundae with caramelized banana and malt balls that will make you feel like a kid again.
903 Manhattan Ave., Manhattan Beach, (310) 878-9620, thearthurj.com
Zam Zam
There's a small market next to the lunch tables where you can buy hair products and spices. Owner Fozia Siddiqui has a limited menu taped on the wall, but you should ignore it. Just ask her what she's making that day and she'll steer you in the right direction. There is usually seekh kebab, made from ground lamb fragrant with coriander and cumin cooked in the charcoal-fueled tandoor oven. Naan, cooked in the same oven, is bubbly and chewy. But the biryani is the market's signature dish. The pile of rice, chicken and spices carries a slow-burning heat that intensifies as you get to the bottom of the plate.
13649 Inglewood Ave., Hawthorne, (310) 978-1927
Shiok!
Shiok! is doing for Southeast Asian food what Chipotle did for Mexican food. You build your own bowl, banh mi, salad or noodle salad with things like braised pork belly, lemongrass steak, BBQ pulled jackfruit, spicy satay chicken or tofu. That's then topped with fresh cilantro, fried shallots and pickled vegetables. And there is a hot chicken bao on the menu: a fried chicken thigh doused in spices with slaw on a fluffy white bao bun. It shouldn't work, but it does.
2595 Airport Drive, Torrance, (424) 360-1333, shiokeats.com
Chori-Man
Humberto Raygoza started out selling chorizo from a cooler on wheels. Now he's selling his chorizo by the pound from his bricks-and-mortar spot in San Pedro, and making burritos, tortas and quesadillas filled with the stuff. There's red chicken chorizo, Tolucan green pork chorizo, white Argentinian pork chorizo, Habanero pork chorizo and red soyrizo. The loosely packed, tenaciously spiced meat makes the ideal filling for Raygoza's breakfast burrito, stuffed with potatoes, fried eggs and cheese. This is what you want to be eating the morning after a night out.
2309 S. Alma St, San Pedro, (424) 287-2414, thechoriman.com
Costa Manhattan Beach
Michelin-starred chef Josiah Citrin created the neighborhood restaurant you wish you had around the corner. The dining room is lively but comfortable. There's a full bar. The menu is a hodgepodge of dishes Citrin is known for at his other restaurants Dear John's, Mélisse (currently undergoing a reworking), Charcoal and Openaire. There's chicken Parm, Caesar salad, an excellent rib-eye and creamed spinach. But the dish you'll want to order every time is the paccheri. Citrin cooks the thick tubes of pasta for just a couple of minutes, then drops them into his chile-flecked tomato sauce until the noodles are al dente and the sauce turns into a thick, rich paste.
1017 Manhattan Ave., Manhattan Beach, (310) 376-1536
Fishing With Dynamite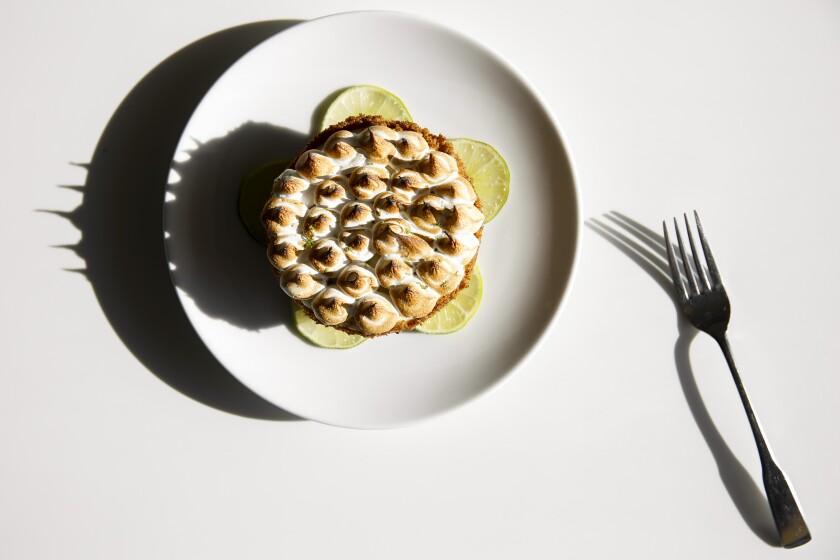 David LeFevre is making some of the best Key lime pie in Los Angeles. And since Nicole Rucker closed Fiona, the city has been in need of some good Key lime pie. It comes as a whole mini pie (the ideal size for one) covered in torched peaks of meringue. The custard beneath is sharp and full of lime. And the graham cracker crust is buttery and crumbly. The pie is a variation on LeFevre's mom's recipe. She's also behind the Cape Cod squash rolls at this by-the-beach seafood restaurant: fluffy, tender Parker rolls dyed orange and just a tad sweet from squash. And before the rolls and pie, there are fresh oysters, mussels and clams with yuzu aioli; sweet grilled spot prawns and scallops on the half shell.
1148 Manhattan Ave., Manhattan Beach, (310) 893-6299, eatfwd.com
---