Here's the new wood-fired pop-up from Santa Monica's crudo specialists
Isla
At their Italian-inspired raw bar Crudo e Nudo, partners Brian Bornemann and Leena Culhane serve a rainbow of simply prepared, skillfully dressed fish, scallops, prawns, uni and beyond. But their new sibling concept, Isla, is all about getting hot. At the pop-up — and eventual restaurant, which is expected to open this spring — meaty slices of trumpet mushrooms, thick wedges of duck breast, whole spot prawns and stuffed fish all get the wood-fired treatment.
"Crudo is all about what is the best raw," said Bornemann, the chef and co-owner. "Besides raw food, we love wood-fired food and I think that there's a lot of benefit to that style of cuisine. We're trying to build upon this momentum that we built at Crudo as this kind of unique West Coast-only seafood culture, but Isla is all about the inspiration from the western Mediterranean, like Spanish islands."
Ingredients such as sherry marmalade, olive oil, charred Meyer lemons, fennel pollen, burnt-onion ash, pomegranate glaze and black-garlic jus help to season California game hens, fresh seafood, farmers market vegetables and whatever else Bornemann's team finds each week — kissed by pecan, oak and mesquite wood fire and smoke. The menu takes cues not only from Spain but also the California coast, including contemporary Los Angeles and Baja, with its long stretches of fertile farmlands and bountiful seafood.
Currently Isla is popping up on the Westside, alternating between two Santa Monica host restaurants. Isla was first conceived as a full restaurant that would open next door to Crudo e Nudo, in the former Chez Tex space, but its original partnership fell through; having already planned the concept, Bornemann and Culhane decided to press on as a pop-up. On select weeks it can be found at Lunetta on Sundays and at Tallula's on Mondays, with additional pop-ups elsewhere in the coming months.
By the end of spring, the pair hope to open Isla as a full restaurant, planned for the Westside for proximity to Crudo e Nudo, with a beverage program that echoes what can currently be found at their pop-up: high-minerality, low-intervention wines.
"We really see this being the culmination of the flavors that we built here [at Crudo e Nudo], the relationships that we built with farmers and fishermen, and this ability to work with what is available rather than what we want," Bornemann said. "It's like, 'Let's take the octopus or the sheep's head, the mackerel, and build these small-chain relationships with logistics to the actual product, and put them over fire and serve them in a way that we think is beautiful and simple.'"
Various locations, isla-la.com
Juliet
An all-day restaurant and bar from the team behind Margot and Norah opened Wednesday in Culver City, offering a Parisian-inspired menu, a roving bar cart and patio dining within the futuristic-looking Synapse building. Juliet focuses on seafood, with options such as trout-roe-topped oysters; tuna carpaccio with tonnato sauce; whipped cod dip; caviar-adorned sea bream "tartare"; and chilled mussels. It also offers other classic and French-leaning dishes, including roast chicken with truffle sauce, Parisian gnocchi, crêpes Suzette, endive salad, chicken liver tartlets, French omelets and ratatouille. Leading the kitchen are culinary director Michael Williams and chef Jason Gonzales, both also of Norah and Margot. When it comes to beverages, the wine program features wine solely from French producers, with nearly 50 labels available by the glass and offered in a variety of pours — half glasses, full glasses, carafes and one-ounce options for sampling — while the cocktail program leans classic. In the bar area, a roving cart serves martinis and Champagne tableside. Juliet is open daily from 9 a.m. to midnight.
8888 Washington Blvd., Culver City, (310) 643-5853, juliet.la
For the Win(e)
Some of L.A.'s best smashburgers have taken up residence in L.A.'s most historic food hall. For the Win — a pandemic-spurred operation so popular and quality that it landed on the Los Angeles Times 101 List in 2021 and launched multiple locations — is Grand Central Market's newest vendor, taking over the stall formerly held by Kismet Falafel (a.k.a. Madcapra). Due to equipment permitting, the newest outpost of Santos Uy's burger concept paused food service this week but is operating with beer and wine, and is expected to reintroduce food in early February. The Grand Central Market stall will feature the local chain's signature smashed patties with American cheese and griddled onions, pickles and house sauce on potato buns, plus sides of fries or Brussels sprouts. Notably, it will not offer the fried chicken sandwich available at other locations but will sell cookies by local baker Lei'd. Uy's other business, nearby wine bar Mignon, is helping to inform the wine selection with unique wines by the glass and bottle, enjoyed alone or, of course, paired with smashburgers. "What I usually bring on is what I think is relevant and interesting," Uy said. "I guess my first criteria, and my only criteria is: Is it delicious?" As he's limited to alcohol sales for the time being, Uy is jokingly referring to his new stall as "For the Wine." For the Win is currently open within Grand Central Market from Tuesday to Sunday, 3 to 8 p.m.; hours are expected to revert to 11 a.m. to 5 p.m. once food service resumes, and might extend into the evening from there.
317 S. Broadway, Los Angeles, forthewinla.com
Iki Ramen Hollywood
Koreatown ramen and sushi specialist Iki Ramen expects to debut its second location this month, bringing a variety of ramen, small plates, an artful omakase from chef Hiroyuki Masato, and sake and craft beer to Hollywood. "The concept in the beginning will be the same concept as the original Iki Ramen, but the menu will evolve in the future," said co-owner and n/naka vet Jeffry Undiarto, "possibly [with] grilled dishes and better omakase. I think my goal is for our teams to have an opportunity to grow." The new space features 2,500 square feet, offering a larger kitchen and 50 to 60 seats — doubling the seating capacity of the original location. Undiarto is aiming for a mid-February soft launch, with a grand opening slated for early March, open daily from noon to 3 p.m. and from 5 to 10 p.m.
6565 Sunset Blvd., Los Angeles, ikiramen.com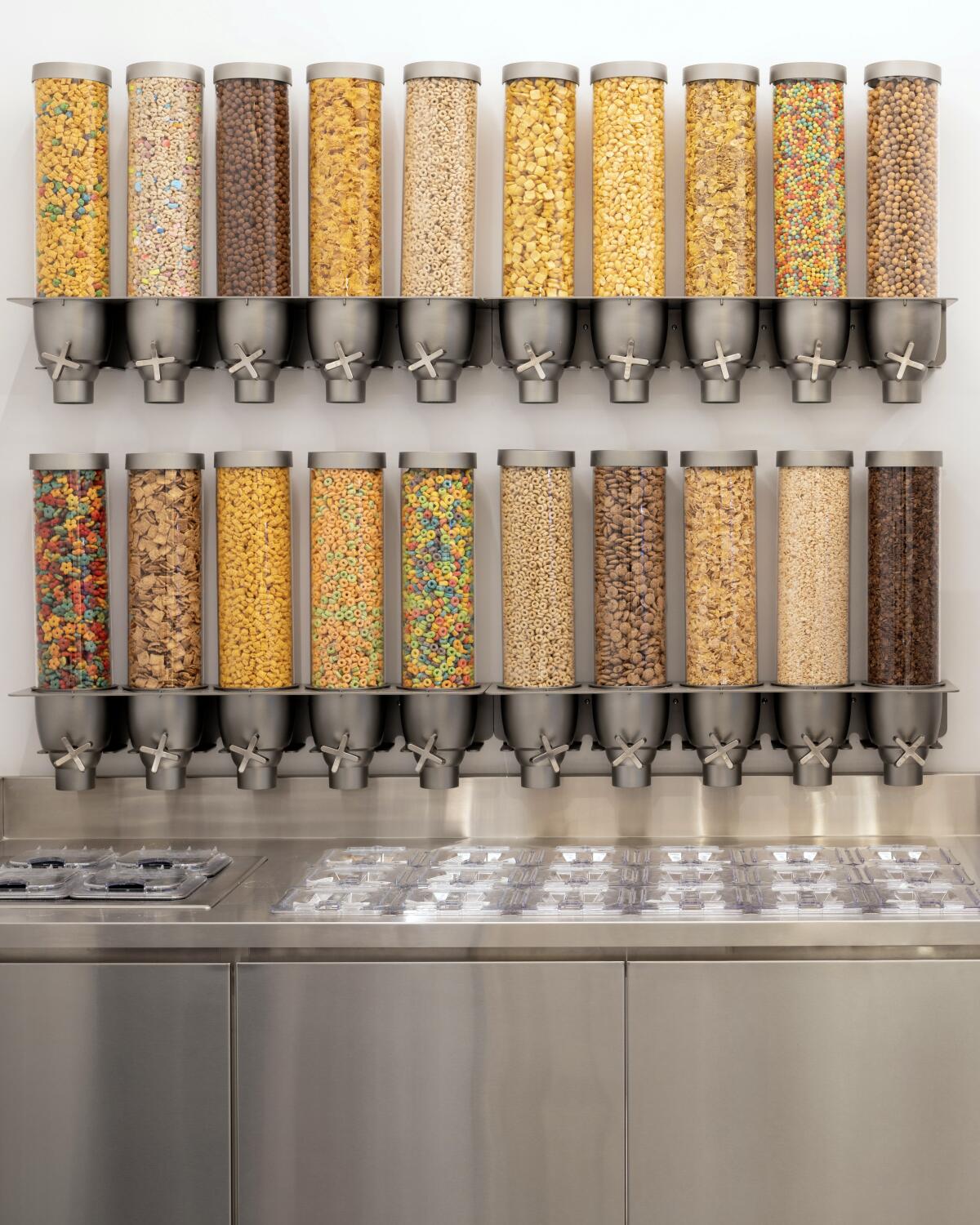 Kith Treats Beverly Hills
Fashion and lifestyle brand Kith launched an L.A. outpost of its customizable soft-serve counter within its Sunset Strip store in 2018, and this week is expanding Kith Treats with a new location on Rodeo Drive. The treats shop takes its inspiration from cereal bars — offering milkshakes, swirled cups and bowls in collab creations from the likes of LeBron James, Action Bronson and Futura — that often feature items such as Frosted Flakes, Rice Krispies, Cap'n Crunch, Cinnamon Toast Crunch, cookies, coconut flakes and other mix-ins. The new location opens Friday within a new Kith flagship store and will offer an exclusive item called the Mama's Boy, created by influencer and DJ Zack Bia: Cocoa Puffs, marshmallows, Kinder white chocolate bar and waffle cone all topped with cookie dough, served either as a soft-serve swirl or a milkshake and with a side of gummy bears. Kith Treats will be open in Beverly Hills from Monday to Saturday from 11 a.m. to 8 p.m. and Sunday from 11 a.m. to 7 p.m.
262 N. Rodeo Drive, Beverly Hills, kith.com/pages/shop-treats
Angler 2.0
L.A.'s outpost of San Francisco's lauded Angler reopened this week after a closure to retool the restaurant's menu and interior, relaunching with new chefs at the helm. While a few dishes have carried over to L.A.'s new Angler — such as the oysters cooked in embers or the buffalo milk soft-serve sundae — what was originally chef-founder Joshua Skenes' formal-ish experience is now more casual, with Saison Hospitality's culinary director, chef Paul Chung, and its corporate chef, Brian Limoges, running the kitchen. Their menu still incorporates live-fire cooking and seafood, but the focus is on more casual and playful dishes such as swordfish al pastor; seaweed rice with cured yolk and caviar; a ssam platter with duck-blood sausage and pork belly, riffing on Chung's Korean heritage; and cockles with green sambal. A new cocktail program spotlights shareable large-format drinks. Angler is now open Tuesday to Thursday from 5 to 9 p.m. and Friday and Saturday from 5 to 10 p.m.
8500 Beverly Blvd., Suite 117, Los Angeles, (424) 332-4082, anglerla.com
Get our weekly Tasting Notes newsletter for reviews, news and more.
You may occasionally receive promotional content from the Los Angeles Times.