(Ron De Angelis / For The Times)
Even in the throes of June gloom, the sunny disposition of Southern California is an ideal climate for mariscos — for the precise uplift of citrus-doused, chile-ignited seafood. As with so much of our Mexican culinary greatness, the span of options equates to a map of the country's regional specialties.
Mariscos Jalisco's legendary tacos dorados de camarón tend to kick off local dialogues on the subject, as do the smoked marlin tacos and the grilled, Nayarit-style pescado zarandeado at Coni'Seafood in Inglewood. We can pull up to trucks serving Oaxacan pescadillas and Sonoran stingray breakfast stew; debate nuances of Baja-style fish tacos; and plunge into the world of Sinaloan sushi with its confetti of bright fruit salsas and creamy squiggles.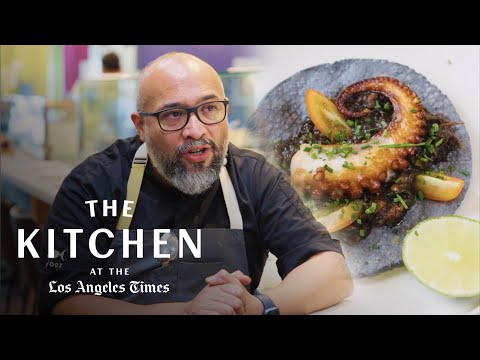 Cetina joins us in our test kitchen to make his tacos de pulpo en su tinta.
Jenee Kim's Koreatown restaurant Park's BBQ is an essential part of the flavors of Los Angeles — showing a generation of diners that Korean food is a thriving, evolving cuisine.
Gilberto Cetina opened Holbox — his colorful, stylishly angled marisqueria near the entrance of the Mercado la Paloma in Historic South-Central — early in 2017. The restaurant is named for an island off the northern tip of the Yucatán Peninsula, about a four-hour drive from where Cetina grew up with his family in the capital city of Mérida, and he initially imagined the seafood-focused menu would hew to these roots. Cetina had helped his father launch Chichén Itzá, one of the Mercado's founding food stalls, 16 years earlier. Chichén Itzá remains a beacon of Yucatecan cooking, including the family recipe for achiote-stained cochinita pibil soaked in sour orange juice and spices before being grilled in bundles of banana leaves.
With Holbox, though, it took Cetina about two weeks to start dreaming beyond the opening lineup of Yucatecan ceviches and cócteles and the achiote-bright marinades for grilled fish. He wanted to articulate a sum expression of the coastal flavors he loved across Mexico. He aimed to re-create the innate sophistication he'd encountered in the techniques at roadside seafood stands in Baja or fishing villages in the Yucatán too.
The restaurant beautifully meets those ambitions, yet Holbox has grown into something even more. The sense of place it achieves honors the source of inspiration but also conveys something essential about the pluralism of Los Angeles. Cetina commands a dynamic fluidity to his identity as a chef. His cooking acknowledges both his origins and also his individual avocations and aspirations, all anchored by deliciousness.
Some of Cetina's early instincts for experimentation came while developing relationships with top-tier seafood suppliers. He was refining his style in real time and soon landed on some scene-stealers. His kanpachi ceviche, bracing with lime and garnished with dots and scribbles of avocado puree, came draped with tongues of Santa Barbara sea urchin. He dressed pata de mula (Baja blood clams) with more citrus and a sauce of morita chiles blended with balsamic vinegar; the colors accentuated the gore factor of the clam's name, and the flavors reached a thrilling intersection of smoke, brine and acidity.
As Cetina and his team continued mastering signatures — grilled octopus taco anchored by mulchy sofrito stained black from squid ink, a bisque-like stew showcasing delicate seafood sausage, seasonal jewels like bay scallop aguachile in lime-serrano-cilantro marinade or spiny lobsters fragrant from mesquite — Holbox was quietly becoming one of the city's most stirring dining destinations. No one in Los Angeles had approached mariscos with quite the same merging of soul and finesse.
Diners ordered at the counter, as they do from the Oaxacan juice stand directly across the row or the Thai stall in the far corner. Some carried their number and snagged seats in the communal area filled with tiled tables, where Holbox's staff would find them and deliver their food. Regulars tended to wait for one of the dozen stools that stretched along the kiosk's white bar. Because this is L.A., requests predictably soon came for Cetina to serve customers an omakase of his favorite dishes. He obliged by composing six or so courses of oysters and clams on the half shell, ceviches and cócteles and several elaborate grilled dishes.
Holbox earned plenty of praise; USC students and nearby office workers always knew the specialness they had within walking distance. But over the course of the pandemic, particularly during an outdoor lunch of blood clams and meaty grilled kanpachi collars, I began feeling more urgent about its singularity: the swath of people it reaches, the balanced brilliance of the food, how perfectly the setting embodies L.A.
Cetina had similar feelings about the location. He's looked at spaces to potentially move Holbox; the current situation doesn't allow for an alcohol permit. Ultimately, he decided to stay. "This is where this food came from," he said recently. "I've never worked for another chef, other than my dad. Sorry, Dad. I've never clocked in to another kitchen, I never went to culinary school. The food that we're serving, it was born here at the Mercado."
Holbox reopened in early May after a six-week renovation at the Mercado. He gained four counter seats, but more notably he expanded the kitchen, allowing him to hire more staff, and he added a front-and-center case for storing and aging fish at the proper temperature and humidity.
Inspired by Coni'Seafood's smoked marlin tacos, lately the team — which includes chefs Judith Reyes, Oscar Hernandez and Efrain Manuel — has been smoking kanpachi heads and collars over applewood. They simmer the separated meat with aromatics to create a collagen-rich spread. It gushes slightly from a hot folded taco sealed with queso Oaxaca, brightened with salsa cruda and drizzled with the electric oil of peanut salsa macha. It's a new Holbox classic.
Another longtime staffer, Fatima Juarez, also runs Komal, a startup tortilla and masa company that imports heirloom maize varieties from Mexico. She's overseeing Holbox's in-house masa program. One project they're tackling: tostadas raspadas, an involved variation on tostadas common in Jalisco, Mexico, that involves almost overcooking a tostada on one side and then scraping off the remaining uncooked masa from the other side. When fried, it crackles with the airy crunch of a chicharrón. Cetina serves them now for every tostada on the menu; a dedicated tortilleria spends six hours making 150 raspadas a day.
If you're searching for the essential food of L.A., let our critic's 2022 restaurant list be your guide. Find the best vegetarian, Italian, Mexican and more.
So if you haven't tried the kanpachi and uni tostada lately, you'll find it better than ever in a scene both changed and familiar. Voices again ring in Mercado La Paloma's halls; customers line the expanded counter, intent on their tacos, clams and aguachiles. Cetina has made more room for community and creativity, and for possibility.
Holbox is the L.A. Times' Restaurant of the Year for 2023.
A celebration dinner with a presentation of the Restaurant of the Year Award will take place at Holbox on Sept. 13. On Sept. 12, the L.A. Times Gold Award will be presented at a special dinner at Park's BBQ. Tickets for the dinners are now available at lafoodbowl.com.
3655 S. Grand Ave., Los Angeles, (213) 986-9972, holboxla.com
Get our L.A. Goes Out newsletter, with the week's best events, to help you explore and experience our city.
You may occasionally receive promotional content from the Los Angeles Times.