On the one hand, Charles Namba felt immediately at home when he went to work in his first professional kitchen as a teenager looking to keep busy and make some spending money.
"All throughout high school, I was working in a pizzeria" — Mulberry Street in Beverly Hills — "making pizza, chicken parm, Caesar salads. And I got to open the restaurant," he says. "So I was in that kitchen environment, and I always felt I fit into that. You know, I was kind of like the outcast and working with immigrants and I loved it."
Even as a child, he loved restaurants. "Maybe I wasn't a happy kid — I didn't like school — but I remember I was the most happy going to restaurants," Namba says. "There was something exciting about it."
Yet in those years — long before he opened Tsubaki and the sake bar Ototo in Echo Park with Courtney Kaplan — he had no thoughts of making a career in restaurants. "I didn't want to be a chef at all," he says, "and I didn't want to cook."
At one point, though, Namba says, "I got in a lot of trouble, and my parents signed me up for this sushi school in Pasadena. But I was like, 'I can't be in Los Angeles anymore. I've got to get away.' Leaving was the best decision of my life. I feel like you can get stuck if you don't go away from where you came from. "
He went to New York, steering clear at first of restaurant work. But then his roommate asked if he wanted to apply for a job with some friends who were opening a restaurant, En Japanese Brasserie.
"I didn't have experience doing anything else, so I thought, 'OK, I'll just keep being in the kitchen,'" he says. "From there, I never got another kind of job."
Namba, a fast learner, moved up quickly.
"All the chefs were from Japan — they only spoke Japanese — and maybe half the kitchen was Japanese and half was from all over the place. They would make a dish and I would be like, 'This is amazing. I want to do it.'"
Courtney Kaplan is an exceptional guide to seasonal sakes at Tsubaki and Ototo
He found his calling at En, not to mention love and a future restaurant partner in Kaplan — "she was the manager, and I was the fry cook." But he was hungry to learn more. At David and Karen Waltuck's famed Chanterelle in Tribeca, he immersed himself in French cuisine and was immediately hooked.
"I remember walking into the kitchen and you smell lobster stock and you smell the truffle soup and the celeriac soup and the stocks," he says. "It changed my life, because I'd never tasted anything like that. I was like, 'I need to learn this.'"
And though Namba at that point wasn't trying to become a head chef or even a sous chef — "I went to each job thinking, 'I want to cook, learn it and leave'" — he couldn't have had a better teacher than David Waltuck.
"David Waltuck was just the most loving chef," Namba says. "In that kitchen, everybody's family. He had servers working there 15 years, 10 years, a long time. It was a mom-and-pop restaurant. You know, Karen would be there. David would cook. Probably, he would be there five days a week, but he would cook on the line twice a week while I was there. That was unheard of. You're never going to get the actual chef cooking next to you from one of those places. You might see them every once in a while, but not cooking. But he would cook, and he would wipe down with you."
Namba thrived, and at one point, Waltuck asked if he would become the chef of a new spin-off restaurant, Macao Trading Company. "I said, 'Yeah,'" Namba says, "but I wasn't ready to do it. I failed — the restaurant is still there, but stress, the anxiety, the pressure. I couldn't organize the kitchen. You need confidence to be a chef.
"To be honest, I feel like it's only in the past three years that I started to feel like, 'OK, I think I'm ready to do this.'"Even so, what Namba realized at the Macao Trading Company was that if he were going to feel the stress of running a kitchen, he should do it with food he created — a place of his own. His next moves were made with that in mind.
He simultaneously applied at New York's Eleven Madison Park and Thomas Keller's Bouchon in Beverly Hills. Both said yes.
"So I'm like, 'OK, move to L.A., work at Bouchon, and then try to get some money to open a restaurant.'"
He returned with a whole different attitude about his hometown. "After the cold of New York, Los Angeles felt like Hawaii, you know? Like paradise. Now I love Los Angeles," he says.
On any given night, Tsubaki, a tiny neighborhood izakaya in Echo Park, radiates the kind of buzzy, convivial warmth that inspires small huddles of people to gather outside the front door at dusk to wait for an open table.
In the 2½ years he spent in Keller's kitchen, Namba refined his cooking techniques and, especially, his organizational skills. Meanwhile, he and Kaplan made plans to open a French bistro together.
"I'd been working in French wine, and Charles cooked a lot of French food," Kaplan says. "But as we were building out this French concept, Japanese things just kept coming to mind. What about an izakaya concept that really reflects seasonal L.A. and highlights small craft [sake] breweries? The more we talked about it, the more we were like, 'You know, I think actually this is what makes sense for us and for the neighborhood and for L.A. to do this modern izakaya.'"
"Courtney had worked and lived in Japan and has always been involved in sake," Namba says. "She loves this. It's not just a job."
For Namba, coming up with the menu for his take on a modern izakaya was a full-circle moment that brought him back to some of the foods of his childhood.
At Ototo, for instance, you can sometimes find gyoza like his mom and dad still make at home. These days, though, it's likely to be his dad making gyoza when the chef comes to visit instead of his mom, "because he thinks he's the best at it, and he likes to do it," Namba says.
But it was his mom's pan-fried gyoza that he grew up eating. "When she came here" to Los Angeles, Namba says, "she was trying to hustle and make money, so she made gyoza and sold them to a restaurant on Crenshaw. And then she basically walked up and down Crenshaw to Japanese restaurants, trying to sell them."
In the 1970s and '80s, Los Angeles diners were still learning to love Japanese food, so Namba's mom took it upon herself to make a 10-episode cooking show for the now-defunct Japanese broadcaster UTB Hollywood, sponsored by the seasoning and MSG seller Ajinomoto. "She would do gyoza, crab souffle, okonomiyaki," he says.
"My mom's gyoza are special to me because it's very simple and it's very few ingredients. That's kind of the way she always cooked. Very simple and very few ingredients."
Maybe that's one reason Namba's food, for all its professional sheen, is so easy to share with friends at Tsubaki and Ototo over a glass of artisan sake from a small producer Kaplan has sought out. A bit of Mom's simplicity, a welcoming spirit and a lot of L.A. heart.
Where to eat Charles Namba's food
Food Bowl: Namba is cooking at the sold-out launch party Sept. 6 for L.A. Times Food Bowl. Tickets are still available for Food Bowl's Night Market Sept. 22-24 and Outstanding in the Field collaborations showcasing many of Los Angeles' best restaurants throughout September at lafoodbowl.com.

Tsubaki: 1356 Allison Ave., Los Angeles, (213) 900-4900, tsubakila.com

Ototo: 1360 Allison Ave., Los Angeles, (213) 784-7930, ototo.la.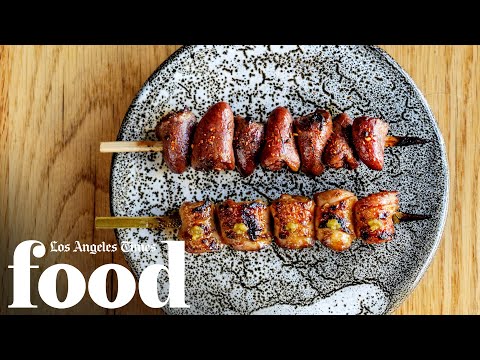 Get our L.A. Goes Out newsletter, with the week's best events, to help you explore and experience our city.
You may occasionally receive promotional content from the Los Angeles Times.