Why are e-bikes all the rage? Because they're plenty of fun to ride
Pete Compton, a 79-year-old retired construction worker from Newport Beach, stunned his daughter twice on his birthday earlier this year: First, he showed up at her Corona home on a bicycle. Next, he turned down her offer to drive him home, instead pedaling all the way back to the beach, a 60-mile round trip.
"My whole life, except for high school, I did no exercise — wore no spandex — until my doctor told me to last year," he said. "Now I love riding everywhere because it's so easy. I work up a sweat, but when there's a hill or a headwind, which would normally get me as white as a sheet from exhaustion, I cheat. I turn the motor on."
Compton has an e-bike — short for electric bike, a small but fast-growing category of two-wheelers that is upending the cycling industry.
Sales of "pedal assist" e-bikes, in which a small, battery-powered electric motor in the wheel's hub or crank activates while you're pedaling, then shuts off when you coast or exceed a legal limit of 20 mph, are exploding.
U.S. sales of e-bikes jumped to 120,000 last year, triple that of 2012. "That's still five or 10 years behind Europe," said industry pioneer Larry Pizzi, president of Simi Valley-based e-bike maker Currie Technologies, noting that 500,000 e-bikes were sold in Germany alone. "But we're catching up fast. People love these because they're fun. You still get a great workout, but you flatten-out the hills, which is the thing most people hate about cycling."
Baby boomers and older retirees like Compton, who have the time, money and motivation, currently account for 70% of the market for the pricey ($1,500-$5,000) machines, according to Pizzi.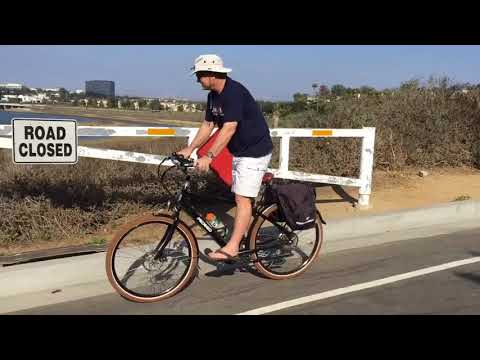 Michelle and Dennis Madden of Irvine show us their e-bikes.  (Video by Allen J. Schaben)
But using Europe as a guide, e-bike use is expected to grow fast among commuters, students and average folk of all ages as the word gets out that it gets them to work, class, or the supermarket very effectively and in a great mood — and without getting sweaty.
Christiana Crabbe, a 22-year-old barista from Irvine, was an early adopter.
Inspired by the sight of men in business suits riding e-bikes to work during an internship in Holland in 2013, she bought an e-bike and has lived a 100% car-free life for the last three years.
Each day, she commuted 15 miles each way to her job at Pete's Coffee in Corona del Mar. With the cost savings and the fitness, she was able to rent a nice apartment, drop her gym membership and was "emboldened to make liberating, principled choices — like saving the environment," she says.
She looks at her quiet, solitary minutes of riding the Back Bay bike path at dawn and dusk as "taking me to a happy place as I transitioned into adulthood."
The words "happy" and "fun" come up a lot with e-bikers.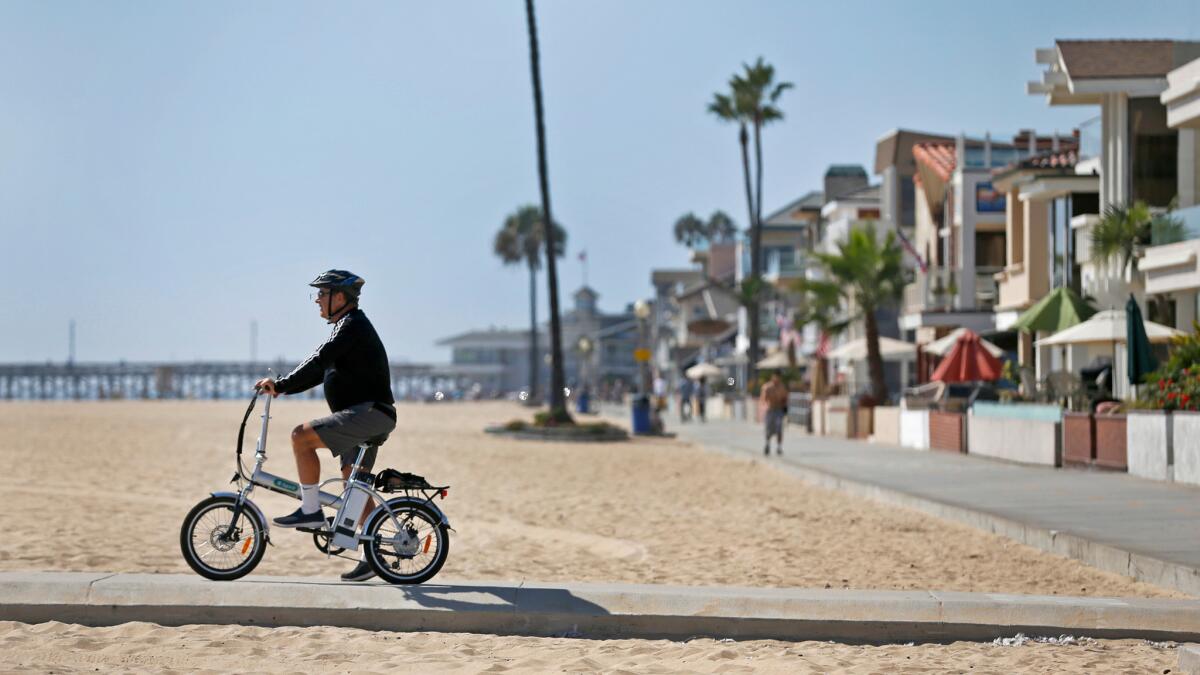 Lori Harris Kilker, 48, a family law mediator and fitness buff from Mission Viejo, bought a used Pedego City Commuter e-bike for $1,700 on Craigslist and uses it most days to get to work, run errands and go shopping. "Last year, with my five kids all grown, I decided to do some fun, bucket-list things: take sailing classes, do bikini body building, and get an e-bike," she says. "I found that it changes your state of mind. I get places quicker, people always want talk to me about it, and it gets me up the final steep hill to my house with no sweat. It makes you happy."
Since happiness is contagious, e-bikes often sell in pairs to baby boomers, retailers say. "You'll get the fit middle-aged cyclist type who buys his wife one so she can keep up with him, then comes back a month later for one for himself when he can't keep up with her," says Kevin Penrose, owner of Electric Cyclery in Laguna Beach.
Bob Bibee, owner of Irvine Pedego, notes that e-bikes are a surprise path to health and adventure for those who are inactive or hobbled by hip and knee issues. "They go from couch potatoes to fun seekers who are out there breathing fresh air and blowing by the angry lycra roadie-triathlete crowd," he says. "It's life-changing."
For Ken Montgomery, 69, a retired civil engineer from Irvine, an e-bike rekindled a lifelong love affair with cycling that had been wrecked by the onset of chronic obstructive pulmonary disease, which he says left him "completely drenched and out of breath" on the hills. He's ridden his $3,500 Pedego Boomerang e-bike 4,000 miles since he bought it 18 months ago.
For his neighbors Dennis and Michelle Madden, e-biking made them feel like teenagers again. A 56-year-old UPS pilot who commutes five miles to work on an e-bike, Madden bought another one for his wife and they ride together several times a week. "It's so doggone fun," he raves. "She was not an active person before the e-bike but now doesn't think anything of riding 20 miles. With our kids in grad school and out of the house, we have time for ourselves to do adventures. This is the stuff we did when we were dating. We're getting back to how we used to be."
Compton, the Newport Beach mega-miler, bought an e-bike for his wife at her request. "She noticed how much fun I was having going around the Back Bay and down to Bolsa Chica to look at the pretty girls and got envious," he says.
New designs and add-on products are expanding the e-bike's useability and affordability. Montgomery bought a $900 electric front wheel kit that converted his wife Judy's regular bike to electric, which she regularly rides to church and the supermarket. And he just bought a $1,100 fold-up e-bike to fit in the van that they plan to drive to the Canadian Rockies this summer on their first e-bike vacation.
E-bikes are offered in several configurations, with no consensus yet on what's best. Giant international suppliers like Bosch, Yamaha and Shimano make crank-drive engines; Canada's BionX and many others tuck engines inside wheel hubs.
Complete bikes are coming from companies big and small — established bike brands like Specialized, Trek, Giant and Felt; upstarts like Faraday and Pedego, the de-facto leader in the category with hundreds of dealers and branded stores; and dozens of no-name brands from China.
"It's like the Wild West out there now," says Pizzi.
California and the West lead the nation in most things, and e-bikes are no exception; legislators officially legalized e-bikes for bike paths and trails here on Jan. 1. Pizzi says that will spur other state laws, eliminate retailer reservations and juice sales of both road and mountain e-bikes, which are a big craze in Europe.
Crabbe, the young barista, just bought a car as she moved to Silver Lake this summer but has vowed to keep riding her e-bike 80% of the time.
Will she feel like a freak in the car culture of L.A.?
"Yes, I'll be a freak," she said, "in a growing army of freaks."
health@latimes.com