Online doctor visits offer convenience and often lower costs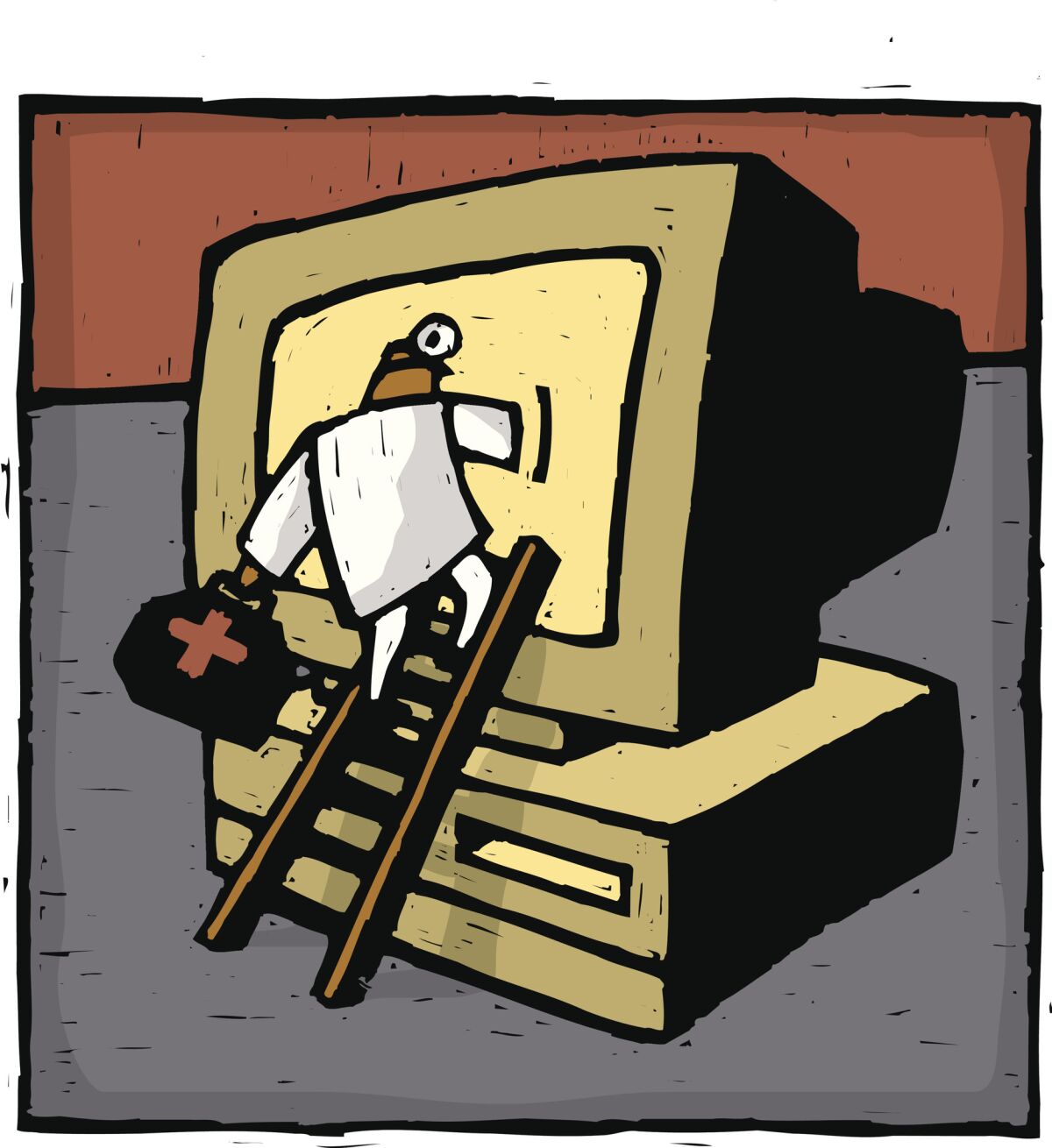 Victoria Barzilai opened her mouth wide so the doctor could look at her sore throat. Not exactly a remarkable event, except that Barzilai was at home and the doctor was hundreds of miles away.
Feeling too sick to drag herself to the school health center, the third-year UC Davis student had opted for a cyber-doctor visit, the 21st century version of a house call.
A number of websites offer face-to-face consultations of the virtual kind to anyone with a credit card and access to a webcam-equipped computer. The services are intended for patients with relatively minor problems that don't require hands-on diagnoses or treatments, not for people who need stitches, MRIs or casts on broken limbs.
But an estimated 50 million times a year, patients go to their doctors for just the sorts of problems these sites are meant to handle, says Dr. Ateev Mehrotra, an associate professor at Harvard. "They're filling a niche."
Convenience
One presumed strong suit of e-visits like these is convenience. That counted with Barzilai. And with Richard Simons of Los Feliz, when he had a case of the flu. "My doctor is at least an hour away," he says, "and besides, I didn't know when I could get in to see him."
Barzilai and Simons both used MedCareLive.com, which offers California residents no-wait consultations with healthcare professionals from 9 a.m. to midnight every day. Other sites, such as Teladoc and MeMD, offer consultations 24/7.
Cost
Some e-visit sites charge per-consultation fees: MedCareLive.com, $45; MeMD, $44.95; Teladoc, $35. Others charge different rates for different services: At Online USA Doctors, single consults start at 99 cents. As for insurance, some plans cover e-visits at some sites, but not all.
Although MedCareLive.com does not contract with any insurance companies, co-founders Dr. David Tashman and nurse practitioner Sigi Marmorstein set out to make their service a good deal — for people who have insurance and people who don't. "We set our price point at $45 for a reason," Tashman says. "Most co-pays run from $30 to $50."
"We want to help people stay away from the ER and urgent care," Marmorstein adds. "We want to save people money."
So far, hard data on e-visits are limited. Mehrotra and colleagues have looked at convenience and cost, though the e-visits they considered were not offered through public sites. Patients in their studies interacted with their own doctors or doctors in the same practice, and for the most part the interactions were not in real time and did not use webcams. Patients described their condition on a questionnaire, and a doctor responded about two hours later on average.
In an article published in July in the journal Telemedicine and e-Health, the researchers found that the greater the convenience of e-visits compared with office visits, the more likely patients were to use them. Patients with urinary tract infections who lived farther than 10 miles away from their doctors were more than three times as likely to use the e-visit option as those who lived five miles or less away. And sinusitis sufferers who lived more than 10 miles away were more than six times as likely to use the e-option as those who lived five miles or less away.
In another paper published in January in JAMA Internal Medicine, the same researchers found evidence that, on a per-visit basis, e-visits generally are cheaper than office visits, let alone trips to the ER. "For anyone with no insurance or with a high deductible, e-visits may be particularly attractive," Mehrotra says. In the big picture, though, the economics become more complicated. Because of the added convenience and lower price of e-visits, "people might use them who otherwise would have stayed at home and not gone for care at all." Such increased healthcare use could be a good thing, he observes, "but it could increase total costs."
And how good is the care? Again, data are sparse. In its January study, Mehrota's team found welcome evidence that diagnosis and treatment were equally successful in e-visits and office visits for patients with sinusitis and urinary tract infections. On the other hand, doctors prescribed more antibiotics in e-visits, which could represent an unfortunate trend.
In another potential drawback, Mehrotra says, primary care doctors are encouraged to offer preventive care — e.g., pap smears, cholesterol tests — to their patients at every visit. But in the January study, Mehrotra's team found that doctors were less likely to do so during e-visits than during office visits. .
Overall, more research would seem to be in order, but the January study found that e-visitors are generally happy with the service. Simons and Barzilai are two enthusiastic examples.
"I would definitely do it again," Simons says.
In Barzilai's words, "It was really awesome."
And e-usage is growing. "Patients are voting with their feet," Mehrotra says, "or make that their mouse pads."
Sign up for the California Politics newsletter to get exclusive analysis from our reporters.
You may occasionally receive promotional content from the Los Angeles Times.