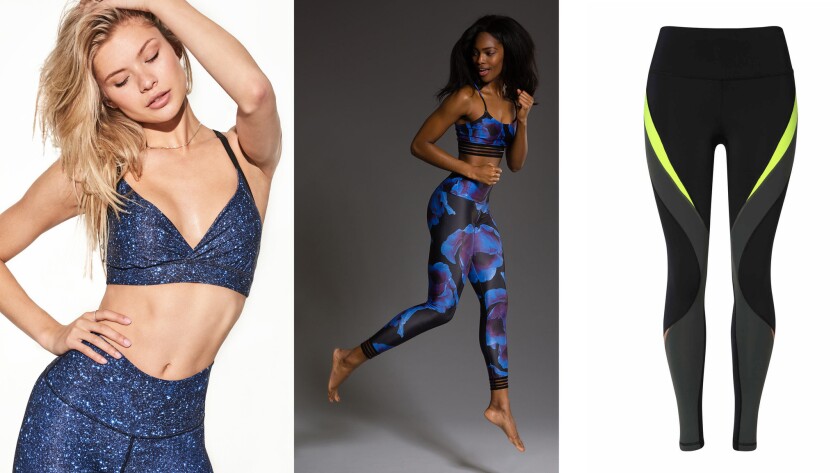 There you are, suiting up and showing up for barre or yoga class, an early-morning run, spin, or hike. And then it's off to brunch, work, kids, dates … life.
The athleisurewear trend particularly suits Southern California, where so many of us swear by clothing that can transition from workouts to the rest of our lives.
The retail apocalypse is hitting many clothing categories and shopping centers. Sales of "active apparel" totaled just more than $45 billion in the 12 months ending June 2017, up slightly compared to the prior 12 months, according to NPD Group's consumer tracking.
And if you need head-into-the-holidays, get-in or stay-in shape inspiration, there is evidence that what we wear really does affect us psychologically. Researchers even have term for it: "enclothed cognition." So, yes, that new racerback sport bra and crop leggings just may help you go the extra mile.
We headed out to the Active Collective trade show at the Huntington Beach Hyatt Regency Resort & Spa to see the trends many are going to be spending money on to crisscross town. Luckily, there are still the mesh, cutouts, moto-chic and bold geometrics that we love from Onzie and Electric and Rose. Here are a few other notable trends:
Lush botanicals
Sweet, floral patterns are giving way to lush botanical, even jungle, patterns as seen at brands Jala (SUP Yoga Leggings in Tropic Thunder, $82), Live Clothing (Ultimate Neon Leaf Legging, $98), Lorna Jane (Amazonia Core Ankle Biter Tights, $106.99, Wild Botanical Sports Bra, $62.99); Wear It to Heart (Rapa Nui Sports Bra, $45), Noli (Enchanted Leggings, $88) and PopActive (Banana Leaf Aurora Bra, $65, Leggings, $68).
Extended sizing
Oct. 27, 1:07: This article misstates the name of a trade show as Active Collection. It is Active Collective. This article also misspells the name of a new sports bra by Varley as the Runyan. It is the Runyon.
Megabrands such as Lululemon showcased and quickly sold out of extended-fit sports bras last year, and brands at Active Collection trade show continued the trend. Shock Absorber — tagline, is "Only the ball should bounce" — offers sports bras for U.K.-size C-cups up to HH (that's apparently a size L in the U.S.) à la its Active D+ Classic Support Bra ($59.99). Shape Active offers sizes XS to 3XL, Danskin XS-3X and Beyond Yoga XXS to XXL.
Even 'smarter' workout clothes
Sweat wicking, butt lifting, thigh firming, core supporting, tired-leg relieving: These are just a few ways technology is supercharging activewear. The Intelligent Legging ($129) incorporates slimming shapewear; Koral Sway Leggings ($135) are made with compression fabric to reduce lactic buildup and increase oxygen; Mahiku Hawaii's Aloha Sport ($90) leggings are designed to get wet but not heavy to take you from yoga to windsurfing. Varley highlights sweat-wicking, antimicrobial materials (Runyan Black Bra $65), and HPE's antimicrobial silver technology helps prevent bacterial buildup (High-Waist Seamless Leggings, $135, Moon White and Keep Me Close Bra, $85).
Environmentally friendly
Eco-conscious activewear — made from, for example, recycled plastic bottles and recycled wool, or prioritizing sustainability — can be found at Lolë (Olivie pant, $90, and Travis Top, $75); Prana (Boost Bra, $59); RE3 (Dreamcatcher Hot Shorts, $49); Teeki (Great Star Nation Hot Pant, $72, and Tank, $32); and Inspire Active Wear (Wing Long Leggings, $84).
Inspirational
As a popular running coach says: "You are strong! You are beautiful! You are brave! You are smart! That hill is tough — you are tougher!" You can get inspired with For Better Not Worse (Dreamer Doer T-Shirt, $44); GoodHYuoman (Everyday Grateful Pullover, $68); Sub_Urban Riot (Good Vibes Tee, $44). Channel your inner warrior with NUYU's "Warrior Princess" Muscle Tank, $55.
Flashy and glamorous
Because some days you just need to be extra-extra not ordinary: Hollie Watman (Gray Foil Halter Top, $130); Wear It to Heart (Disco 54 tank, $54, Disco Candy Bralette, $49, and Ophelia / Sapphire Disco Track Reversible Bomber Jacket, $140); Lukka Lux Black Stained Glass Renegade Jacket, $98, Metroid Legging ($88).
Please consider subscribing today to support stories like this one. Already a subscriber? Your support makes our work possible. Thank you. Get full access to our signature journalism for just 99 cents for the first four weeks.
---