Flying on a 5-incher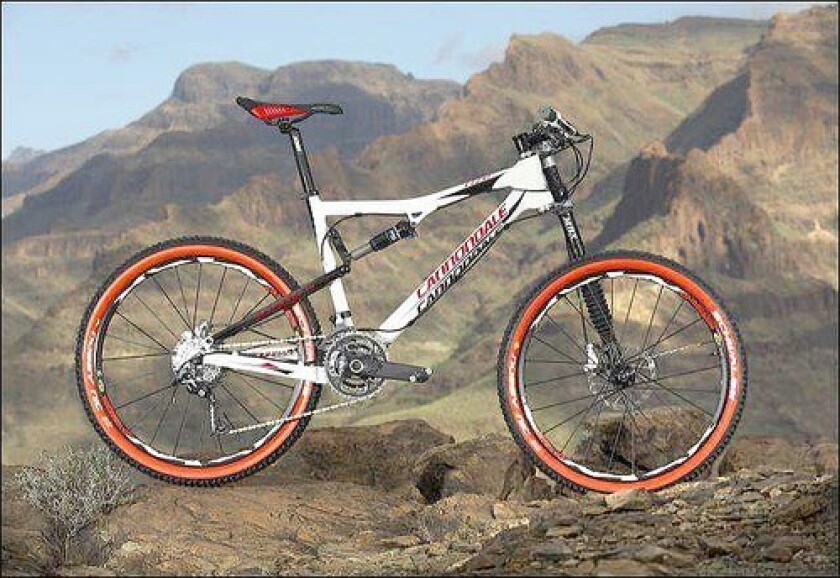 Special to The Times
Five inches. In the mountain-biking world, where the probability of enjoying a breathtaking descent is often measured by the distance your bike's wheels can compress, or "travel," when they hit a big rock, 5 inches of travel is way better than 3 or 4. Although 5 inches typically came on heavy, slow-climbing, 33-pound bikes, advances in suspension design and tubing fabrication have brought big travel to nimble, sub-30-pounders.
Off like a shot
Cannondale Rize: Fast, featherweight carbon-fiber bike with unique, attention-getting features.
Likes: The flat-out fastest climber of the group due to its shockingly light weight of 24 pounds (in a medium size, as with all the test bikes). The sleek, uncluttered design cuts the fat by using Cannondale's combined stem/steerer tube and famed "Lefty" single-armed, carbon fork. While all the bikes had fine adjustable-travel forks with lockouts, which stop inefficient bobbing on climbs, the Lefty's is safer and more accessible because its simple push-button switch is next to the handlebar, not a half-foot reach down. Dislikes: Quick wheel removal for transport is a hassle. Instead of popping the wheel off with a standard quick-release, you must loosen the hub and two disc-brake bolts with an Allen wrench. Also, the smallish 6-inch rotor on the front brake gave me more finger fatigue on the descents than the other bikes, which use 7- or 8-inch rotors.
Price: Rize 1, $5,500; Rize 2, $4,500. Heavier aluminum models from $1,800 to $3,000. (800) BIKE-USA; www.cannondale.com.
Innovative rear suspension
Trek Fuel EX 9: High-performance aluminum bike with unusual new frame configuration designed to maintain better traction during descents.
Likes: Extremely smooth, fluid 27-pound bike that does everything well. That's due to an innovative rear suspension with a "floating" shock not directly anchored to the main frame, as with all other bikes. As advertised, the bike seems to minimize "brake jack" -- the stutter-bump skidding that can occur when braking on steep downhills. With the longest cockpit and wheelbase of the test bikes, it puts you in a classic, efficient bike-racer position. Dislikes: The long cockpit might leave casual non-racers too stretched out and uncomfortable.
Price: EX 9, $3,409; EX 7, $2,089; Carbon-framed models more. (920) 478-2191; www.trekbikes.com.
Going the distance in comfort
Giant Trance XO: Aluminum bike that seamlessly melds comfort and performance.
Likes: Great all-conditions climber and descender with a complex but proven "Maestro" suspension design that seems to handle "brake jack" as well as the Trek yet has a more-comfortable riding position. Like the Cannondale, the cockpit is just right; it's light (26 pounds), and includes burley CrossMax wheels with straight-pull spokes.
Dislikes: The tight clearance between the vertical rear frame and the rear tire is no problem in dusty SoCal but might clog in muddy venues, such as Costa Rica's La Ruta endurance race.
Price: Trance X0, $3,700; X1, $2,700; X2, $1,900. (800) US-GIANT; www.giant-bicycles.com.
In cruise mode
Specialized Pitch: Burly, upright, long-travel, big-brake aluminum bike.
Likes: Extra-plush shock absorption -- 6 inches of rear-wheel travel, 5 1/2 in the front wheel -- flattens out rocks. A short cockpit puts you in an upright, cruiser-like riding position that emphasizes comfort. Downhill braking is super because of huge, 8-inch front-brake rotor, biggest of the test bikes. Dislikes: Weighs a hefty 31 pounds. Upright position not optimal for power and speed.
Price: PitchPro, $2,700; Pitch Comp, $2,050. (408) 779-6229; www.specializedcom.
Irvine-based endurance cyclist and runner Roy M. Wallack is the coauthor of "Bike for Life: How to Ride to 100."
---