The utter bliss of bikepacking in the backcountry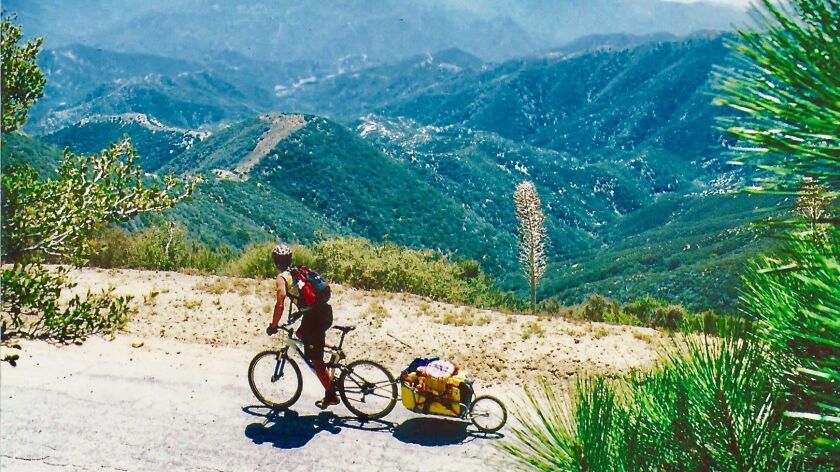 We called our trip the TransGabriel Challenge: three days, 78 miles and 18,000 feet of climbing by bike on dirt and gravel roads across L.A.'s San Gabriel Mountains. We pulled 50-pound trailers packed with tents, sleeping bags and gallon jugs of water. Loaded with more sights than we could have seen on foot in weeks, the TransGabriel was one of the most fun, challenging adventures my friend and I have ever done.
But when we told other cyclists about it, they shrugged. Riding into the empty backcountry and camping out — like backpacking with a bike? No thanks. That was 2002. Today things have changed. After gravel racing exploded a few years ago, introducing millions to the remote, car-free backcountry, camping on wheels was the next logical step. It quickly gained an official name: "bikepacking."
Naturally, bikepacking-specific gear soon followed. Specialty bikes sport heavy-duty road-bike frames with wide mountain-bike-style knobby tires and lots of mounts for racks, fenders and extra water bottles.
There are cargo bags — for handlebars, forks, racks and under the seat — that instantly turn your regular or mountain or hybrid bike into a camper.
Below, find three beautiful and remote routes good for bikepacking, and they're surprisingly close.
Mt. Wilson challenge
What: A two-day 23-mile loop up to 5,710-foot Mt. Wilson and back.
Rating: Tough. Includes steep paved and dirt climbs, and descents on fire roads. Extreme grades up to 15%.
Route: Day 1: Starting at the Cheney Trail in Altadena, turn onto the steep paved section of the Mt. Lowe Railway, which becomes dirt and levels out after 2.3 miles. Free camping is available at the Mt. Lowe Trail Camp at mile 5. Day 2: Continue 3 miles through the Mueller Tunnel, then take Red Box Road 2.5 miles to Mt. Wilson. Stop for lunch and sightseeing, then descend 8.7 miles and 4,400 feet on the Mount Wilson Toll Road. About 3 miles from the bottom, campsites are available at Henninger Flats. Finish the loop with a 3-mile ride on streets back to your car.
Highlights: At Mt. Wilson, stop for lunch at the Cosmo Cafe, historical exhibits and telescope viewing. At Henninger Flats, enjoy the panoramic views of the San Gabriel Valley, a fire lookout tower and a tree nursery operated by the L.A. County Fire Department. Visitor center: (626) 794-0675.
Salton Sea sensation
What: A two- or three-day 100-mile loop in the desert from beautiful Painted Canyon to gritty Slab City, a Mad Max-type squatter town and art colony named for old concrete slabs of an abandoned Marine Corps barracks.
Rating: Moderate/easy. Flat-to-rolling terrain with minor climbs and descents.
Route: Starting from the tiny town of Mecca on Highway 111 east of Indio, ride 5 miles northeast on State Route 195/Box Canyon Road to Painted Canyon Road. Explore the slots of Ladder Canyon and set up camp; this is federal Bureau of Land Management land, so camping is legal anywhere. Day 2: Ride the dirt-gravel Coachella Canal Road (a.k.a. Powerline Road) east along canal waters for 48.3 miles to Slab City. Day 3: Return to Mecca by taking a fast 50-mile ride on roughly paved, lightly trafficked Highway 111 on the northeast side of the Salton Sea.
Highlights: Slot canyons of Painted Canyon; slabs, weird art and Salvation Mountain at Slab City; Salton Sea views on Bombay Beach (food and drink); Oasis Date Garden (fresh dates).
Santa Ynez wonderland
What: A two-day, 70-mile loop from Ventura to Ojai and Santa Barbara by beautiful paved bike path and forest dirt roads.
Rating: Easy and hard. Begins and ends flat, with big climbs in the middle, and 6,300 feet total elevation gain.
Route: Starting at sea level, the paved Ojai-Ventura Bike Path rises an easy 800 feet over 14.9 miles through lush landscapes into Ojai. Take Matilija Canyon Road as it turns to dirt as it follows Matilija Creek upstream into the forest. Turn onto the Matilija Trail to Jungal Road and go 5.7 miles west to campsites at the Upper Santa Ynez Camp (2,926 feet elevation), nestled under live oaks next to a creek with a picnic table, fire ring and great views. Day 2: Continue west on Jungal Road along the Santa Ynez River, cross onto East Camino Cielo dirt road, and climb to the top of the Santa Ynez mountains, at 3,500 feet. Coast down into Santa Barbara on paved Gibraltar Road, then ride the coast back to Ventura.
Highlights: Fantastic forest and river views in the Los Padres National Forest.
---