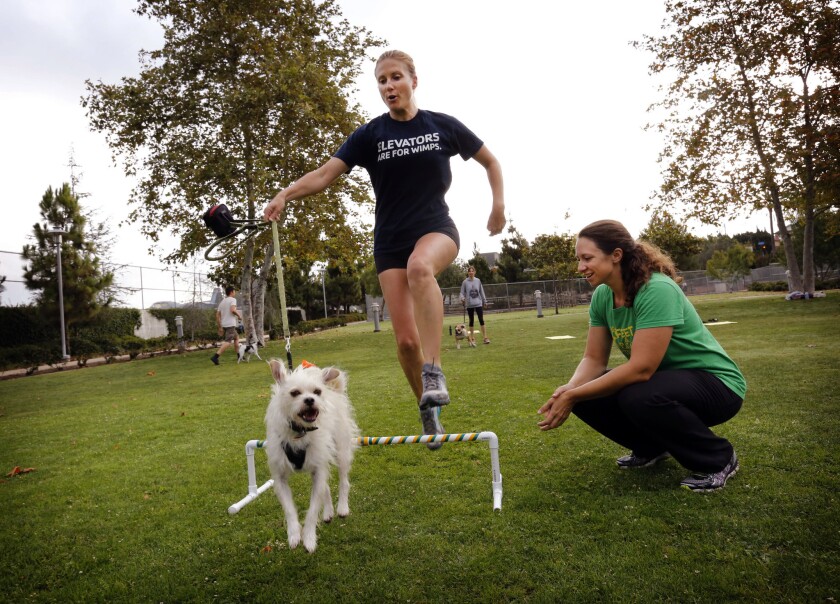 Getting Beanie, our little terrier, out the door for a 7 a.m. exercise class brings to mind the battles that raged over getting my teenagers up for school. At least I'm bigger than Beanie. We headed to a park for a Feet & Paws Fitness class called New Paws on the Block, intended as a class for canine and human to begin a fitness routine together. There are more advanced levels too.
Beanie has plenty of energy, especially to jump up on anyone at our door, but she's nothing like my friend David's dog: Mikey runs with him as far as 10 miles. And as I suspected, Beanie was quite happy for the parts of class that left her sitting or lying down on the mat.
Feet & Paws, Airport Park, 3201 Airport Ave., Santa Monica. www.feetandpawsfitness.com
Aura
Encouraging. And it's fun to have your dog with you. As founder Tracy James put it midway through a round of exercises: "Look at your dog to take that pain away. The pain is temporary." And she never forgets the dogs, including a short dog massage after the final stretch. (James takes vaccine records and will assess your dog before you get started.)
See the most-read stories in Life & Style this hour >>
Effort
It varied. Dogs need bathroom breaks, and they're likely to veer off to chase a squirrel or otherwise don't always do as James or the owners want them to. So while I worked up a good sweat, and Beanie plopped down on the car seat after class, it's definitely a shared exertion. The humans seemed to get the most out of the exercises when the dogs sat; we did squats, burpees and other moves.
Style
Casual. The four dogs in class behaved quite well, with and without treats to lure them. James also offers some tips for handling the animals, whether active or not. Here's one: Don't use the word "come" for your dog unless it's for something good. If you call "come" and the result is a hated bath, the dog might not come sometime when it's really important.
Cost
First class is $15. Others are $25 with discount packages available.
If you've got ideas for classes I should check out, please let me know by email or Twitter @mmacvean.
ALSO:
At Rise Nation class, 30 hardcore minutes of up, up, up
Yoga Blend studio aims for a community-minded, noncompetitive spirit
P90X Live workout at Chino's Fitness 19 a blast of movement
---