3 healthy ways to add fat — yes, fat! — to your diet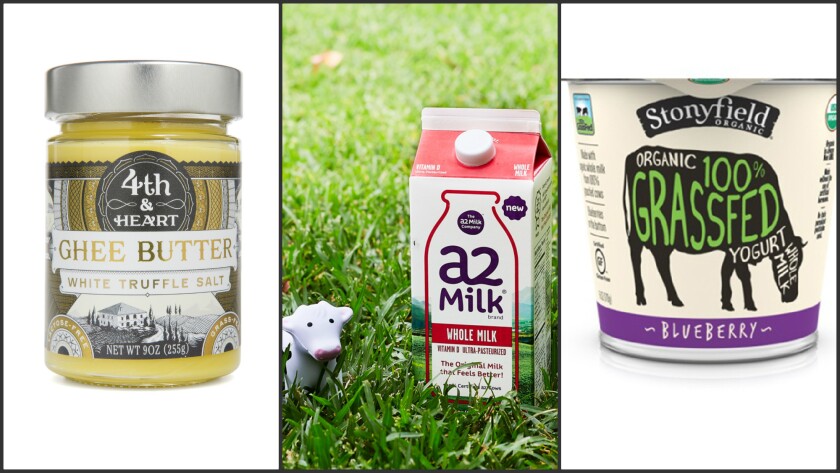 After decades of low-fat yogurts and 1% milk populating store shelves, whole milk and products such as creamy ghee (clarified butter) are finding their way back to favor.
On the back of a 2014 Harvard School of Public Health study that found full-fat dairy to be more satisfying — and consequently more effective for weight loss — brands are catering to increased demand for whole rather than low-fat versions of their products.
"It's satiating, it helps regulate blood sugar levels and keeps us fuller longer," nutritionist Brooke Alpert said.
Here are some new, nutritious whole-dairy products to try:
Raquel Gunsagar debuted her Los Angeles-based line of flavored ghee from grass-fed cows — 4th & Heart — last year. A staple in South Asian cooking, ghee — which is clarified butter — is a fat that is considered medicinal in Ayurvedic healing. "Ghee is easy for the body to metabolize," Gunsagar said. The brand has just launched its White Truffle Salt and California Garlic flavors, which can be used in a variety of ways, including sauteeing and in omelets or adding flavor to vegetables. $14.99 to $24.99. Available at Whole Foods, Amazon, thrivemarket.com and others.
Yogurt brand Stonyfield Organics is 30 years old but just this year expanded its options, including yogurts in pouches, for portability. "What we're seeing on the store shelf is that whole milk products are starting to move a lot more than their low-fat and non-fat counterparts," said Liza Dube, director of marketing communications for Stonyfield. "Healthy fats have become a part of the food vernacular." Launched earlier this year: Organic 100% Grassfed Whole Milk yogurt and Greek yogurt in plain and fruit flavors. Prices vary, available at many grocery stores.
In the last year, sales of whole milk are up 12.5%, said Blake Waltrip, U.S. chief executive of milk brand A2, which markets itself as being easier to digest than other milks. The demand is pronounced in the natural and specialty gourmet channels, he said: "There is a major movement toward the realization that good fats are good for you. They are an important part of the overall dietary pyramid." $3.99 at Ralphs, Sprouts, Trader Joe's and other retailers.
READ ON!
Why midnight snacking is the worst
7 reasons why you can't lose the weight
---