Cramming in a workout and a healthy meal when there's just no time!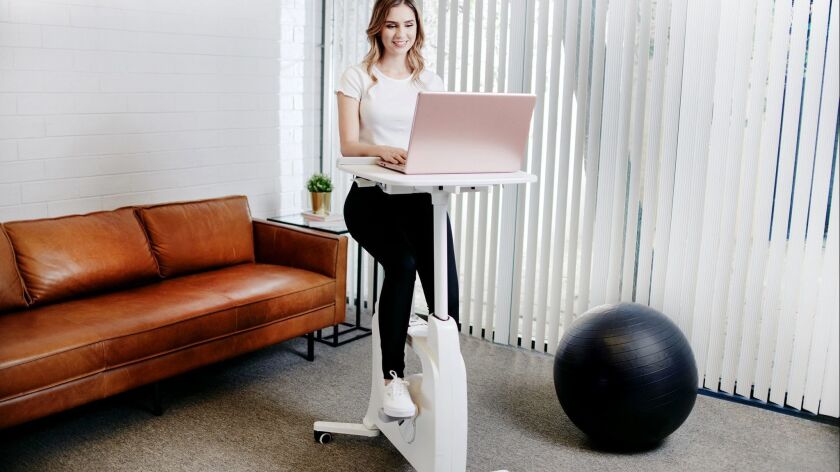 Around the second week of February is when 80% of New Year's resolutions permanently fall by the wayside, say some reports.
But it doesn't have to be that way. From a meal plan kit that comes with its own cooking appliance to a go-anywhere gym-in-a-bag, a stationary bike that doubles as a desk and a futuristic mirror that will tell you what's working, here are ways to help you stick with that wellness plan.
For those days when you have no choice but to be tethered to your desk, the Deskcise Pro can help squeeze in some cardio while writing a report, doing homework, checking emails or streaming a show; the desk bike offers several resistance options, assembles in a few minutes without tools and is on wheels so it can be moved from room to room. $399, flexispot.com
::
The Tovala steam oven-and-meal-kit combo was created to avoid the siren call of the drive-through.
"We looked at different solutions for healthy dinners, from frozen foods to meal kits, and there was some compromise with all of them," said David Rabie, Tovala co-founder and CEO. "Whether it was quality, cost, nutrition or time, nothing solved the whole equation." This countertop WiFi-enabled oven can steam, broil, bake and toast. It also comes with portion-controlled meals: Customers choose from entrees — some are vegetarian and gluten-free — that include lemon honey salmon with roasted broccoli or wild mushroom risotto.The scan code on the packaging uploads preparation instructions, with most foods being ready in 20 minutes. The oven is $349. Each meal is $12. With a 100-meal commitment, the oven is $249. tovala.com
::
Los Angeles trainer Kit Rich said that after years of accompanying clients on movie sets and concert tours (she has worked out with Jennifer Lawrence and Kesha), she began identifying herself as "the traveling trainer."
"I started throwing my essentials into one bag, my absolutes that I use for a multi-disciplinary approach that includes circuit-training, weight-training, Pilates and yoga fusion," she said.
That led to Kichgo — a drawstring bag containing items such as resistance bands, sliders, an inflatable Pilates core ball and jump rope. Rich then created 30-minute-and-under workout videos with beginner and more advanced modifications.
"The workouts are tailor-made for the contents of the bag," she said. "Everything is designed for people with limited time and space. And nothing is extreme. I wanted to create an approachable system that you can be consistent with."
The bag weighs under 2 pounds and can fit into a backpack, tote or desk drawer. $65 at kichgo.com including access to the videos. $10 premium for pro videos designed for a more rigorous workout.
::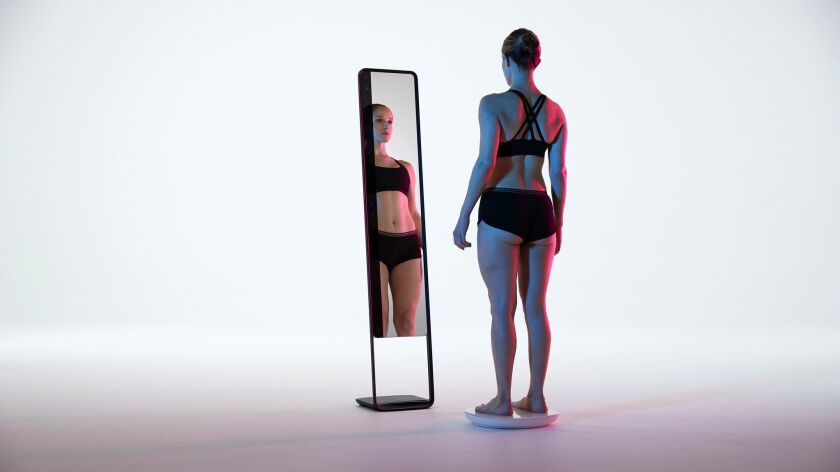 How to tell if all your hard work is paying off?
Invented by a former electrical engineer who was also a spin cycle instructor, the Naked 3D Fitness Tracker is a futuristic piece of equipment that lets the user see specifically how the body is responding to a diet or workout regimen. The equipment comprises of a rotating stand and a full-length mirror which scans the body and compiles metrics around body fat, lean mass, fat mass and measurements. Users can compare side by side then-and-now images. According to the Redwood City, Calif., company, the typical customer is not the pro athlete or body-builder, as originally thought, and is instead "the average person who has tried to lose weight, failed, and is looking for ways to get over the plateau and to their goals." $1,395, nakedlabs.com. (New orders will ship in April.)
---