Keto? Whole30? Paleo? Lunchtime meals deliver
Brown-bagging healthful lunches is a lot easier when they're prepped, packed and ready to pull out of the refrigerator. And companies are increasingly delivering that convenience to those on specific meal plans — Whole30, keto, paleo, vegan — for a price, of course.
"There's a rise in what we call 'tribalism' when it comes to health," said Darren Seifer, food industry analyst with research company the NPD Group, which published a study last month, "What's Next for Meal Kits." "People are doing keto or paleo and their goals are going in diverse directions. Services are offering convenient solutions which are appealing to a lot of these tribes."
What does that mean for the consumer? As dinner-time meal kits have grown more popular, businesses are seeing a growth area in lunch. More options than ever are available for those on various diet regimens, designed to make eating spiralized carrots and riced cauliflower grab-and-go easy. Here's a look at just a few on the market, so shop around:
Following Whole30?
For those adhering to the Instagram-friendly diet predicated on vegetables and animal protein and with no legumes, dairy or grains, Kettlebell Kitchen delivers meals like barbecue chicken with roasted zucchini or curried cauliflower rice, made in the company's Gardena facility. Founder and Chief Executive Joe Lopez-Gallego said nutritionists are on hand to counsel callers about making good food choices, whether they are trying to lose weight, gain muscle or enhance sports performance. Vegetarian, keto, paleo and other plans also available.
"We have families where everyone is on a different meal program," he said.
Info: Prices start at $10 a meal, kettlebellkitchen.com
::
Anti-inflammatory protocol
Kelly Boyer, nutritionist-chef and founder of Venice-based Paleta, launched her Anti-Inflammatory Fix, a three-day program with ingredients believed to help with inflammation, a condition that contributes to joint pain, lowered immunity and fatigue. Meals skip gluten and dairy, and include offerings such as overnight oats with chia seeds and coconut milk, butternut squash soup with turmeric and ginger, and roasted vegetables with basil pesto. Boyer designed the anti-inflammation diet on the back of Paleta's signature keto program. Paleo and other plans available, too.
"Your eating plan can and should change depending on what's happening with the body and what you're feeling," she said.
Info: Starting at $199 for three days' worth of meals. paleta.com
::
For a fasting reset
Embraced as a way to "reset" the body for otherwise healthy people, intermittent fasting can be challenging for most, especially those who are active. So Valter Longo, a professor of gerontology and biological science at USC, where he is also director of its Longevity Institute, developed ProLon, a five-day grab-and-go meal plan that mimics the effects of fasting — without going hungry.
"Typically with fasting there are signs of weight loss, mainly around the belly and waist area, and an improvement in blood pressure," said Joseph Antoun, a medical doctor and chief executive of L-Nutra, which makes the ProLon kit. The box contains dehydrated soups (minestrone quinoa, mushroom), packets of olives, bars made with nuts and dried fruit, supplements and herbal teas, designed to be carted to work or on the road.
"Our studies indicate that fasting once a month for three days can help those with high cholesterol and blood pressure," Antoun said.
Info: $249 a box, enough for a five-day "fast," prolonfmd.com
::
Supermodel vegan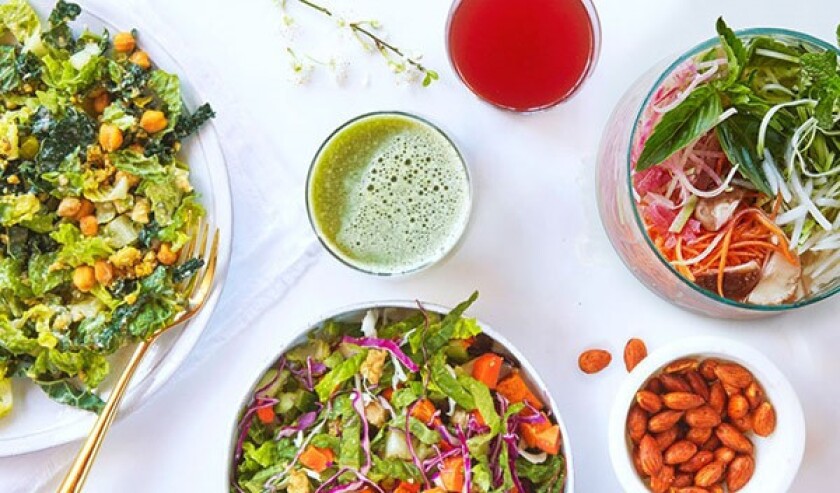 California acupuncturist and herbalist Neka Pasquale founded Urban Remedy to deliver vegan meals to people looking to add more vegetables and unprocessed foods into their diet but unsure how to start. ("We've done the thinking for you" is the brand tagline.) The company delivers options such as Chinese chicken salad (made from kelp noodles, with no chicken) and pad Thai (zucchini and squash noodles). Putting its own twist on fast foods and vending machines, Urban Remedy has automated kiosks in several hospitals in the Bay Area, including Stanford and the California Pacific Medical Center, dispensing its meals. Products are also available at Whole Foods throughout Southern California.
There's also a meal plan that Urban Remedy says is "curated by and for" supermodel Kate Upton, which includes a mock-tuna wrap and a vegan Caesar made with seed cheese.
Info: Starts at about $165 for three days, urbanremedy.com
---