Walk the footpaths of the Hansen Dam Recreation Center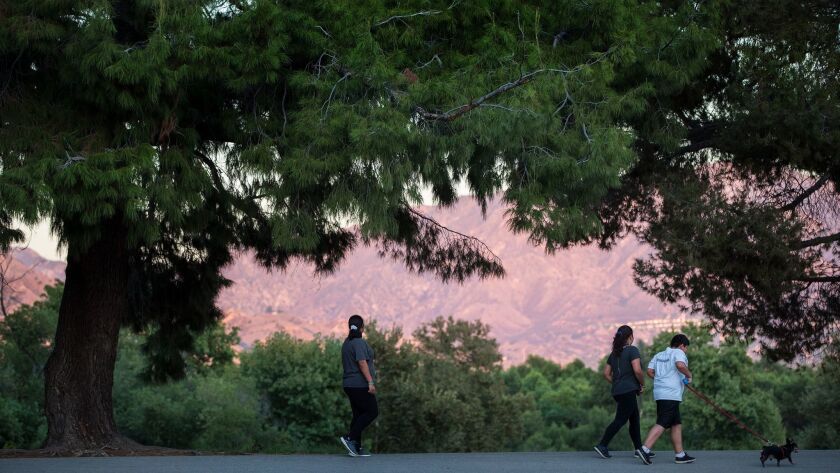 Hansen Dam Recreation Area in Lake View Terrace is a popular spot for swimming, horseback riding, golf and soccer. But it's also a wide-open space laced with footpaths. Here's a circular walk that will give you a good feel for the place without wearing you out.
1. Enter by turning southeast from Osborne Street onto Dronfield Avenue to enter the Hansen Dam Recreation Area. Turn right at the first corner and park at the ranger station.
2. Cross the street, turn right and begin following a dirt path bordered by a white metal rail. Follow this to the big bend and swing left.
Find more great L.A. Walks — maps included >>>
3. Keep the tall trees on your left (and the big wall that is part of Hansen Dam to your right) and follow a partly paved road. Pass a wildly graffitied gate and continue straight ahead as the trail narrows through some wild reeds and grasses.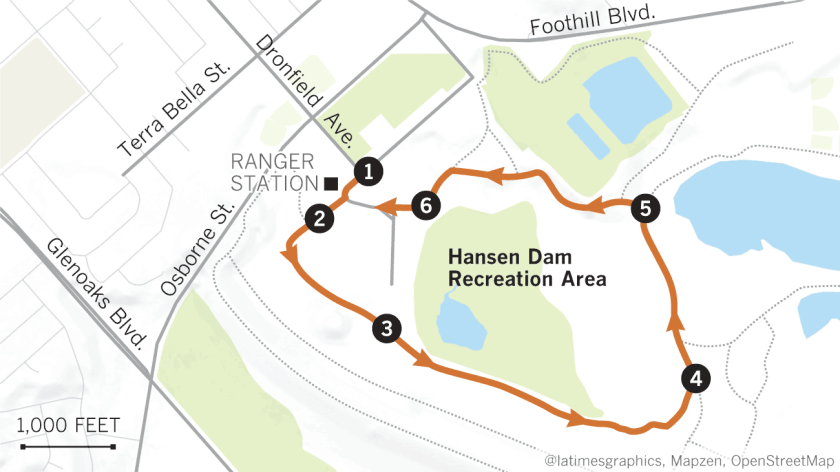 4. When you finish bushwhacking and come to a broad, open, dirt space, bear left and look for a dirt road leading off in that direction.
5. Follow the dirt road for a few minutes. When you come to a Y intersection, bear left again and walk along a narrower path. Follow this as it crosses a culvert and descends into some welcome shade. Bend left as you emerge from the trees and stay on the dirt path.
6. When you come to a parking lot, bear right and find the paved road going up a short hill. At the top of the hill is the ranger station and your starting point.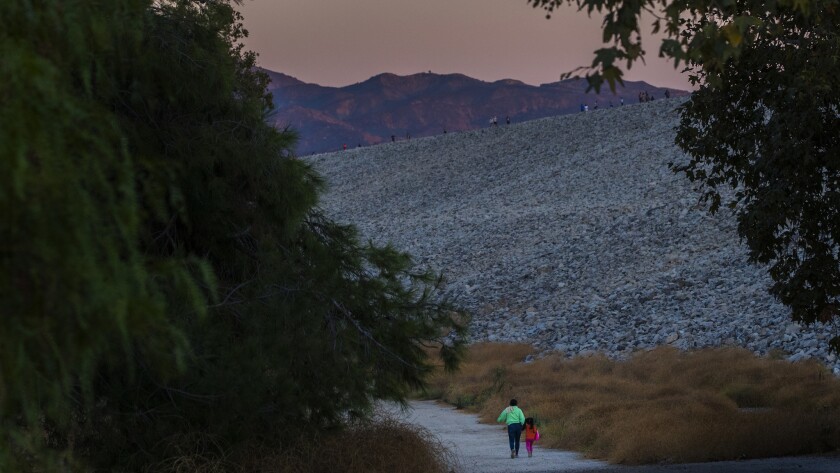 The stats
Distance: 2.5 miles
Difficulty: 2 on a scale of 1 to 5
Duration: 1½ hours
Details: Bicycles and dogs on leash welcome. Ample free parking. Lots open from 6 a.m. to 8 p.m.
Fleming is the author of "Secret Stairs: A Walking Guide to the Historic Staircases of Los Angeles" and "Secret Walks: A Walking Guide to the Hidden Trails of Los Angeles." Each month, he leads a free walk at one of his favorite spots in Southern California. Find out more at his Facebook page, Secret Stairs. He can also be reached at charles.fleming@latimes.com.
MORE L.A. WALKS
This short, steep hike takes you high above Burbank
Strolling around the lakes in El Dorado Park in Long Beach
This hike takes you to an (allegedly) haunted mansion: The Cobb Estate in Altadena
---