Turns out, laser tag is an incredibly fun way to get in a workout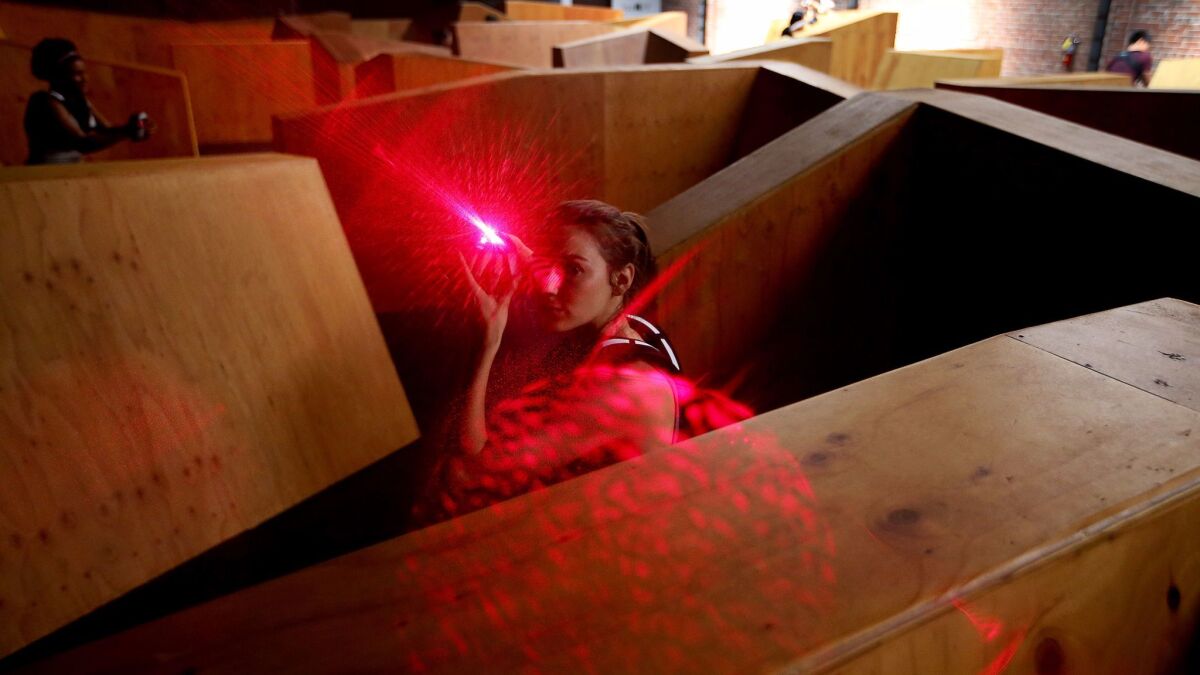 A new downtown Los Angeles gym is hoping to turn its mix of laser tag and parkour into a new sport for adults, whipping people into shape, as they run, duck, and jump over wooden ramps and barriers to avoid being shot.
The idea is that by immersing yourself in play, you don't realize how hard you're breathing after one 8-minute long session in the maze, and its competitive aspect has you wanting to get back into the game.
It's mildly addictive, with a short learning curve that doesn't necessarily give an edge to the strongest or fastest in the pack. Just ask the muscular guy in his early 20s who found himself trailing this 40-something newbie.
Leave the kids at home
This is not the typical kids "Star Wars" version of laser tag you'll find at a kid's party, says Lucie Colin Robert, a former French gymnast who developed the idea with her professional wakeboarding husband Philip "Tarzan" Du Lac, who leads the classes for up to 10 people.
Lazrfit's space near Staples Center is sleek, light-filled and no-nonsense, with no flashing lights or special effects, just a slanted wooden maze, brick walks and big lobby space for warming up, stretching and socializing after your sweat session. A locker room and showers are also available.
The couple have been involved with laser tag in France for years, setting up a laser tag website, hosting tournaments and developing an athletic style of play. They came to Los Angeles earlier this year with the mission to reintroduce laser tag as both a workout and a sport for adults, with a facility that offers individual games and classes.
The first step was redesigning the bulky laser tag gear to be more lightweight for active sport with straps, sensors and a handset, rather than a vest, gun and holster to target your opponents. The handset and sensors on your chest and shoulders flash red when you've been hit and blue when you're back in action. It also tracks your hits (and who hit you), as well as your ranking and the calories you burned during that session.
There's a brief orientation to get your familiar with the equipment, but not much instruction on parkour or strategy. That you mostly pick up from others in the game.
High-intensity cardio workout
It's intense, especially if you have Du Lac, or a larger group playing. You're constantly in motion, avoiding hits from someone perched atop one of the walls, or reversing course and ducking to avoid someone sneaking up on you from around the corner.
"We wanted to have [walls] that were not as high so people can see you from far away, you have to move all the time because you are so exposed," Colin Robert said. "You can't just stand and wait behind a wall for someone to find you."
Unlike traditional laser tag, you're not out when you're hit. Your sensors flash red and you must hop up and down or jog to get back into play almost immediately.
Each one of the Lazrfit classes includes a warm-up, two, eight-minute rounds of play and a cool down. While eight minutes doesn't sound like much, it's enough to have you drenched in sweat and out of breath if you're the least bit competitive. My handset readout said my first round of play burned 214 calories, a second demo of five minutes burned 151.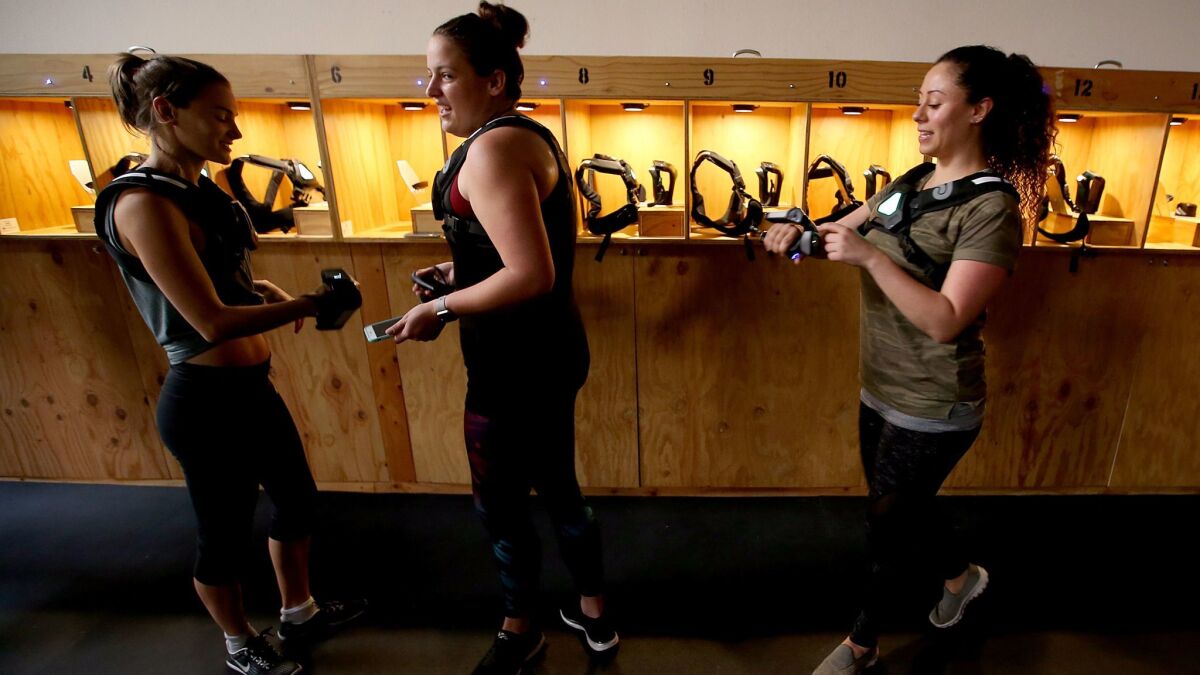 A workout that feels like play
While the crowd that gathers on weeknights and weekends appears to be mostly 20-somethings, Colin Robert says Lazrfit is starting to get people of all ages who love getting a workout that feels more like play.
And to be sure, it's hard to take yourself too seriously when you're firing a laser gun and playing chase.
Just don't tell your kids.
They'll be jealous.
Cost: $15 for your first class, $29 for a single class thereafter, $16 for a single game, discounted packages and monthly memberships available.
Lazrfit, 400 W. Pico Blvd., L.A. (855) 529-7348; www.lazrfit.com