There's just one name for yoga done to the sounds of Drake: Introducing Namasdrake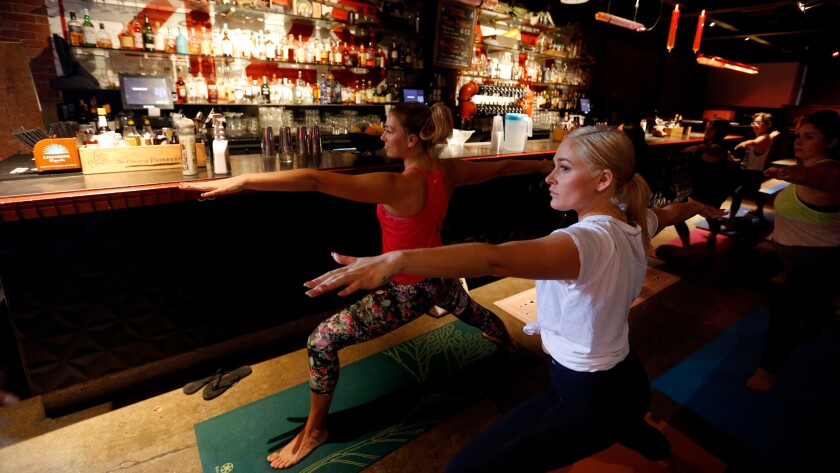 Has any hip-hop artist ever been better suited to score a yoga class than Drake, that most sensitive of rappers, that King of Feels? The creators of Namasdrake don't think so.
The brainchild of DJ and event promotor T.J. Petracca (co-founder of Ride or Cry Collective/Emo Night) and DJ and yoga instructor Paul Schneider, Namasdrake is an hour-long vinyasa-flow class set to an all-Drake playlist, appealing to hipsters and yogis and that sweet spot of health-conscious Angelenos in between.
Held monthly at ultra-hip music venue Resident, Namasdrake strikes a balance between legitimate workout and pop-culture party scene. Namasdrake (tagline: Just Hold On We're Going Om) is not just a gimmick: the rapper's rhyming flow and flow yoga possess an uncanny affinity. "He's so sensitive," explains Schneider, "but at the same time has these really hard hip-hop songs … it's like the yin and yang of yoga."
AURA
Resident is a nightclub, a fact that Namasdrake works with, rather than against. I arrive early and set up my mat directly next to the bar — the perfect spot from which to scan the cocktail board while in extended side angle.
Petracca mans the DJ booth and sound system, which boasts base deep enough to penetrate your root chakra, while the stage where Schneider demos is lighted by a purple spotlight, as if for a band. The woman beside me wears a shirt that reads "'Draking /drake-ing/ adj. when someone is behaving in a very emotional manner." Numerous selfies are shot before, during and after the practice — Petracca and Schneider have even created a geo-located Snapchat filter specifically for the event: a floating Drake, in mountain pose, crying a single tear.
EFFORT
The playlist is meticulously curated, a mix of atmospheric deep cuts and crowd-pleasing bangers. The class builds in intensity in accordance with the music, and Schneider leads a challenging, strength-based vinyasa flow, relying on demonstrations and verbal cues to illustrate postures.
For beginners, he stresses the importance of breath. (While searching for my floating ribs at his behest, I realize I am quite literally feelin' myself.) Seasoned yogis have the opportunity to hold the crow pose for an entire track, but by the time "Truffle Butter" comes on, my muscles quake. Schneider invites participants to take child's pose — or to Snapchat — during breaks.
STYLE
"Inhale," intones Schneider, "and open up your heart like Drake does in every song." We all giggle, grateful for the levity. "Big Rings" and "One Dance" — my jams — keep me motivated, and when a piano rendition of "Hotline Bling" plays during savasana, I wish the afternoon wouldn't end.
Good thing it doesn't have to: Namasdrake is followed by optional "namasdranks" in the beer garden. Offerings for this edition include "What a Time to Be a Lime": rum, lime, sugar and the essence of "someone who used to call you on your cellphone."
COST
Classes are $23 and sold as single events. Be sure to bring your own yoga mat, towel — and ID. Resident is 21-plus. Location. 428 S. Hewitt St., Los Angeles
ALSO
No wardrobe malfunctions here: These bikinis stay put
How Margot Robbie got into superhuman shape for 'Suicide Squad'
Josh Duhamel says 'I wish that women were more celebrated for being curvy and round'
---