Peloton showed that you don't have to leave your living room to get a group cycling workout. Now age-old fitness devices such as rowing machines, treadmills, weight machines and even punching bags are being infused with technology that provides built-in coaches, workout buddies and competitors.
1. Group rowing at home
Hydrow: This sleek-looking rowing machine comes with a video screen displaying on-water competitors, classmates and an instructor rowing in sync with you.
Why we like it: Having onscreen partners feels very natural, motivating and even calming. That's because, according to Hydrow founder and national team coach Bruce Smith, rowing has a tendency to encourage rhythmic syncopation with others. In other words, while everyone can spin at different speeds in a room, rowers instinctively duplicate the stroke rates of their neighbors, unconsciously taking their training to new levels.
Info: $2,199 plus $38 monthly subscription; hydrow.com
2. Punch counter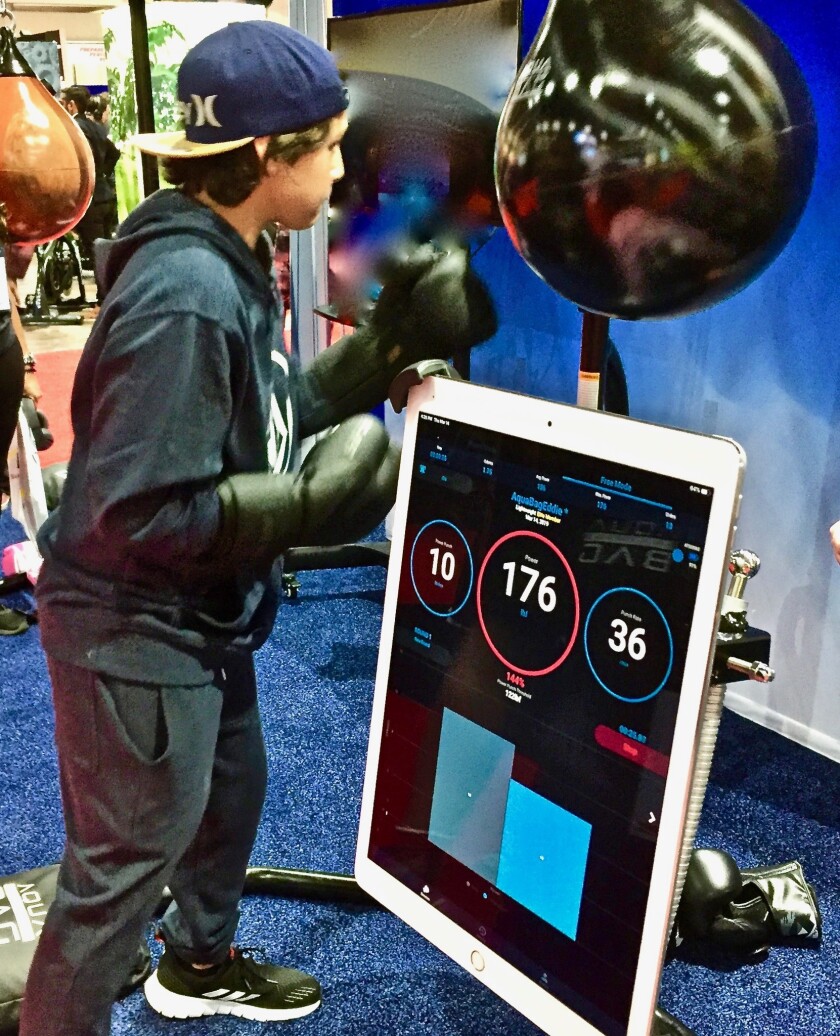 Aqua Training Bag with iPad punch counter: A water-filled punching bag mated with a punch counter/impact sensor that tells you number of strikes, power punches, calories burned and maximum power.
Why we like it: Provides real information that can give you a better workout. Everyone wants to know the number of punches and how hard they landed. Mating a sensor to the bag gives you that data at a very reasonable cost.
Info: Bag $180; sensor and app, $120. iPad not included. aquatrainingbag.com
3. More than running
Technogym SkillRun Treadmill: Elite slat-belt treadmill with controlled resistance that allows it to simulate pushing a sled and being slowed by a parachute.
Why we like it: Variety. Not only is treadmill running suddenly less boring but more effective. In sled mode, you lean forward and push against resistance from the tread belt, as if your Honda Accord has run out of gas, and that blasts hamstrings and quads.
In parachute mode, the faster you run, the more resistance the parachute strapped to your back offers, helping you build explosive power. Also, SkillRun offers guided training sessions, an 18.6 mph top speed, 25% incline for uphill training, a decline for downhills, and provides real-time assessments of your stride length and cadence so you can learn how to run better. Of course, at this price, you may never own one, but maybe your gym will.
Info: $14,400, technogym.com
4. Gym and trainer on your wall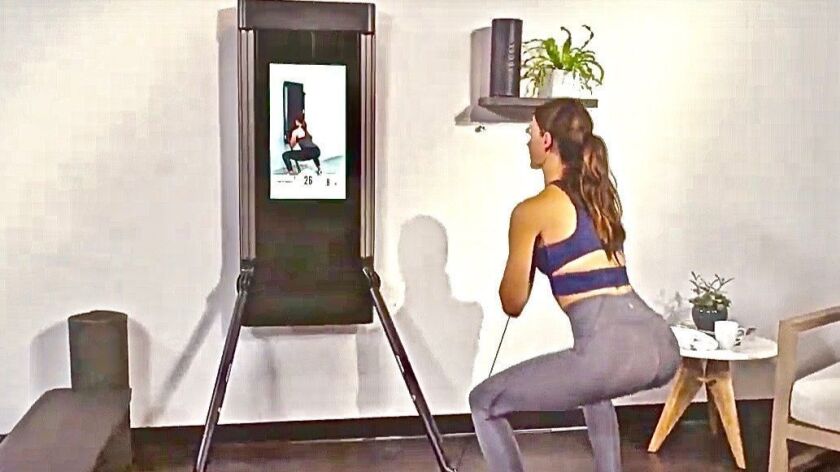 Tonal: Wall-mounted digital strength training device with two adjustable arms that uses motorized resistance instead of metal weights. Onscreen trainers on its large monitor coach you through 200 exercises. After an initial baseline assessment, Tonal sets a personalized workout program, presets the weight for every exercise, automatically tracking progress and raising weights to keep you challenged.
What we like: Coached weight training — especially guided warm-ups and cool-downs — is a good thing, as people frequently get injured when weight training. A convenient time saver that cuts trips to the gym. Clever space-saving design. The downsides are the steep price (although conventional home gyms are not cheap) and a monthly subscription that runs more than a 24-Hour Fitness membership.
Info: $2,995 plus $49 monthly and $250 installation fees. A $495 bench and sensor-embedded bar is needed for about 30 of the 200 exercises. tonal.com
---