A guide to L.A.'s best skate parks
From P.F. Flyers and steel wheels to puka shells and punk rock, skateboarding has rolled through a multitude of ages, stages and styles. Now, this quintessential SoCal sport is preparing to ollie onto its biggest stage yet.
Two stages, actually.
The first: the 2020 Summer Olympics in Tokyo, where skateboarding will make its debut. The second? On Broadway — with none other than Tony Hawk as choreographer.
Hawk is helping develop a musical version of Nick Hornby's 2007 novel, "Slam," featuring onstage skateboarding plus music and lyrics by Mark Mothersbaugh, co-founder and frontman of Devo, whose frenetic tunes served as soundtrack to a generation of skaters.
The Olympic Games? The Great White Way? Hardcore skaters may scowl over the mainstreaming of their four-wheeled "art form" (some still refuse to call it a sport), but there's no denying: skateboarding has grown up.
Unlike their party-hearty counterparts of yore, today's professional skater is more likely to down shots of wheat grass, not whiskey. Even Dogtown skateboard legend Tony Alva, once a hellion of rebellion, has come to embrace inner peace through daily meditation (and still rips on his board at age 61).
Of course, you don't have to be a pro to enjoy world-class skate tourism. Want a tropical skate vacation? Grand Cayman's massive Black Pearl skate park awaits. Prefer to shred in Shangri-La? The Himalayan kingdom of Bhutan opened its first skate park last year.
Here in L.A., quality skate parks are a given. The region gave birth to much of what skateboarding is today, and that heritage continues to draw nostalgia-seeking skaters from around the globe. The following short list, for skaters and spectators alike, offers a sampling of the best outdoor public skate spots in greater L.A. There are many excellent parks — Belvedere in East L.A. and the Cove in Santa Monica among them — but these have a unmistakable feature or vibe.
Garvanza Skate Park
"Gnarly" is probably the most overused term in skateboarding, but Garvanza merits the description. Although not well known to surf-styled skaters who hug the coast, this small Northeast L.A. spot offers something not often found in a neighborhood skate park: a beast of a bowl.
Steep, deep, with a rough, somewhat crusty surface (thanks partly to its ever-crumbling layers of colorful street art), gritty Garvanza is one of the few public bowls to offer a true backyard pool-riding vibe. Which is exactly why pros Tristan Rennie, 20, of Rialto and Nicole Hause, 21, of Oceanside make the trip.
Both Olympic hopefuls, known for their steely nerve and cloud-scraping aerials, prefer an edge to their skate parks, and Garvanza definitely delivers. While this is certainly not a spot for beginners — dropping into this bowl is akin to walking the plank into a shark-filled sea — the rest of the park has mellower features befitting mere mortals.
Spectator tip: Don't show up wearing a Thrasher T-shirt here, unless, of course, you can genuinely thrash.
Info: Garvanza Skate Park, 6240 Meridian St., Los Angeles; (213) 485-4833
Moorpark skate park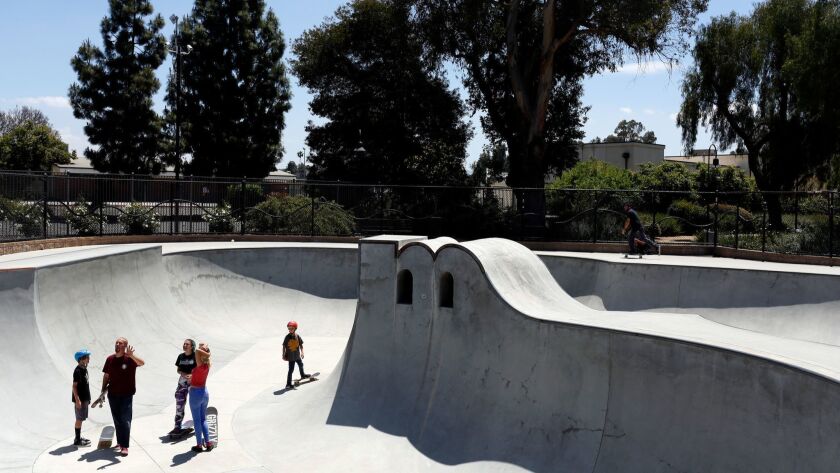 Many bowl skaters consider this to be Ventura County's best skate park, and it's easy to see why. Located within Poindexter Park, the Moorpark skate park ("M.P." to the locals) offers a wide variety of terrain for all skill sets. The beginner area features walls low enough for newbies just learning to drop in, an important (and initially scary) maneuver one typically learns before graduating to more serious terrain.
For the more advanced, there's a sweet replica of a backyard pool — old-school skater heaven — designed by skate legend Lance Mountain. The biggest attraction is the canyon-like run that begins gently but quickly drops, curves and winds, giving the skater enough momentum to zip up and around a final, deep bowl.
Spectators: Keep an eye on Moorpark's iconic "M," positioned atop the park's highest pillar, as that spot usually inspires some of the park's most spectacular tricks.
Info: Moorpark skate park, 500 Poindexter Ave., Moorpark; (805) 517-6300
Nearby and also worth a visit is the Skateboarding Hall of Fame Museum, featuring a collection of historic skateboards and memorabilia, plus a cluster of small skate ramps if you want to get your shred on.
Info: Skateboarding Hall of Fame, 1555 Simi Town Center Way No. 230, Simi Valley; (805) 842-1444
Stoner Skate Plaza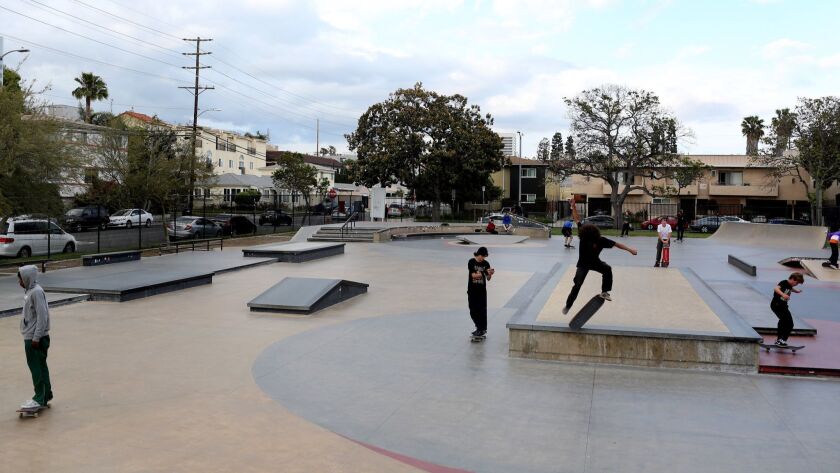 If your town doesn't have a skate park, the entire town is one. So goes the adage repeated by countless skate park advocates, including the nonprofit Tony Hawk Foundation, in city council meetings far and wide. Although the modern generation enjoys more municipal support than in the past, skaters are still having to push to get skate parks built. And Stoner Skate Plaza (the name derives from its Stoner Avenue location) shines as a model on how to do that right.
This colorful, kick-flippin' wonderland was inspired by the hugely influential (albeit illegal) skate scene at the nearby West L.A. Courthouse, a legendary hot spot for street skaters due to rows of concrete planters, small stages and stairs, a perfect proving ground that launched many pro careers. After Stoner opened in 2010, skater Alec Beck helped convinced the city to turn the courthouse into a legal skate plaza as well. A moonshot, but Beck landed it with aplomb.
Although Stoner is the probably top spot for street-style skate parks, the Eastside's El Sereno skate park, nestled under a bucolic hillside, offers street skating with a relaxed vibe.
Info: Stoner Skate Plaza, 1835 Stoner Ave, L.A.; (310) 479-7200
Info: El Sereno Skate Park, 4721 Klamath St., L.A.; (323) 225-3517
Vans Off the Wall Skatepark, Huntington Beach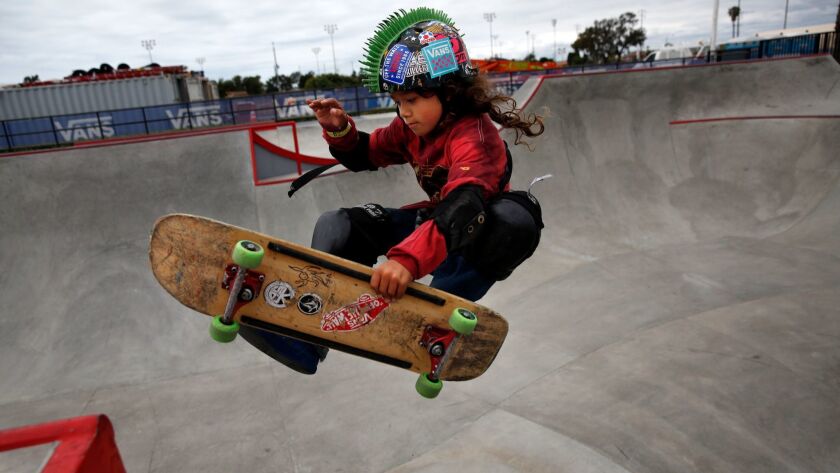 Orange County has a treasure-trove of good skate parks, but Vans H.B., as it's often called, stands out. With silky smooth concrete, steady ocean breezes and a bubbly, communal vibe, it's no wonder so many skaters — pros and amateurs alike — favor this slice of skate park paradise.
The impressive layout includes an extensive street skating area with an array of challenges for the stair-jumping, rail-sliding crowd. The bowl areas are superior, especially after a recent, extensive renovation.
The Combi (named for its combined, or connecting, bowls, one round, the other with slightly squared corners) is deep, steep and scary, akin to a double diamond ski run. If you're not sure you can handle it, step aside and watch experts shred. The new flow area, designed to the rigorous-rad standards of the Vans Park Series pro tour terrain, offers a deep canyon of banks, bumps and curves that, when navigated correctly, help propel skaters round and round. A thigh burner for sure, but oh, what a stoke fest.
Spectator note: This is one of the rare gated skate parks that allow spectators to be in close proximity to the action. A welcome touch, but do keep an eye out for flyaway boards. Also, this park tends to have occasional closures for private events, so it's best to call ahead before you go.
Info: Vans Off the Wall Skatepark, 7471 Center Ave., Huntington Beach; (714) 379-6666
Venice Beach Skate Park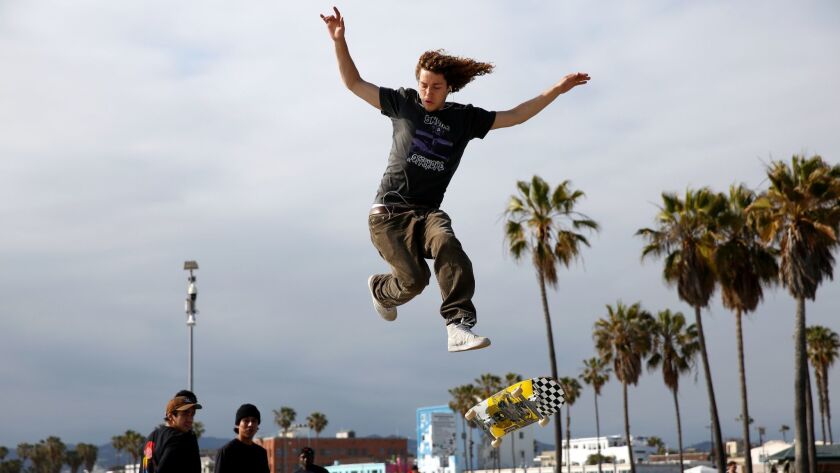 Skaters in gorilla suits. Skaters in suits and ties. Silver-haired ladies skating in bunny ears and tutus. If there's one spot to strut your stuff on a skateboard, whatever your style, Venice is the place.
Built on the sand a short roll away from the Venice boardwalk, this immensely popular skate park draws skate tourists from around the world, and no wonder. Ocean breezes, pristine coastline views, the frequent soundtrack of drum circles and guitar riffs … this skate spot shouts "L.A." like no other.
On top of that, the park and its surrounding area hold a special place in the hearts of many skaters due to its place in skateboard history, immortalized by Stacy Peralta's 2001 documentary "Dogtown and Z Boys" and, later, in the books, blogs and skater reunions that continue to stoke the stoke. (Geek out on the 256-page "DogTown — The Legend of the Z Boys" by C.R. Stecyk III and Glen E. Friedman for the deep-tracks version of this history.)
The skate park's compact design is top notch, with a variety of bowls and street features, plus an old-fashioned snake run — think roller coaster-bobsled mash-up — that serves as an emotional time machine for middle-aged rollers reconnecting with their 12-year-old skater selves. The bliss is real.
But the park's best feature is its welcoming vibe. No matter your age, stage or skill level, the local rippers seem especially chill and give equal time to flailing outsiders. (Visiting skaters might consider returning the kindness by supporting the Venice Skatepark Foundation, which maintains the park.) Wheelchair skaters are also sighted here, amazing spectators and skaters alike with their eye-popping drops into the bowls.
Info: On the sand just beyond 1800 Ocean Front Walk, L.A.; (310) 396-6794, bit.ly/venicebeachskatepark
Barbara Odanaka is the author of "Skateboard Mom" and founder of the Mighty Mama Skate-O-Rama, which empowers women through skateboarding.
---
The essential weekly guide to enjoying the outdoors in Southern California. Insider tips on the best of our beaches, trails, parks, deserts, forests and mountains.
You may occasionally receive promotional content from the Los Angeles Times.