Rooftop workouts in L.A. aim for top-of-the-world experiences
Lithe bodies reaching toward the heavens doing sun salutations on a helipad overlooking the Hollywood sign as the morning sun streams over the Capitol Records building. Chiseled bodies "visualizing" success and calling out affirmations in a spin class overlooking picturesque palm trees and the Pacific Ocean. Running laps around an indoor/outdoor Beverly Hills penthouse while the sun sets and city lights twinkle up La Cienega Boulevard toward the Santa Monica Mountains and million-dollar homes dotting the hills.
It's all so breathtaking, so over-the-top ... so Hollywood.
The rooftop workouts in L.A. are more than just a pretty picture, experts say. Switching up your workout locations can have a practical edge: "Working out is for both the mind and body, and being in a beautiful setting is conducive to a more pleasant experience," says trainer David Kirsch, whose clients include Kate Upton. "The more you enjoy your surroundings, the more likely you are to work out longer and harder."
Two of the rooftop fitness destinations we visited featured calorie-torching interval training circuits, which make the most use of the offbeat space. The result? "You and your body don't get bored," says Kirsch. "You want to have fun and try new things but also shock your muscles with new workouts so that you keep your body guessing and get the maximum results from your workout."
Here are a few places we found to scratch the rooftop fitness itch you may have never known you had.
Burn Fitness
1233 Third Street Promenade, Santa Monica, burnfitness.com
Burn fitness is a two-story, 20,000-square-foot indoor/outdoor space. Owner Tom Williams calls the rooftop element of his gym "invaluable": During an intense Saturday morning interval training class led by Williams, the workout included competitive sprints on the rooftop that's decked out with fitness equipment and framed by views of palm trees and the Pacific Ocean. RYDE4 Cycling Studio is also on the gym's roof.
Price: $95 a month, plus initiation fee. Complimentary introductory visits and pay-by-the-class options are also available.
Vibe: Serious workouts for people who need to look good and feel good because their livelihood depends on it — but they still want to have fun.
Exhale Los Angeles Hollywood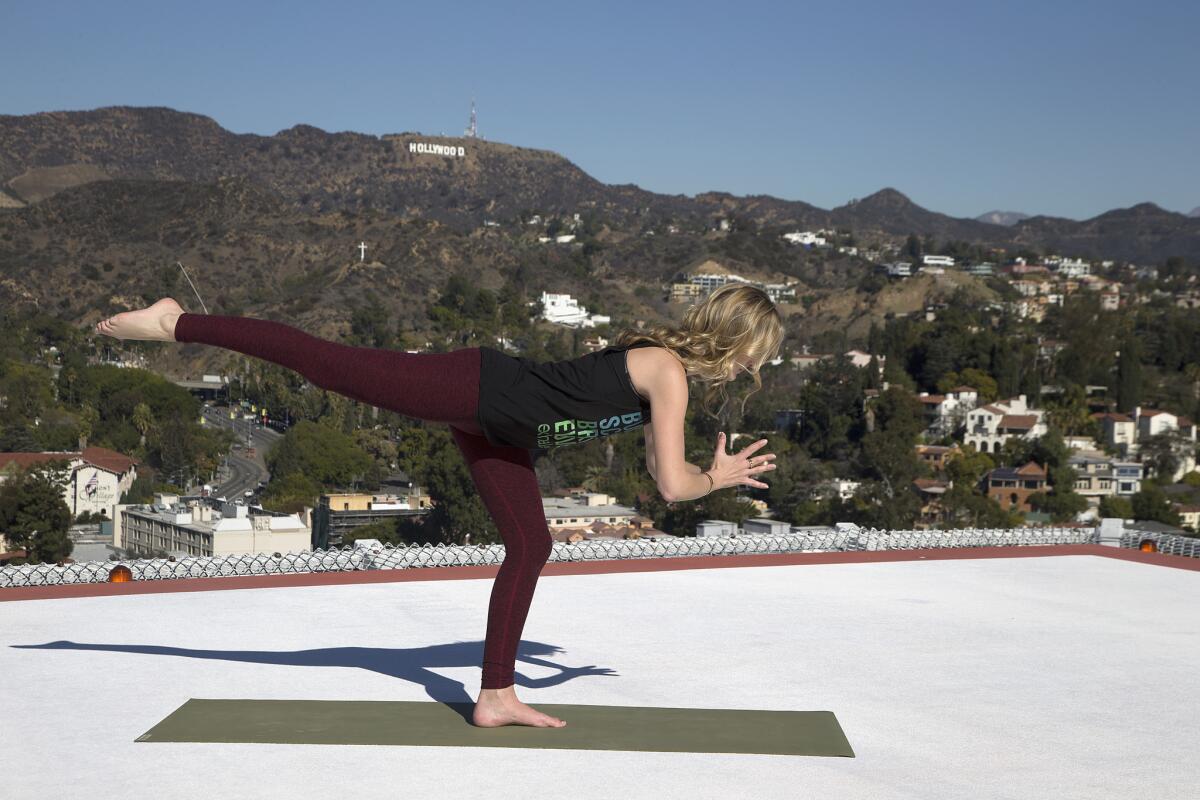 Inside Loews Hollywood Hotel, 1755 Highland Ave., Hollywood, www.exhalespa.com
Next to the Hollywood & Highland complex, home of the Oscars, Exhale amps its own glam factor by offering not just rooftop yoga atop the 20-story hotel but yoga on the hotel's 2,025-square-foot helipad with a panoramic view that includes the Hollywood sign, Hollywood Hills, downtown Los Angeles and, on a clear day, the ocean. (A Jonas Brothers' music video has been filmed here, as have many movie scenes.) In the past they've offered Exhale Flow Yoga classes on the helipad open to the public. That may return in summer. For now, though, Exhale will book an individual or small group yoga class upon request. Staff leads you up a series of stairs via a "red carpet" to another set of narrow stairs to the helipad. If you have a fear of heights, this may not be the class for you. If you love a beautiful view, it's a unique experience worth the climb.
Price: Lessons range from $200 to $500 per class depending on group size and time.
Vibe: Relaxed L.A. appreciation, with a touch of daredevil.
Speedplay Beverly Hills
8500 Wilshire Blvd., Beverly Hills, speedplayla.com
High-energy, push-it-to-the-max, indoor-outdoor interval training on the penthouse roof that includes weight training, running on the self-powered Woodway Curve treadmill, letting it fly on the Concept 2 rowing machine, running laps outside and TRX Suspension Training. Your instructor breaks down the class into groups and, with an eagle-eye, shouts out directions drill-sergeant style as you rotate between exercises. Tip: If you can, go for a class at sunset. If you're feeling a bit jaded about L.A., as night falls and lights sparkle all over the city, you just may fall in love all over again.
Price: Single classes range from $27 to $30. A package of 10 sessions is $250. "Classpass has been great for us," says Speedplay co-creator chiropractor Ryan Pendon. "It's brought in a variety of fitness levels, which is exactly what Speedplay is about."
Vibe: Experimental fun that could even be a good date night