Superfoods for skincare: What that really means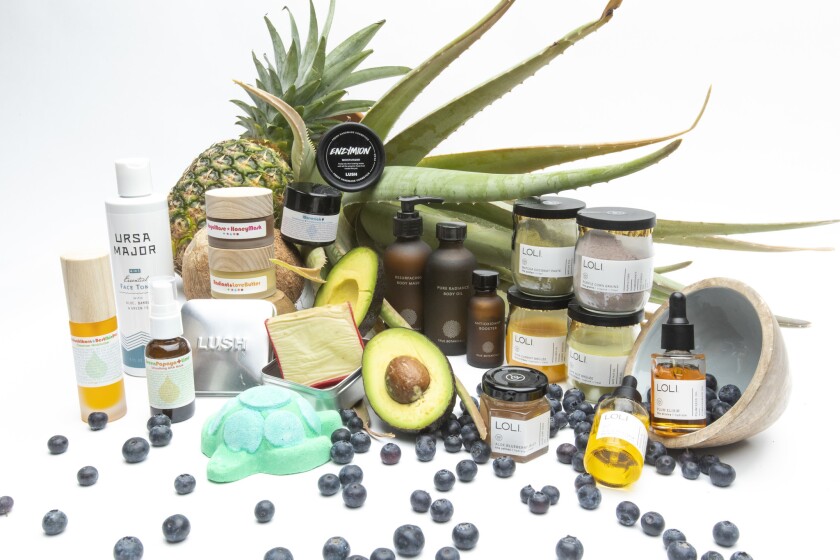 The superfood mantra is, by now, familiar to anyone who inspects labels, hovers over produce at the local farmers market or consumes the literature of the wellness community. The cosmetic and beauty industry has endorsed the superfood concept as well and is pushing out new products about as quickly as you can say "avocado oil" (an ingredient in many beauty and personal care products).
The trend has inspired studies, papers and reports from academics, suppliers and business analysts, including the global marketing firm Mintel, which in 2016 noted the "phenomenal" increase in products — including those found in the beauty and health aisles — that use the terms "superfood," superfruit" or "supergrain."
Hillary Bonhomme writing for the New Food Economy, a website devoted to the culture and politics of food, put it this way: "Food is no longer a supporting player in the world of cosmetics. ... It's pushed its way into a starring role."
According to Harvard's School of Public Health, "a food is promoted to superfood status when it offers high levels of desirable nutrients, is linked to the prevention of a disease, or is believed to offer several simultaneous health benefits beyond its nutritional value."
There's "no scientifically based or regulated definition for superfood," but that has not dampened the enthusiasm of the beauty industry. New products include "superfood" ingredients such as mushrooms, as well as moringa oil, in addition to more familiar additives such as green tea, seaweed, jojoba oil, papaya and blueberries. (The Living Libations line uses jojoba oil in several products, including the All Season Serum, to moisturize and balance oil production. Lush's Turtle Jelly Bomb includes "seaweed absolute" because of its skin-soothing properties.)
LOLI (Living Organic Loving Ingredients) line is composed of individual elements that customers can combine.
(Calvin B. Alagot / Los Angeles Times)
LOLI's tea seed elixir, left, and plum elixir.
(Calvin B. Alagot / Los Angeles Times)
Lush's Enzymion
(Calvin B. Alagot / Los Angeles Times)
Living Libations' Maverick cream
(Calvin B. Alagot / Los Angeles Times)
Living Libations' royal rose honey mask.
(Calvin B. Alagot / Los Angeles Times)
Items from the Living Libations line.
(Calvin B. Alagot / Los Angeles Times)
Living Libations' sea buckthorn.
(Calvin B. Alagot / Los Angeles Times)
Living Libations' green papaya and lime mask.
(Calvin B. Alagot / Los Angeles Times)
Lush's turtle jelly bomb
(Calvin B. Alagot / Los Angeles Times)
A Lush avocado wash
(Calvin B. Alagot / Los Angeles Times)
True Botanicals products, from left: resurfacing body mask, antioxidant booster and pure radiance body oil by
(Calvin B. Alagot / Los Angeles Times)
Ursa Major's 4-in-1 Essential Face Tonic with aloe, bamboo and green tea.
(Calvin B. Alagot / Los Angeles Times)
Sources ranging from WebMD to the National Center for Biotechnology Information (a branch of the National Institutes of Health) regularly post information and academic papers that acknowledge the possible benefits of certain ingredients. Moringa oil, for example, can be found in Lush products such as Queen Bee Hair Honey.
Mushrooms, which seem to be having a moment in the beauty world (the ingredients list for Los Angeles-based Youth to the People's Adaptogen Deep Moisture Cream includes reishi mushroom), are the focus of a paper listed on the NCBI website, which reports that "mushroom extracts are even capable of accelerating the skin turnover rate and repairing dermal molecular components that provide structure and elasticity to the skin."
But even though some medical experts acknowledge that certain ingredients may improve overall skin condition, ease redness and dryness and help with healing, they caution that it is sometimes difficult to know how an ingredient might be processed and how much is used.
Dr. Jenny Kim, a professor of clinical medicine at the David Geffen School of Medicine at UCLA and chief of dermatology at the Greater Los Angeles Healthcare System Veterans Affairs, says an ingredient such as avocado is chock-full of healthy stuff — when it's served on a plate. When it's used as a topical ingredient, "research shows it may play a role in collagen synthesis and wound healing — but how much are they putting in?" (In the United States, the cosmetic industry is, to some extent, self-regulated. Federal law, according to the Food and Drug Administration website, "does not require cosmetic products and ingredients, other than color additives, to have FDA approval before they go on the market.")
Her bottom line? "There's no doubt that some of these products can benefit the health of the body and the skin. We just don't know which product — or how much we should use it."
None of which has deterred the entrepreneurial efforts of beauty gurus who are experimenting with ingredients, production and marketing.
Tina Hedges, a veteran of the beauty industry and an advocate of clean beauty, says she experienced an aha moment as she inspected cosmetics and beauty products in bricks-and-mortar locations. "Why can't women shop beauty the way they shop for food?" she wondered. "Why can't we pick our own organic ingredients?"
Those questions ultimately led her to create the LOLI (Living Organic Loving Ingredients) Beauty line, a direct-to-consumer "food grade organic approach to customizing your own skin care and beauty products."
LOLI offerings — including Matcha Coconut Paste, Date Nut Brulee, Tea Seed Elixir, Purple Corn Grains, Aloe Blueberry Jelly and Plum Elixir — can be combined to create products that cleanse, hydrate, scrub, exfoliate, calm and tone the skin and hair. (LOLI also sells three-ingredient kits for consumers who prefer a less complicated approach to their beauty routines.)
There's an "increasing demand and interest in clean and green beauty," the LOLI founder and chief executive says, and, looking at the flood of new products on the market, it seems as though superfood beauty has staying power.
Nadine Artemis, co-owner and creator of the Living Libations beauty line with a boutique in Venice, uses a variety of superfood ingredients in her products (which include elixirs, serums and essential oils).
Check the fine print on various Living Libations bottles and jars and you might find avocado oil (for brightening and moisturizing skin), virgin coconut oil (for moisturizing skin), cacao butter (for moisturizing and healing); wildflower honey (included for its antioxidants and moisturizing properties); and green papaya (which can brighten, heal and smooth the skin). The line has attracted fans — listed on the website — including Alanis Morissette, Shailene Woodley and Shiva Rose.
"Transdermal absorption is an amazing gift we have that we can use to boost our beauty and health," says Artemis, who started to make some of her own cosmetics as a college student.
In her 2017 book "Renegade Beauty: Reveal and Revive Your Natural Radiance--Beauty Secrets, Solutions, and Preparations," Artemis lists a number of recipes for DIY beauty and skin care products. Here are three using ingredients that can be purchased at health food stores, grocery stores like Whole Foods, apothecaries, and a variety of websites, including livinglibations.com.
FRANKINCENSE FIZZ FORTIFYING BATH BALMS
Ingredients
1 cup vitamin C (ascorbic acid)
2 cups aluminum-free baking soda
20 drops frankincense essential oil
10 drops laurel essential oil
10 drops blue tansy essential oil
1 tablespoon bentonite clay
1 tablespoon organic jojoba, olive, or coconut oil
1 spritz bottle of water
Molds such as muffin tins or silicone ice-cube trays
Instructions
Thoroughly mix baking soda and ascorbic acid in a bowl. Add the essential oils to the tablespoon of jojoba, olive or coconut oil and then mix together quickly with the baking soda and vitamin C before the mixture starts to fizz.
Spray water onto the mixture one "mist" at a time and continue mixing. (The goal is to achieve a consistency where the combination is still crumbly yet able to hold its shape when pressed into the palm of your hand. Pack the mix firmly into the molds.
Allow the balms to dry for a couple of hours in a warm, dry place, away from sunlight.
Enjoy within a month for a full fizz effect.
BLITHE BEAUTY SPLENDID SERUM
(a calming and cooling emollient for face and special areas of concern such as acne or skin irritations)
Ingredients
2 tablespoon jojoba oil
1/4 teaspoon frankincense essential oil
10 drops yarrow essential oil
10 drops sandalwood essential oil
10 drops peppermint essential oil
Instructions
Mix the ingredients together in a bottle and use a few drops on areas of concern.
HAPPY HONEY MASK
Mix and jar full amount, or whip up a smaller batch on the spot.
Ingredients
2 tablespoon raw honey
5 drops Immortelle essential oil
5 drops sweet thyme essential oil
Instructions
Mix ingredients and apply to freshly cleansed skin; wait about five to 15 minutes before rinsing.
---