These are gifts for someone — naughty or nice — who makes fitness a priority. Or you can gift them to yourself and get a jump on those New Year's resolutions that are just around the corner. For more gift ideas, go to latimes.com/holidaygiftguide.
A try-before-you-buy workout
Studio classes are expensive, and no one wants to buy a package to a place you haven't fully made up your mind about. Give the gift of sampling the broad array of studio classes that L.A. has to offer — from boxing to boot camp to barre — with a membership gift card to Class Pass, which allows you to read reviews and book a set number of classes a month online or via app. $45-$125 per month for 25 to 75 credits to be used for two to 13 classes. classpass.com
::
Year-round Zen
Give your Type A friend who says she just can't sit still for meditation a gift card for a yearlong subscription to the Calm app. It has 10-minute daily guided meditations, a curated series of meditations for anxiety and stress, and sleep stories to lull her off to dreamland. She'll thank you later. $59.99. calm.com
::
A running hat to love
The Starry Night Runner trucker from Oiselle has the look of a traditional trucker cap, but it's so much better. It's made with a soft, breathable mesh and has a sweat-wicking headband inside. The bill folds in half for easier storage, and the back has a lightweight bungee instead of that sweaty plastic tab. $30. oiselle.com
::
At-home spin club
Peloton's at-home spin bike has a fanatical following, owing in large part to the quality of its cycling and fitness content available to stream live and on-demand on the bike's touchscreen display. It plays to the competitor in all of us, with its leaderboard rankings and real-time stats. And unlike its recently released treadmill., the bike is compact enough to fit in smaller spaces. $2,245 for the basic bike, plus $39 each month for Peloton membership. onepeloton.com
::
Yoga refresh
This aromatherapy yoga set includes three sprays to freshen the mat and enhance the Zen after those hot yoga sessions. Essential oils of lavender, tea tree and lemon come together in this set, with a mat cleaner, an energizing cooling face spray and all-natural deodorant. $39. wayofwill.com
::
Silly yet serious running socks
Say what you will about socks as a gift, but these fun compression running socks are sure to bring a smile to any runner's face. With a seamless toe to nix blisters, graduated compression to reduce fatigue and light cushioning and support on the arch, they feel good, but just as important you can get them in tons of crazy prints from donuts to aliens, from Pop art to avocados, to brighten their training.$19.99. zensah.com
::
R&R on demand.
Rather than give your friend something he or she might have to return, give the experience of calm during the stressful holidays. Zeel, one of the pioneers of massage on demand, sells gift cards so your friends and family can recover after that marathon, or get a signature Sleep massage right before they nod off. Your wallet decides how much. zeel.com
::
Retro-cool swimsuit
Sweaty Betty's Butterfly training suit works equally well for laps at the pool or just lounging at the beach with its chlorine-resistant UPF 50 fabric. The adjustable halter neck, inner bra and flattering chevron stripe on this red suit make it a bit more stylish than your typical lap suit while still providing the right mix of support and mobility. $115. sweatybetty.com
::
Healthy meal delivery
Send a gift card for Veestro's chef-prepared, plant-based, heat-and-eat meals to your busy, health-conscious friend or family member. They'll appreciate it when the holidays get busy and bloated, or when it's time to attack those resolutions. Starter packs from $8 a meal. veestro.com
::
Locked and loaded support
Reebok's new Pure Move Bra is probably the most high-tech sports bra she'll ever own, with proprietary "motion sense technology" gel-infused fabric that stiffens for more support in high-intensity workouts and relaxes for slower-moving activities. Made of just seven pieces of flexible, breathable material, it has no hooks or clasps and might be just the ticket for women who need more support. $60. reebok.com
::
Running shoes with an extra boost
Nike's new Zoom Pegasus Turbo training shoes are serious about that kick, with the biggest energy return of any of their foam shoes. What that means is: With lightweight shock absorbers you'll feel a little more spring back from each foot strike, giving you the juice to keep going. $180. nike.com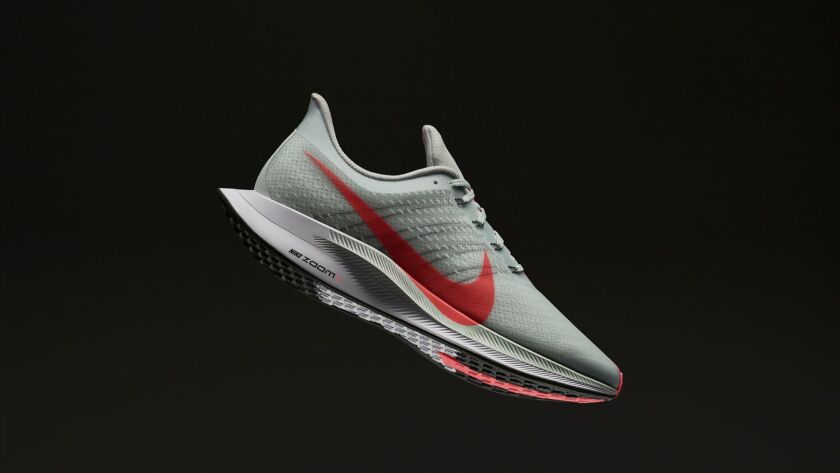 ::
A rugged but lightweight day pack
Perfect for short hikes and sightseeing, this limited-edition REI Co-op day pack holds a surprising amount of gear. It has breathable mesh padded straps, a place for a water bladder, a zippered outside pocket and a cinched top that holds it all in. Turned inside out, it converts into a stuff sack, and the back panel can be used as a sit pad. Just add trail maps. $39.99. rei.com
::
Electric boost
Your favorite CrossFit fanatic might have experienced electric muscle stimulation in physical therapy or as a recovery tool. Jump-start his or her WOD with the Power Dot Smart Muscle Stimulator. The pods use a smartphone app to control just how much juice you're giving those muscles, enough for a massage, or stronger, for enhancing strength and muscle performance. $199 for the Uno with one set of pods and electrodes, or $299 for the Duo with two pods to cover a wider area. powerdot.com
::
Biker shorts
The hot workout trend from the '90s is back. This figure-flattering Alo pair is decidedly less shiny, with a high waist, moisture-wicking fabric and four-way stretch for all of your hot and sweaty workouts. $56. aloyoga.com
::
Après ski boots with traction
Sorel's Suede Out N About booties are perfect for relaxing after a day on the slopes. Warm yet lightweight, they can be worn up or folded down. And the rubber outsole with a herringbone tread will help you stay upright in icy parking lots. $89.99. dickssportinggoods.com
---