Aging under a high-tech eye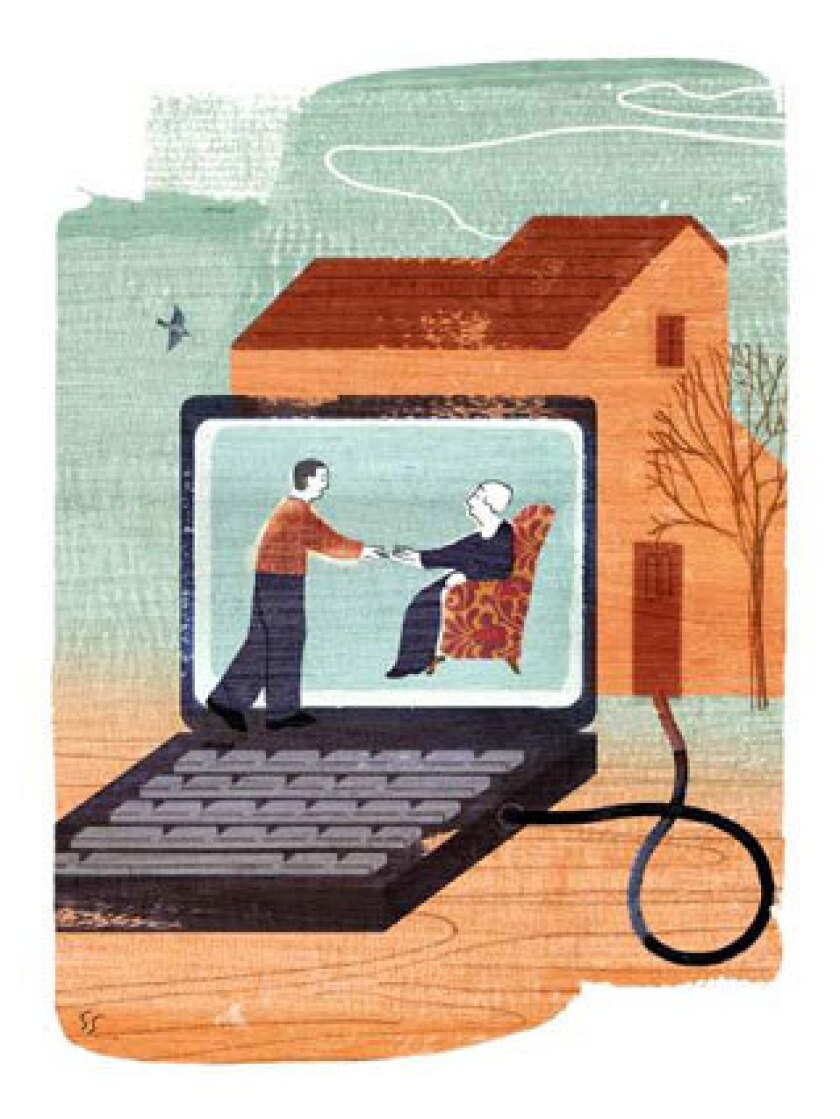 Special to The Times
Carol Roberts' 77-year-old mother is active and mentally sharp, but she suffers from a seizure disorder that requires close monitoring. "She didn't want to lose her independence, but she was apprehensive about living alone," Roberts says.
One option was assisted living, but then Roberts heard of an alternative: new technology called the GrandCare System, which uses strategically placed home sensors to record motion in key spots such as the bathroom, entryway and bedroom. "She can live in her own space, and I don't worry," says Roberts, who can monitor motion via computer and notice if, say, her mother has wandered out the front door, possibly disoriented.
Such technology is just one example of the so-called "aging in place" movement driven by baby boomers who are growing older. Other emerging systems include floor sensors that can track footstep patterns and detect changes that warn of potential falls and more elaborate setups that integrate webcams and video conferencing systems with the Internet.
Scientists at universities and corporate research labs are also experimenting with the next wave of smart house gadgets that track whether medication is being taken, help with cooking and other routine tasks or act as surrogate sitters that can detect problems and call for help. The goal is to help seniors live safely at home and feel protected while still maintaining their autonomy. For adult children, the goal is peace of mind.
The aging in place movement is gathering momentum because of several ominous demographic trends. In 2011, the oldest boomers will turn 65, and over the next two decades, the ranks of the "oldest old" are expected to balloon exponentially. This advancing age wave will place an enormous burden on the U.S. healthcare system at a time when there's a growing shortage of doctors, nurses and caregivers. Assisted living and skilled nursing facilities can't be built fast enough to accommodate everyone -- and even if they could, the costs would be astronomical.
"Corporations and government policy makers realize that as the boomers age, the costs won't be sustainable if we continue to do business the way we're doing it right now," says Majd Alwan, director of the Center for Aging Services Technologies in Washington, D.C.
The way to bridge this gap is to create an entirely new paradigm of care, experts say, and make it possible for seniors to remain in familiar surroundings until the very end.
"There is an intrinsic value to the home, where the individual has a sense of accomplishment and a level of comfort that they will never replicate by moving," says Peter Bell, executive director of the National Aging in Place Council in Washington, D.C.
Technology is paving the way. We've already come a long way from the electronic pendants and bracelets with panic buttons the elderly can press in case of an emergency. Some of the products that recently hit the market allow families to keep an on eye on older loved ones from a distance, and others use elaborate networks of sensors to detect unusual activity. This technology, experts say, provides peace of mind for the elderly, whose biggest fear is of falling and being unable to get help.
Costs are reasonable, ranging from about $200 for a no-frills sensor network to about $2,000 for more elaborate setups. Because these products have come on the market within the last two years, their use isn't widespread. "But they should become more popular," says Alwan, "especially as the systems become more integrated."
--
When Olga Zaffos left her front door wide open, her daughter and son-in-law knew immediately. A video camera strategically positioned in the 87-year-old Oklahoma City woman's living room transmitted an image of the door to a dedicated computer in the couple's nearby home. And if Olga wants to see her loved ones, she doesn't need to be computer literate -- all she has to do is sit in front of the camera if she wants to chat.
Reminders to take her medication are flashed periodically on a computer screen that sits in her living room. If Olga's family wants to check in, or a message is displayed, a distinctive ring that is recognizable even to people suffering from severe dementia sounds.
When Olga's daughter and son-in-law, Deidre and Steve Downham, send photos of family outings, they're displayed on the monitor, which keeps her in touch with grandkids and other family members.
"I check on her several times a day just to make sure she's OK," Steve says.
The monitoring and video conferencing system, called AttentiveCare, is deceptively simple: A webcam is hooked up to a computer with a flat-panel TV monitor, and the data is sent via a broadband Internet connection.
AttentiveCare was originally devised by three brothers, using off-the-shelf equipment, after their mother, who lived hundreds of miles away from them, was diagnosed with Alzheimer's. The family stepped up in-home care as her condition deteriorated, but because they could keep tabs on her round-the-clock electronically, she was able to live out her days at the family farm in rural Arkansas until she died of cancer at age 86 in 2004.
"I had coffee with her every morning and got her day started," says Ken Nixon, one of the brothers and chief executive of the Oklahoma City-based Caregiver Technologies Inc., which makes AttentiveCare. "It made such a difference in my life and in the life of my mom because it kept her engaged and made her feel valuable."
AT&T's Remote Monitor uses webcams to watch over the living room, kitchen or front door, and motion sensors to register when a door to a room opens. The system, which some use for home security, can even turn lights on and off in the house and check to see if someone left a coffee pot on the stove. If a senior wants some privacy, he or she can turn the cameras off.
"But most people feel the sense of security is a worthwhile trade-off for the loss of privacy," says Steve Loop, executive director of business development for AT&T in San Antonio, Texas.
Another system called QuietCare uses five to 10 sensors positioned throughout the home -- near the bedroom door, bathroom, refrigerator door or family room -- to track movement. Sophisticated computer systems are used to establish a person's behavior patterns. If there is a change in habits of daily living, such as when a person gets out of bed or how much time he or she spends in the kitchen or bathroom, the system will send out an alarm to alert caregivers.
In addition to using sensors to monitor daily activities, the GrandCare system that Carol Roberts uses has a small computer that connects to the Internet and plugs into the TV. Family members can share photos, fire off e-mails and send reminders about taking medicine or doctor's appointments on a dedicated TV channel.
Home Guardian uses a device that was originally developed by University of Virginia researchers. It analyzes footstep patterns to detect falls and early warning signs of certain diseases.
The book-sized box sits on the floor and contains a sensor that measures tiny vibrations, and a microprocessor that learns a person's normal walking habits. A specialized software program can spot changes. If a person falls or begins limping or shuffling, which can be symptoms of Parkinson's disease or arthritis, the device sends an electronic message to a computer; the message is then transmitted to a monitoring service or the caregiver. The system should be available sometime next year.
Even with advancements, the systems aren't foolproof.
Experts worry that they can provide a false sense of security, especially if someone falls and the alarms fail to go off. Plus, there is a loss of privacy.
"Some seniors have used a hanky to cover the camera," Alwan says. "But privacy is relative, and most feel it's an acceptable price to pay to avoid being institutionalized."
--
A host of other innovative technologies are in the research pipeline. At the Aware House, a cozy, home-like laboratory on the campus of the Georgia Institute of Technology in Atlanta, scientists are dreaming up the next generation of high-tech tools to keep seniors connected.
The Digital Family Portrait is an in-home monitoring system that keeps family members informed about their elderly relative's activities, health status and possible problems. The system creates a visualization of the person's day, displayed on a monitor in the caregiver's home. Icons on the screen change daily to reflect information about the older adult's life.
Dude's Magic Box is designed to help grandchildren interact with their grandparents. Children can put an item, such as a pet hamster, in the box, and the box takes a photo of it. Dude, a cartoon character, pops up on the screen and asks the children if they want to send the photo to Grandma. Then the photo is transmitted to the grandparent's home, and a message pops up on a flat-panel screen or home computer.
"Both of these devices are designed to make the senior who is living alone feel less isolated and reassure their children that they're OK," says Elizabeth D. Mynatt, a computer scientist at Georgia Tech who helped develop the tools.
In Portland, Ore., researchers at Intel's Health Research and Innovation Group are creating gadgets that provide a safety net for seniors living alone and memory aids so they can stay connected with friends and family.
One of the products under development is a presence lamp that can be installed in the home of a person in the early stages of Alzheimer's disease as well as in the home of his or her caregivers.
When the senior is home, the light goes on in the home of their caregiver, and vice versa.
"It comforts people to know that someone is around if they need help," says Eric Dishman, general director of the Intel lab.
Another device Intel is testing, which Dishman has dubbed "caller ID on steroids," provides memory prompts to people who have dementia.
A computer plugged into a land line phone contains information about the key people in the elderly person's social network. When they call, their name will pop up on the screen, along with their photo and a brief description of who they are.
"This gives people enough confidence to answer the phone and engage in a conversation," Dishman says.
Although the technology is still in its infancy, these are important first steps toward averting the potentially catastrophic consequences of an aging population.
"The overall thrust is to increase the quality of life and of care that seniors receive in their home," says Alwan of the aging center, "and ease the burdens on their families and on society in general."
---