Organic strawberries are better — in some ways — researchers say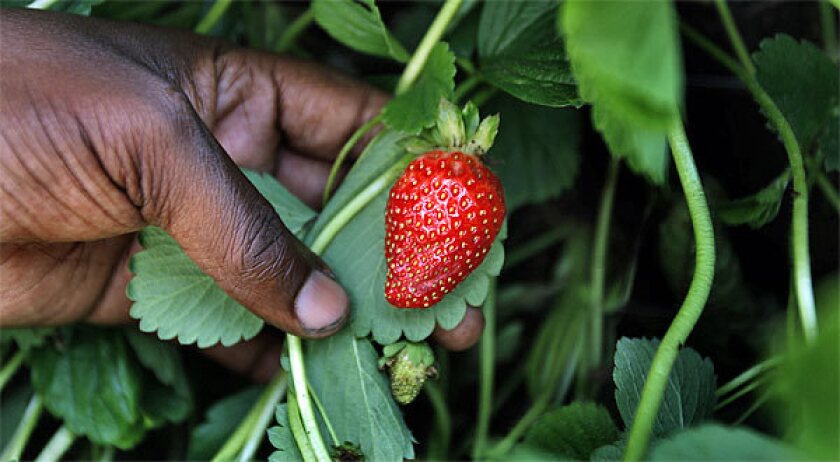 Consumers who buy organic fruits and vegetables because they think they're tastier, more nutritious and better for the environment are getting at least some of what they're paying for, according to a study published online Wednesday.
The finding is based on a detailed comparison of organic and conventional strawberries from 13 pairs of neighboring farms in Watsonville, Calif., where 40% of the state's strawberry crop is produced. A team of ecologists, food chemists, soil scientists and other experts analyzed a variety of factors before concluding that the organic berries — and the dirt they were raised in — were superior.
The organic strawberries had higher concentrations of antioxidants and vitamin C and survived longer without rotting. Taste testers clearly preferred the organic version of Diamante strawberries, one of three varieties tested. DNA analysis revealed that the organically managed soil had a larger array of microbes, an indication that the ecosystem was more resilient. The results were published in the journal PLoS One.
"Almost every major indicator is favoring the organic strawberries," said lead author John Reganold, who studies sustainable agriculture at Washington State University in Pullman.
But other scientists noted that the organic strawberries came up short in several respects. They were 13.4% smaller than their conventional counterparts and contained significantly less of the dietary minerals potassium and phosphorus, which are no less important than antioxidants.
Anthony Trewavas, a professor at the University of Edinburgh's Institute of Molecular Plant Sciences, also questioned the study's assumption that extra antioxidants made the organic strawberries more nutritious. Studies have found that people who eat a balanced diet don't get any boost from additional antioxidants or vitamin C, he said, and it is unclear whether the body can even absorb the extra nutrients.
Critics also pointed out that organic strawberries didn't win out across the board in taste tests: The conventional San Juan strawberries had a slight edge over their organic counterparts, according to the study, and tasters didn't register much difference between organic and conventional Lanai strawberries.
The critics added that organic farming usually entails higher costs and lower yields, two issues that weren't addressed in the study because they do not factor into consumers' buying decisions. In an interview, Reganold said that the Watsonville strawberry farmers who used organic methods grew about 25% fewer strawberries than their conventional counterparts.
Reganold said he chose to study strawberries because they are a popular, nutritious and economically valuable crop. But their dietary value should not be taken out of context, said Sean Clark, a professor of agriculture and natural resources at Berea College in Kentucky: The average American eats only 8 pounds of the berries per year.
"We eat considerably more potatoes, apples and bananas per capita annually," Clark said. "Changing what people eat — increasing fruits and vegetables and decreasing meats, fats and total daily calories, for example — could have a more profound impact on public health and longevity than switching from conventional to organic strawberries."
karen.kaplan@latimes.com
---