Explorer: Follow this stair master on L.A.'s tough and art-filled stairway walks
As we climbed higher and higher, stepping past painted red hearts and bright swatches of yellow, orange, pink, purple and green, I nervously glanced back at my sister and brother-in-law. Cindy and Chris are hardcore hikers who live for the back country. Spend their precious Saturday in the big city, on concrete? No way. It took some convincing to get them to join my son Joey and I on a stair hike — even one of the most renowned ones in L.A., the Painted Stairways Tour.
Fortunately, art can be persuasive. The very first climb, the 205-step Micheltorena Staircases, was painted in 2013 by a local artist, Corinne Carrey, with one hope in mind, that the hearts and vivid colors would make people feel good — and it seemed to work. Visible from Sunset Boulevard, they've been called "the world's most Instagrammed stairway."
At the top, as Chris looked at views of downtown and the mountains, he looked at me and beamed. "This is cool!"
Relief and three words flooded my brain: Thank you, Dan.
Dan Gutierrez, 57, a fast-talking satellite engineer from Long Beach with huge calves, is the stair master behind SoCal Stair Climbers, a website that features free guided and DIY walks on L.A.'s toughest urban staircases. He is why we, like many others, have come here.
A few years ago, Gutierrez thought to link together in one continuous 6.7-mile loop the 12 stairways in hilly Silver Lake that were painted with murals, bright geometric patterns and funny sayings. "I like creating hard, colorful stair routes — that keeps me interested," Gutierrez said.
A longtime cycling advocate and bike commuter, he instantly fell in love with stair climbing in 2011 after doing the Big Parade, an annual weekend stair-climb marathon run by local stair guru Dan Koeppel. "I did just 4 miles of it," he said. "It damn near killed me."
Ultimately, it left him stair-crazy.
Enthralled to see all the secret staircases threading through the steep hills of Echo Park, Silver Lake and Los Feliz, Gutierrez discovered a new passion. He found a hidden 163-stepper in South Pasadena. He consolidated all the local stair routes onto one website and created the ultimate L.A. Loop: 781 stairways, 308 miles, 34,000 feet of elevation gain, which he has completed three times.
Over time, Gutierrez developed themed routes, such as the Wright Stuff, a 15-miler featuring buildings designed by Frank Lloyd Wright; and Women of the Works Progress Administration, 15 miles of 1930s Art Deco-style statues on a route that stretched from downtown L.A. to Hollywood. I met him recently on a Long Beach course that logged 3,200 steps and 6.7 miles in 2 hours, 18 minutes, most in Cal State Long Beach parking structures and academic buildings.
But no route has come close to the instant, enduring popularity of the Painted Stairways. "Silver Lake has 52 stairways, some with art," he said. "So in 2016, I posted my first Painted Stairways hike on Facebook. It went viral. Over 2,000 people wanted to do it."
To satisfy demand, Gutierrez leads up to six tours a year along the route and has posted self-guided maps on this and all his routes at www.socalstairclimbers.com.
With the map downloaded on my phone, four of us gathered on a recent Saturday morning at the official start, Sunset Triangle Plaza, a small, paved park where Sunset and Griffith Park boulevards meet. The impatient Chris, used to leading, with hiking poles in hand, estimated we'd finish in 2½ hours, given his 3- to 4-mph pace on trails. But stairs take their toll. And painted stairs beg for photos. As we would quickly discover, the captivating world we were about to enter was worth slowing down for.
Five artists did most of the 12 stairways. The Micheltorena hearts and colors were followed by another instant Carrey classic at the next stairway, just across Sunset: the Piano Keys, 90 steps painted black and white like keys of a synthesizer, the instrument her dad played.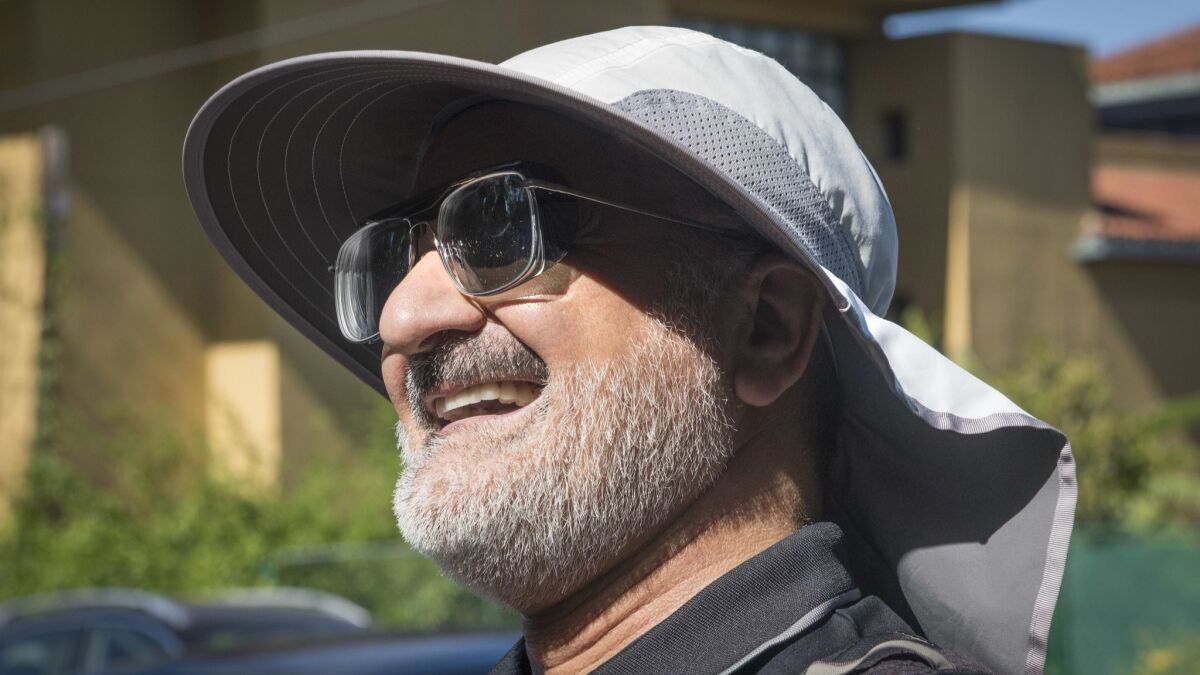 Soon, as the clever Gutierrez designed it, the hike developed a rhythm. Just two stairways in, it was no longer merely a workout but a hunt, an adventure. Filled with purpose and brandishing cameras, we headed into the surprisingly beautiful Silver Lake neighborhoods to bag our prey. So it should have been no surprise when, following a 90-step ascent of the unpainted Cicero Stairs (the route's only undecorated one), we came upon the 82-step descent of the Animal Stairs, a series of raccoon, skunk and howling wolf silhouettes painted by Joey Franks in 1994.
A quick caffeine hit at stylish LAMill Coffee on Silver Lake Boulevard and a bathroom break at the Silver Lake Recreation Area set us up for a triple treat from artist Evelyn Leigh: the Swan Street Stairs, 287 steps in three consecutive stairways.
Leigh, who painted them in 2014 under a neighborhood adopt-a-stairway program, made each section unique: all-blue on the lower 77-steps; a triangle motif in a zigzag path on the 110-step midsection; and a pretty mural with the words je t'aime LA (("I love you L.A.," in French) on the 100 upper steps.
We were amused by another quote painted at the beginning of the middle set of stairs: "Cell phone slavery has begun." It was one of several pithy stair-step sayings — such as, "Interrupt anxiety with gratitude"; "No one belongs here more than you"; and "It's not what you look at … it's what you see" — all from stair philosopher-artist Kimberly King. The words spurred conversations that kept us distracted from our deep wheezing.
At this point, with seven of 12 painted stairways done in the first third of the route, it seemed like a good time to bail. But that would not only leave out stunning neighborhood views, gorgeous homes and long stairway descents full of King's cute footprints and dancing red hearts, but the undeniable highlight of the day: Fluid City Rising, a massive, brilliant, elaborate mural at the second-to-last stop, the Hoover Stairs.
Painted in 2009 by local artist Ricardo Mendoza, Fluid City blankets its forked 38-step stairway and retaining wall in a one-eyed mythical phoenix. The magical bird, risen from desert ashes, delivers healing waters that cascade down the steps as a robust woman and man drink in the colorful bounty.
Awestruck by Mendoza's remarkable work, we lost track of time — again. The hike stretched to four hours as we climbed the 40 red and yellow steps of the final stairway at Manzanita Street, five blocks from the Sunset Plaza finish. But we didn't care. It was a great workout in a beautiful part of L.A. we'd never thought of. "Urban hiking," said Chris, a new convert. "We'll be back."
Step it up
Lace up your comfiest walking shoes if you want in on SoCal Stair Climbers events. Upcoming free walks include:
— Go With the Flow, 15-mile tour passing 67 Streamline Moderne style buildings. It starts 8 a.m. May 11 at 6290 Sunset Blvd. in Hollywood. Info: bit.ly/streamlinemodernewalk
— Painted Stairways Tour, 6.7 miles along 12 painted stairways in Silver Lake. It starts at 8 a.m. June 1. Info: bit.ly/paintedstairwaystour
You can download routes and find out about upcoming events at socalstairclimbers.com.
Get our L.A. Goes Out newsletter, with the week's best events, to help you explore and experience our city.
You may occasionally receive promotional content from the Los Angeles Times.