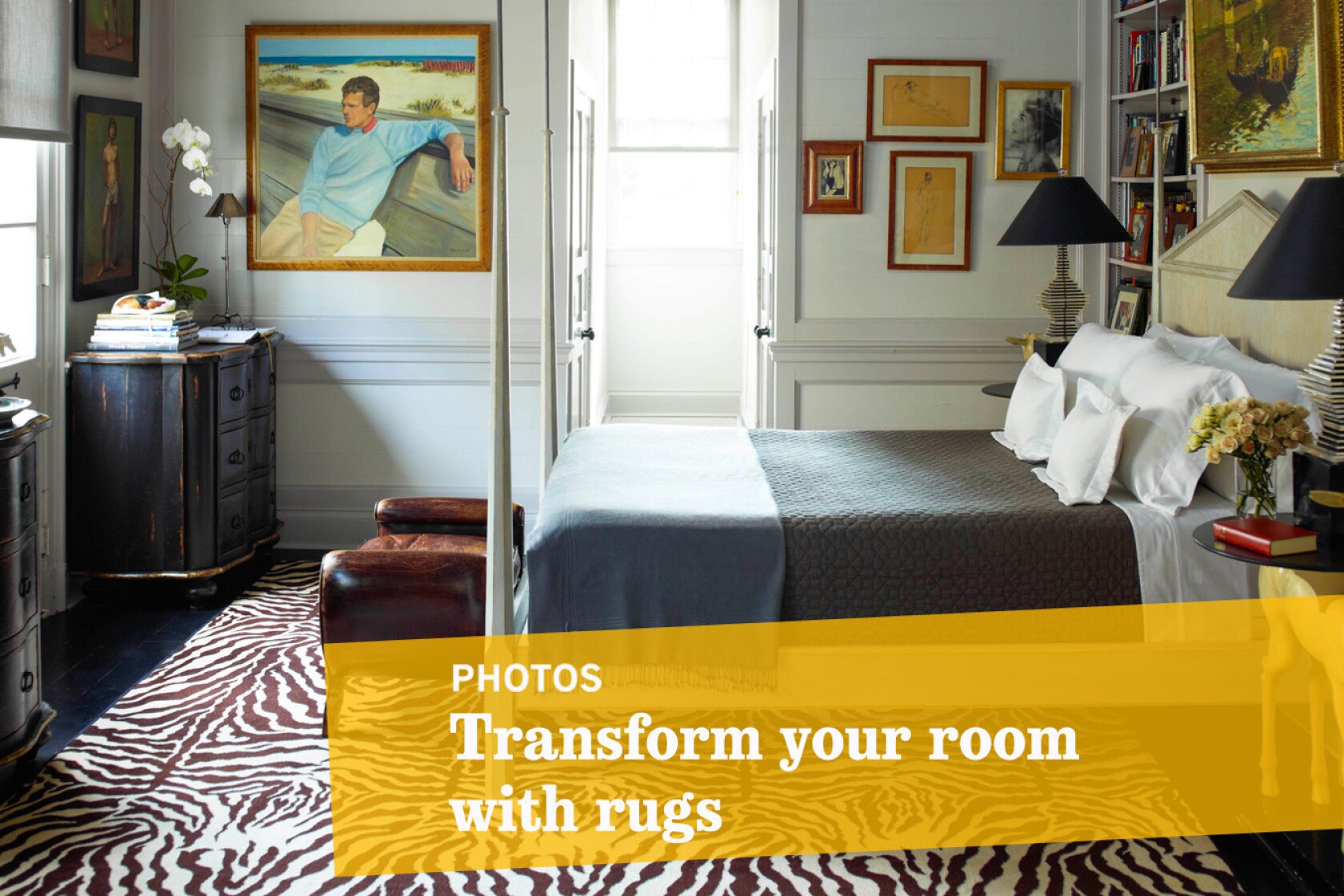 Transform any room with rugs
(Eric Piasecki )
Transform any room with rugs
()
Bedroom by David Scott Interiors, from the book: "Decorating with Carpets: The Stark Tradition" by Ashley Stark Kenner and Chad Stark with Heather Smith MacIsaac.
(Antoine Bootz)
Entry hall by Alexa Hampton, from the book: "Decorating with Carpets: The Stark Tradition."
(Scott Frances)
Bedroom by Peter Rogers, from the book: "Decorating with Carpets: The Stark Tradition."
(Eric Piasecki )
Bedroom by April Powers, from the book: "Decorating with Carpets: The Stark Tradition."
(Scott Chebegia)
Interior by Katie Ridder, from the book: "Decorating with Carpets: The Stark Tradition." Published in Elle Decor June 2014
(Eric Piasecki)
Study designed by Drake + Anderson, from the book: "Decorating with Carpets: The Stark Tradition."
(Marco Ricca / Drake Design Associates)
Paint and wallpaper are great ways to give a room a makeover, but they require commitment (and a lot of work.)
An easier route?
A new rug.
"You can refresh a room just by changing the floor," says interior designer Jamie Drake, co-principal of Drake + Anderson in New York. "If it's an area rug you can try it on approval; you can lay it down and if you don't like it, you can return it."
See more of our top stories on Facebook >>
Drake's eye for design is among those featured in "Decorating With Carpets: A Fine Foundation," a monograph from industry experts Ashley Stark Kenner and Chad Stark of N.Y.-based Stark floor coverings that will give you plenty of inspirational ideas for making over your home.
Here are a few tips for jumping into a new design feet-first:
To begin...
"Establish the room's purpose," says Drake. "Is it a room for entertaining? A bedroom or playroom? The function will help direct the selection."
Consider what's already there
Use inspiration from the color, pattern or texture of a favorite possession or theme in the room to guide you to the perfect rug.
How big do you want it to be?
"A large area rug will help unify diverse furniture more than an undersized rug," says Drake. "A larger rug helps a small room feel bigger because it spreads out the space and takes your eye to the perimeter."
Measure, measure, measure
An area rug is usually framed by a border of floor space. In the dining room, make sure an area rug is large enough for chairs to be pushed back and still remain on the carpet.
Consider heirloom quality
"The construction quality and fibers make [a rug] an investment piece," explains Chad Stark. "The most natural fibers and the most handmade products last the longest because the hand-knotted structure is individual. So if you ruin a piece of it, you just have to replace a piece – you don't have to unravel it like a sweater." A handmade rug is going to be much more expensive than something off the shelf because it takes time. "The one thing you'll never be able to speed up is the speed at which someone makes a hand-knotted rug," says Stark. "It's a process that has not changed in 500 years. It's truly an art form."
Avoid overwhelm
"Know your vision before you go shopping," advises Drake. "Focus on selections that fit your predetermined preferences." Not sure? Browse design magazines, books, Pinterest boards and Instagram for inspiration.
Pssst. Here are 5 designer secrets to choosing the perfect rug
Once you've done all the hard work – figuring out a size, texture, color and price range, here's what the experts know about making a final selection:
(1) A small patterned carpet in a large room provides a sense of texture.
(2) A big, overscale pattern in a small room can create a feeling of surprise and expansiveness.
(3) Warm colors brighten a dark room.
(4) Light colors will make a room seem bigger.
(5) Tweed patterns and textures camouflage wear in high-traffic areas.
Finally, make it a healthy choice
For those with asthma, allergies or concerns about chemical usage, the Carpet and Rug Institute has introduced the Green Label Plus program, which recognizes commercial carpeting, cushioning and adhesive products with low chemical emissions.
The child advocacy group GoodWeave asks that you beware when you find a hand-knotted rug that sells for a bargain: The rug may have been made using child labor. The organization advises looking for rugs that have earned the GoodWeave label, or a similar certification, indicating that the handmade rug is child-labor-free. You can find recommended retailers at their website, goodweave.org.
ALSO
He created the ultimate bachelor pad in this Hollywood rental
Meghan McCain's home: She calls her style 'Scarface meets Graceland'
---