For Sherman Oaks-based designer Karen Tandy, interior and exterior design work together in creating an inviting home base.
"They work hand in hand," Tandy says. "People need to look at a home's architecture when they landscape."
So, when a Toluca Lake couple hired Tandy to help them with their lawn-to-drought-garden makeover, Tandy carefully considered the home's Tudor style.
Cactus, for instance, would not suit the home's pitched roofs and storybook details.
"That would look strange," she says. "It isn't compatible with the house."
How to transform a thirsty lawn into a low-water, yet lush English garden?
The couple wanted to reduce their water bill and create a pretty, low-maintenance yard but were afraid it would "look like the desert," Tandy says.
In the designer's mind, however, the yard needed more than just a drought-tolerant update.
"It was a boring front yard," she says. "You couldn't tell where the door was. The approach to the house was bad."
Tandy solved this by removing a brick wall and three bushes that hid the front door. This opened up the landscape and created a front porch seating area. It also made the house more accessible for the homeowners as they age.
After she removed the lawn and installed a barrier and pea gravel, Tandy created a flagstone pathway and softened it with creeping thyme ground cover, lavender, dwarf sweat peas and Chinese sedum.
Drought-tolerant flowering cherry trees add texture and give the garden a pop of color against the home's gray palette. So do flowering plums along the side of the yard, blueberry bushes close to the house, pretty purple Mexican sage and Chinese fringe, all of which require little water.
"It's all about plant selection and color palette," says Tandy. "We kept to a green palette, not an arid-looking palette."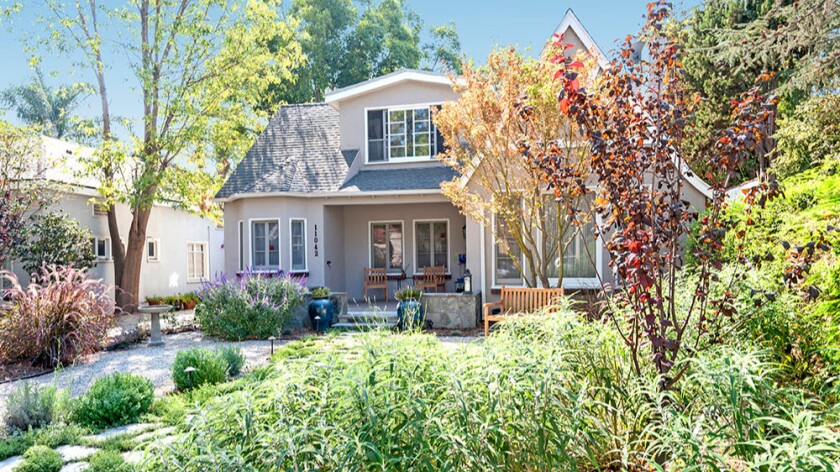 Tandy estimates the project cost about $15,000, and the homeowners received a $5,000 turf removal rebate. (Note: The Metropolitan Water District closed the program to new applications in July 2015 after money was fully allocated).
This price tag included boulders, trees and hiring a stone mason to update the front porch. "Trees can become a secondary source of the budget," Tandy says. "If you're willing to wait, you can plant one gallon plants. Pinch things back as they grow; it forces them to grow fuller and more rapidly. That's one way to cut cost."
In the end, the homeowners got the pretty English garden they wanted, without the high maintenance and water bills, which they say dropped by about $100. A significant portion of the landscape is, in fact, not planted. "The key to drought-tolerant landscaping is to mix your plantings with the right amount of hardscaping and permeable hardscaping," Tandy says. "Anyone can do it. It just takes a little research."
If you'd like to submit photos of your drought garden makeover, please do so at home@latimes.com. Bonus points if you include a "before" image as well.
Follow @lisaboone19 for design news
Follow our gardening board on Pinterest
MORE TURF REMOVAL SUCCESS STORIES:
A lush English garden in Studio City is converted to a water savvy landscape
A sprawling South Pasadena lawn gets a chic low-water makeover
They ripped out their 3,500-square-foot lawn and created a magical 'Rancho Relaxo'
Before and after: A Tustin garden goes from thirsty lawn to drought-tolerant oasis
---