You don't need a label to recognize a Giorgio Armani suit when you see one, and the same goes for the designer's home decor collection Armani/Casa, which is unveiling its latest home furnishing and decor collection on April 8 at the Armani/Teatro in Milan.
Can't make it to Italy? Thanks to a sneak peek, we can tell you that the latest collection — encompassing furniture, lighting, textiles, wallcoverings, rugs and accessories — is rooted in the designer's signature clean lines and luxury materials. And it's given wings via curvaceous shapes — as in the Onda chaise longue — and ultra-thin layers of fabric and material to create a contemporary sense of lightness and space.
According to collection notes prepared by Armani/Casa, inspiration for the new line took cues from traditional Italian gardens, which were translated into playful, geometric labyrinth designs on console tables, fabric patterns and even a decorative wooden tabletop game.
In addition, the art of craft was championed with a series of new accessories incorporating hand-blown Murano glass interwoven with leather. Exotic, spotted green pen shell (a compilation of sea shells) was used to create a uniquely Armani desktop surface.
Japanese shapes such as the obi, the decorative sash used to tie a kimono, and the tsuba, the decorative casement for a traditional Japanese sword, inspired motifs and patterns found throughout the collection in textiles, accessories and tableware.
Prices for Armani/Casa start around $255 for a bronze Magno keychain, $1,600 and up for a new Mini Logo Lamp and can soar to if-you-have-to-ask-you-can't-afford-it sums for signed, limited-edition pieces.
In Los Angeles, you can shop the new collection in person when it arrives at the expanded, renovated Armani/Casa showroom inside the Pacific Design Center in West Hollywood in November.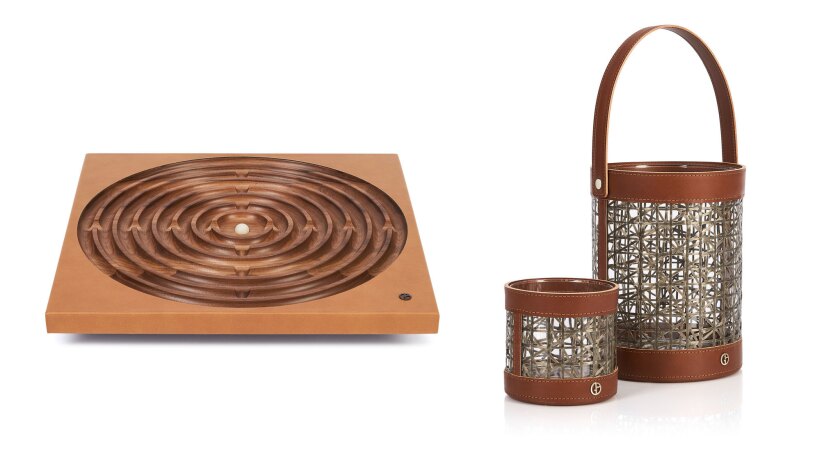 Bonnie McCarthy contributes to the Los Angeles Times as a home and lifestyle design writer. She enjoys scouting for directional trends and reporting on what's new and next. Follow her on Twitter @ThsAmericanHome
ALSO
How designer Nate Berkus blended old and new in his L.A. kitchen remodel
They found a real estate unicorn: A house with great 'bones,' ready for decorating
You've never seen a kitchen island sink like this
How online art galleries are serving up talent — and sales — without the 'tude
---