The origins of the term 'Black Friday,' our annual retail rager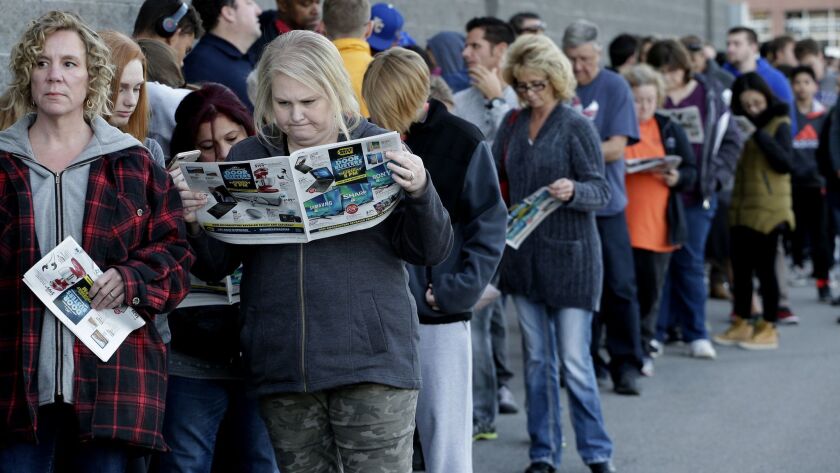 The frenzy of Black Friday has been going on for decades. But where did the busy post-Thanksgiving shopping day pick up its odd nickname?
There are many theories, and the term was apparently first used in America to describe a notorious gold scam, by Jay Gould and Jim Fisk, in the 1800s.
But the first time "Black Friday" was used to describe the mad dash to stores on the day after Thanksgiving is linked to the 1950s, when shoppers clogged streets in downtown Philadelphia. Drawn by the annual Army-Navy game to be played the following day, thousands of visitors flocked to the city, turning intersections and downtown stores into a nightmare for police and store clerks.
The term has also been attributed to the post-Thanksgiving shopping day when, according to lore, retailers transitioned from being "in the red" to "in the black," indicating profits.
The term started to take off in the late 1980s, when marketing and advertising forces adopted the term to promote earlier hours and huge holiday discounts. The term first appeared in a story in the Los Angeles Times in 1989.
At least 10 deaths and 111 injuries have been linked to Black Friday shopping rage in the last few decades. In fact, a website now tracks the incidents, with individual incidents of brawls, parking disputes and fatal assaults listed.
Over the years, online sales and ever-earlier holiday Christmas seasons have eaten into the day's significance. Yet Black Friday continues to be a robust centerpiece of holiday shopping, particularly when the economy is healthy.
A solid 70% of Americans plan to shop on Black Friday this year, according to a recent NerdWallet study conducted by the Harris Poll.
The National Retail Federation expects overall holiday retail sales to increase between 4.3% and 4.8% over 2017. That compares to an average annual increase of 3.9% the past five years.
Twitter: @erskinetimes
---