Descanso showcases its new low-water Center Circle Garden
The new Center Circle garden
(Martha Benedict)
The new Center Circle garden at Descanso Gardens, with low-water turf and water-permeable paving surfaces.
(Martha Benedict)
The new Center Circle garden
(Martha Benedict)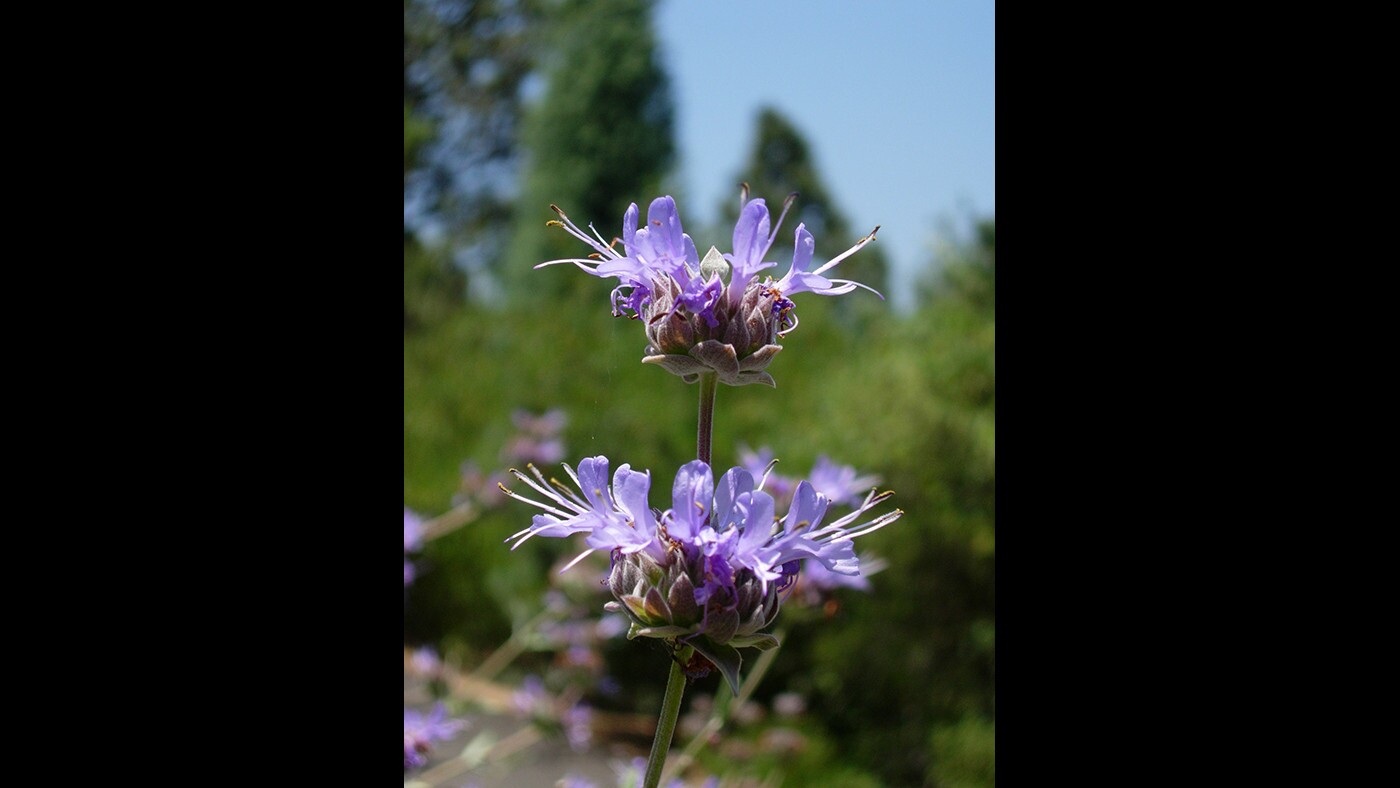 Five varieties of sage were used in the Center Circle Garden installation. The flowers of these tough plants attract hummingbirds and pollinating insects. This one is Cleveland sage.
(Descanso Gardens)
The Center Circle Garden includes California native plants and flora from similar climates around the world. Leucadendron comes from South Africa.
(Martha Benedict)
Echeveria is a large genus of succulent plants, including this distinctive pink one.
(Descanso Gardens)
A popular native shrub, ceanothus is also known as California lilac because of its bright blue flower clusters. This one is Ceanothus x "Ray Hartman."
(Descanso Gardens)
Also known as common yarrow, Achillea millefolium has been used medicinally since ancient times. It is covered with clusters of small white flowers.
(Descanso Gardens)
Side-by-side examples of low-water lawn alternatives.
(Lisa Boone )
Many of the plants in the Circle Garden will be sold at the Descanso Plant Patio.
(Lisa Boone )
Artist's rendering of the new Center Circle Garden designed by Cassy Aoyagi of FormLA Landscaping.
(FormLA Landscaping)
Descanso Gardens' new Center Circle Garden, which opened Friday in La Cañada Flintridge, proves that water-wise gardens can be high on beauty while low on water and maintenance.
"We wanted to educate homeowners and make changes ourselves," said Rachel Young, director of horticulture and garden operations at Descanso Gardens. "This is not just about what's going on this year. We're trying to encourage a lifelong way of gardening."
Descanso started water-reduction measures several years ago by removing some lawn areas, and Young said Descanso hopes to meet Gov. Jerry Brown's executive order to cut urban water use by 25%. (La Cañada Flintridge is among several cities in Los Angeles County that could face a 35% cut in water use from 2013 levels.)
After the California drought worsened, Descanso hired landscape designer Cassy Aoyagi of FormLA to design a drought-tolerant demonstration garden that would inspire homeowners to rethink their relationship to water and thirsty plants.
"The most important part of the garden is that it creates an aesthetic that is appropriate for Los Angeles," said Aoyagi. "It's about an aesthetic that really hasn't been established."
Aoyagi's striking vision for Los Angeles includes rock roses and echeveria, California lilac and Cleveland sage, leucadendron and germander. Side-by-side yarrow and Bentgrass ground covers offer ideas for lawn alternatives, while pollinators such as yarrow, salvia and Hummingbird sage are planted to attract beneficial insects. California wild grapevines will eventually grow along the rebar awning, and colorful dwarf bottlebrush will fill in to create a more formal low hedge.
"People don't know what a low-water garden can look like," added Young. "This defines what a beautiful garden can be without water."
Further water-saving ideas implemented in the garden include a bioswale, a permeable walkway composed of several shades of decomposed granite and gabion retaining walls (rock-filled cages) that keep water on site.
The garden is watered with a drip system, and it requires half the water of a similar-sized plot of grass.
As a complement to the garden, Descanso plans to provide educational materials for visitors interested in creating a similar garden at home. In addition, 15 of the Center Circle Garden plants will be available at the Descanso Plant Patio. Visitors can meet Aoyagi on June 20 and Sept. 19, when she lead a "walk and talk" through the garden.
Descanso Gardens, 1418 Descanso Drive, La Cañada Flintridge. Open 9 a.m. to 5 p.m. daily. $4 to $9. (818) 949-4200; https://www.descansogardens.org
---