A tiny bungalow is reborn as a modernist, eco-friendly Craftsman
The backyard of the Santa Barbara home of architect Kevin Dumain and his wife Jill, which emphasizes indoor-outdoor California living.
(Al Seib )
Hand-blocked stones set by hand by architect Kevin Dumain and his wife Jill are inspired by Gee's Bend quilts.
(Al Seib )
The house is set back from the street, at right, to create a sense of privacy. The garage, left of architect Kevin Dumain, is flush with the street on the second floor.
(Al Seib)
The entrance to the Santa Barbara home of architect Kevin Dumain and his wife Jill. Rocks, bricks and redwood planks were saved from the original cottage and reused in the new site.
(Al Seib )
Many of the bricks from the original home were repurposed.
(Al Seib )
A pivoting door made of Douglas fir allows the ocean breezes to move through the house. "We wanted to have a room that opened up," says architect Kevin Dumain of the first floor. "The outside comes to us."
(Al Seib )
Architect Kevin Dumain and his wife Jill.
(Al Seib )
The original 400-square-foot bungalow was torn down and replaced with a modern three-story design. The couple scored the dining room table for $200 on Craigslist and mounted it on wine barrels.
(Al Seib)
Working on a budget, the couple splurged on Heath tile and an Italian Bertazonni stove.
(Al Seib / Los Angeles Times)
Kevin and Jill Dumain at home in Santa Babara.
(Al Seib )
Jill's father made the spice rack in the kitchen pantry.
(Al Seib / Los Angeles Times)
Kevin Dumain's sailing notations serve as decoration in the home's hallway.
(Al Seib )
A decorative addition to the third-floor stairway serves as form and function.
(Al Seib )
The Santa Cruz and Anacapa islands can be viewed from the master bedroom suite on the third floor.
(Al Seib )
The master bedroom.
(Al Seib )
A towel bar in the master bathroom is made from the broken mast of a sailboat.
(Al Seib )
Mitred double glass windows extend the living room outdoors. The couple received a rebate for the energy-efficient windows.
(Al Seib)
The couple have planted edibles and drought-tolerant plants in the backyard.
(Al Seib )
A cover crop of hairy vetch, left, grows next to the runnel fountain in preparation for tomato season.
(Al Seib )
A rendering of the three-story house, from the street. At left is the garage.
(Kevin Dumain)
After years spent living in a 20-by-20-foot bungalow in Santa Barbara -- the last four with architect-husband Kevin -- Jill Dumain was surprised by how difficult it was to say goodbye to her tiny home.
"I was out of town when it was demolished and that was a good thing," says Jill, CEO of the sustainable textiles company Bluesign Technologies. "I watched it on video. But it gave us an opportunity to build something beautiful and livable."
She purchased the 400-square-foot bungalow in 1997 for $235,000 and dreamed of updating it one day. It may have been small but it was located on a lush piece of property within walking distance of the Santa Barbara Harbor.
"I had to make the decision between a better location or [affording] a better house," Jill says. "I chose the better location."
When she was set up on a blind date with Kevin several years later, the matchmaker joked that the architect with DesignARC could build her "a real house."
Looking back, Jill doesn't see anything remarkable about their living arrangements. "I'd always lived in small spaces," she says. Kevin agrees: "We did OK. Those were our newlywed years." But with no garage for storage, the couple admit they were cramped and were forced to store their belongings in three sheds on the property.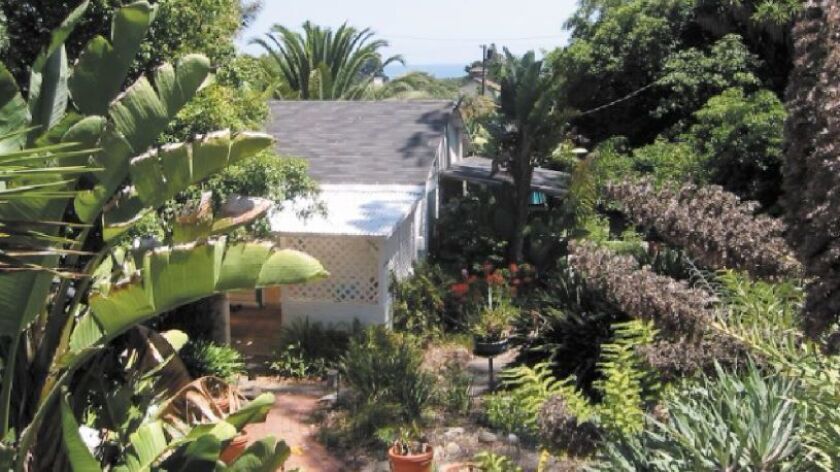 A dozen years later, their sacrifice — and years of saving — enabled them to start over and live in a home Kevin designed as a "mishmash of a lot of different ideas thrown in the blender and presented in a new sort of package." He describes their new home as "a comfortable embrace of modernism merged with a Craftsman quality."
Living together in tight quarters gave them insights into what they wanted in a new home — comfort and function — and what they didn't.
"Architects are always admiring sleek, modern projects," Kevin explains. "That wasn't what Jill wanted. It doesn't suit our lifestyle either. We're too messy."
"Kevin and I are practical people," adds Jill.
After a number of delays, most due to the need to plug an abandoned oil well that was located under the house, construction began in 2009 and was completed in 2011.
From the street, the clean lines of the new home's board-and-batten siding are concealed behind ample foliage. The inconspicuous view leaves little hint at what lies below: A 2,700-square-foot, three-story home with views of the Santa Cruz and Anacapa islands.
The architecture, however, does not dictate the house.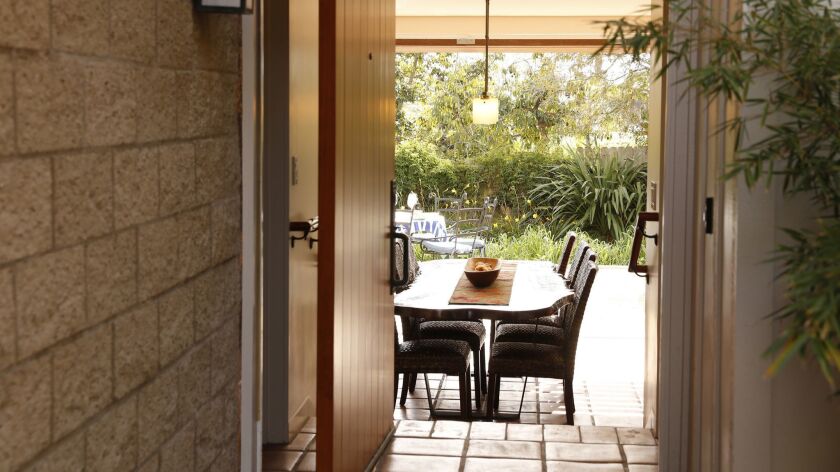 To capitalize on the south-facing, downward-sloping site, Kevin designed the first floor of the home about 13 feet below street level to create a multi-level house that maximizes views and does not overpower the neighborhood.
"The site is a huge piece of the design," Kevin says. "With the change in grade, we were able to create a front courtyard and enhance the home's privacy."
His choice paid off as the southern exposure allows for passive solar and net zero efficiency as all of the home's electrical needs are met courtesy of photovoltaic solar panels that turn sunlight into electricity.
Kevin placed the garage on the second floor so that it is flush with the street, a move that makes the entrance down a flight of stairs on the first floor something of a surprise.
"I tried to build an element of unfolding," Kevin says. "When you walk in the front door, you are immediately greeted by a view of the backyard. Then you go up the stairs and have a view to the north. The house unfolds as you experience the interiors."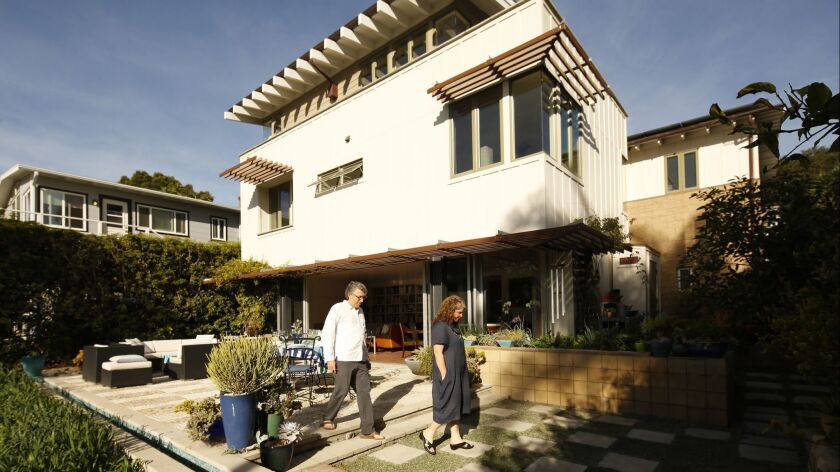 The first floor is an open room with a side-by-side kitchen and dining room and a living room that extends to an open-air terrace and garden. "It feels like you're outside even when you're inside," Kevin explains. "We wanted the outdoors to come to us. It's the California indoor-outdoor idea but done on a different way with more tactile materials."
A meadow filled with drought-tolerant, grass-like Carex glauca rests just behind a Spanish-inspired runnel fountain. The depressed meadow works as a retention basin that can withstand water and drought and needs little maintenance. (Santa Barbara has strict guidelines regarding water-wise landscapes for new projects).
Over time the couple have added drought-tolerant agave, succulents, native plants and sansevieria as well as an herb garden, tomatoes and citrus trees.
To save money, the couple did some of the work themselves. "We wanted to embellish our home," Jill says. Kevin and his father-in-law built storage doors, medicine cabinets and prepped the steel structure for the awnings. Outdoors, Kevin and Jill worked weekends installing a hand-blocked concrete patio based on the traditional Gee's Bend quilt pattern. They also applied Venetian plaster in the powder room.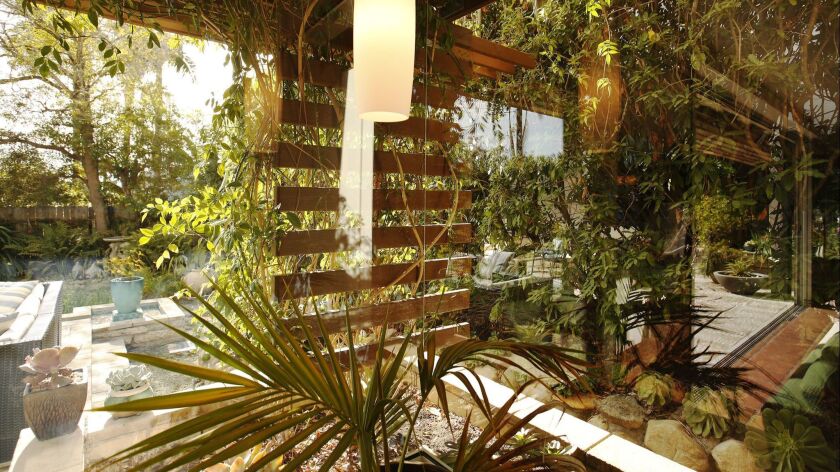 Many common materials from the original home were repurposed including brick pavers, sandstone site walls, bamboo flooring and a broken sailboat mast they now use as a towel rack in the bathroom.
And while they nabbed 1,000 bricks off Craigslist for the front patio and drove to Solvang to pick up a $200 live edge wood dining table, the couple splurged on Heath tile and an Italian Bertazzoni stove in the kitchen and dual-glazed, energy-efficient windows throughout the house (for which they received a hefty rebate).
As it stands today, the new home has no memory of the original bungalow. But it does retain the comfort and warmth of the original 1950's-era dwelling.
The couple's matchmaker, it seems, was farsighted. The architect did indeed build Jill a house she says she can't imagine ever leaving. "Everyone who had been married for a long time told us if we could survive four years together in 400 square feet, especially while planning to build a house, our marriage was rock solid. We think they were right."
Adds Kevin: "I am really pleased with the house. It's fun to come home."
Twitter: @lisaboone19
For an easy way to follow the L.A. scene, bookmark L.A. at Homeand join us on our Facebook page for home design, Instagram, Twitter and Pinterest.
ALSO:
They ditched pricey home ownership for a small house on wheels — and they love it
After years spent traveling the world, this filmmaking family puts down roots in Pasadena
---