The Middle Ages: This warm-and-fuzzy pup brings to mind some other comforts, including good books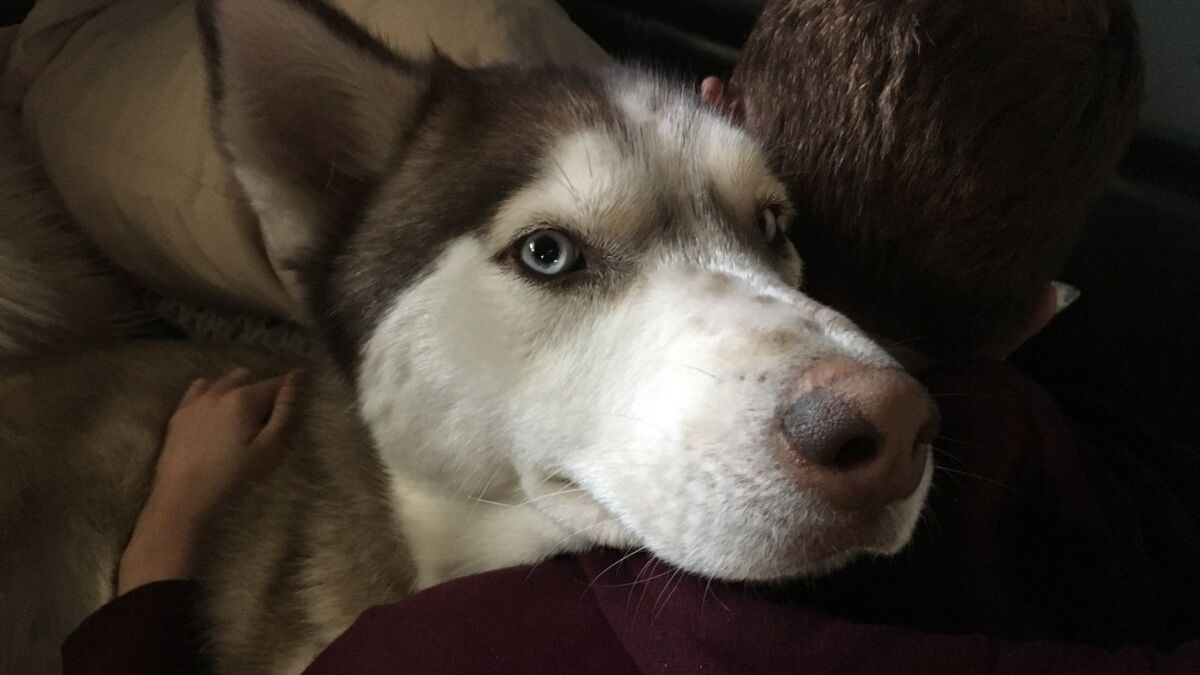 When she barks, her voice cracks.
I see in this baby wolf — the one I just inherited and who may now outlive me — I see in this young pet a playfulness, almost a charisma, that I like very much. It reminds me of her late owner. It reminds me of his inherent boyishness and my own Huckleberry past. It reminds me of a lot of things that make me smile.
Words are my red meat. To many, they seem like vegetables or chores. But to me, the written word is music and red meat and, very often, the very essence of life itself. Words represent ideas, sure, but they also represent depth and character and heart.
Words are everything. As are wolves. As are boyish smiles.
We have received some very kind and inspired words in the last month. Because of the nature of what I write — the simplicity, the accessibility, the sheer dopiness of so much of it — I get a lot of wonderful feedback from those on the very fringes of society. In particular, I seem to hear from a lot of doctors and lawyers.
I suppose that in their everyday lives, doctors and lawyers endure enough confrontation and disappointment. When they read, they want comfort, and some assurance that the world is not as bad as it often seems.
One doc recently urged me to "take my time" in this period of grief, which I thought a wise and worthy tidbit, the sort of guidance you'd get from your old man, or an uncle or one of the Apostles.
I may have mentioned "the Apostles" in the past, the term I use for the goofs I joke around with on weekends, the buddies who, when my eldest son died last month, cloaked me in their friendship.
They helped plan the reception and handed out programs at the service and planted a tree in the yard. They ordered food, picked up tabs, and when things were at their worst, somehow made me laugh. I'm usually an easy laugh, almost promiscuous about it. But I sure wasn't six weeks ago.
So the Apostles stepped in — I'm not sure why, though there was a lot of wine around the house at the time, and the lovely Chardonnay Moms were in and out with their casseroles and cakes. Suddenly, the place was aglow with family, friends and the relief of blended tears.
Here's the thing about the Apostles: They were just there. My buddies didn't attempt to say the perfect thing, or counsel me or rhapsodize about Christopher. They simply remembered him fondly, and helped me picture him and — occasionally — hug him in my mind.
I think it's a fine week for remembering good deeds. There's this amazing book fest at USC, a Coachella of ideas and poetry, wit and wordplay.
I guess that's what friends are for, right? What a bunch of knuckleheads. Where I found friends like these I'll never know.
I think it's a fine week for remembering good deeds. There's this amazing book festival at USC, a Coachella of ideas and poetry, wit and wordplay.
I remember when it started 22 years ago. My newspaper, which stages the free event, thought it might lure 10,000 people. Instead, Caesar's army turned out, and some 150,000 book fans continue to show up every year for this salute to red meat, mirth and big ideas.
Attending it can be a hassle, don't get me wrong. In that way, big cities can be challenging; there are lines and parking problems and sometimes you windmill around, not sure where you're headed or if you might've passed out.
Often, I think I'd be just as happy losing myself in a big dark library for the day, or the Last Bookstore, or one of the many other great independents, because good words are personal. They abhor cacophony and the elbow jabs of strangers. With words, you generally want a quiet pond, not a party.
But I admire this annual mitzvah of words, just as I admire the authors who produce them.
Before I run off, let me circle back to the feedback I get from doctors and lawyers — and you. It's tough to generalize, but I'd say the very best notes I get, the ones with traces of grandeur, come from teachers.
One wrote me the other day, telling me how her students took to Shakespeare and found in his musty work surprising sustenance and timeless bonds.
The teacher, Deborah Ventura, wrote to reinforce the value of words. She closed with the lines she shared with her students at the end of every semester, words that to me right now sound deep and rich, as if from the biggest brass horn in the band.
From Frederick Buechner, she quotes:
"What's lost is nothing to what's found, and all the death that ever was, set next to life, would scarcely fill a cup."
Amen.
Los Angeles Times Festival of Books
What: Chris Erskine will be at the Los Angeles Times Festival of Books 12:30 p.m. Sunday to sign his new book, "Daditude," a collection of his favorite Times columns. Advance tickets for a 2 p.m. panel discussion with Erskine and Times colleagues Patt Morrison and Steve Padilla are no longer available. A limited number of tickets will be available Sunday at the festival ticketing booth, which opens at 9 a.m. Erskine will also be at Vroman's Bookstore in Pasadena for a talk and signing at 7 p.m. Tuesday, April 24.
Info: events.latimes.com/festivalofbooks
Twitter: @erskinetimes