Smart ideas, designs to make more of your home
For an edgy floral look, try large blooms on dark backgrounds. The 17-inch square linen pillow from Furbish Studio ($90), is a homage to designer Rose Cumming, who created classic chintz fabrics, including Kimble, purchased from Offthefloornow.com.
(Gary Friedman / Los Angeles Times)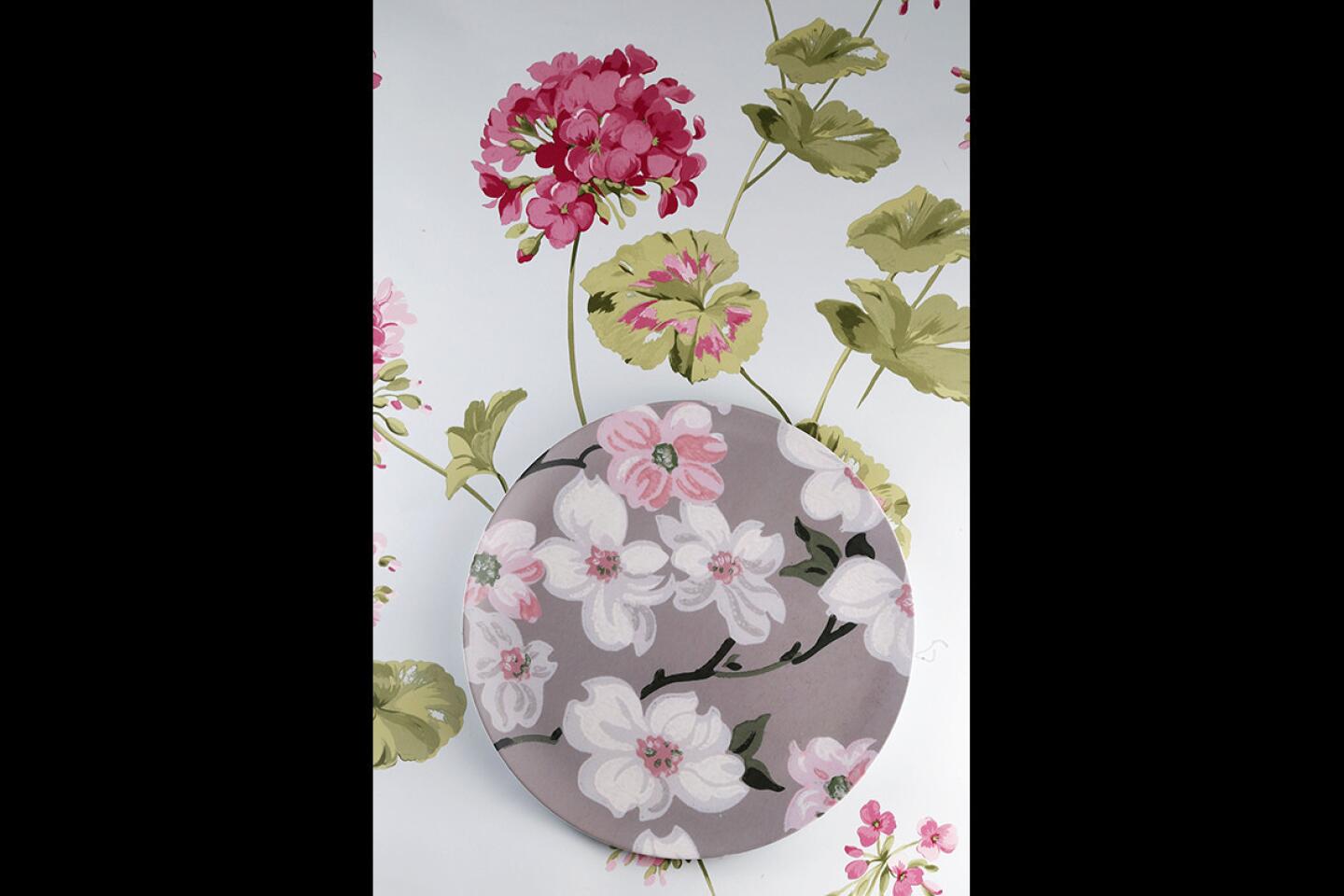 Wallpaper-style florals are also making a comeback for 2015, as shown here on a melamine plate by designer Jeffrey Harris on a swatch of Geranium wallpaper by Laura Ashley.
(Gary Friedman / Los Angeles Times)
Needlepoint kit from Elizabeth Bradley.
(Gary Friedman / Los Angeles Times)
Conway Electric's EXTO 4 has an 8 foot cloth cord and powder coated box with four outlets. It costs $95.
(Gary Friedman / Los Angeles Times)
Alpaca, a cozy comfort for the early part of 2015, is shown as an Elizabeth Bradley throw and a Coyuchi pillow.
(Gary Friedman / Los Angeles Times)
A Disc Interiors pillow for Smith & Noble.
(Gary Friedman / Los Angeles Times)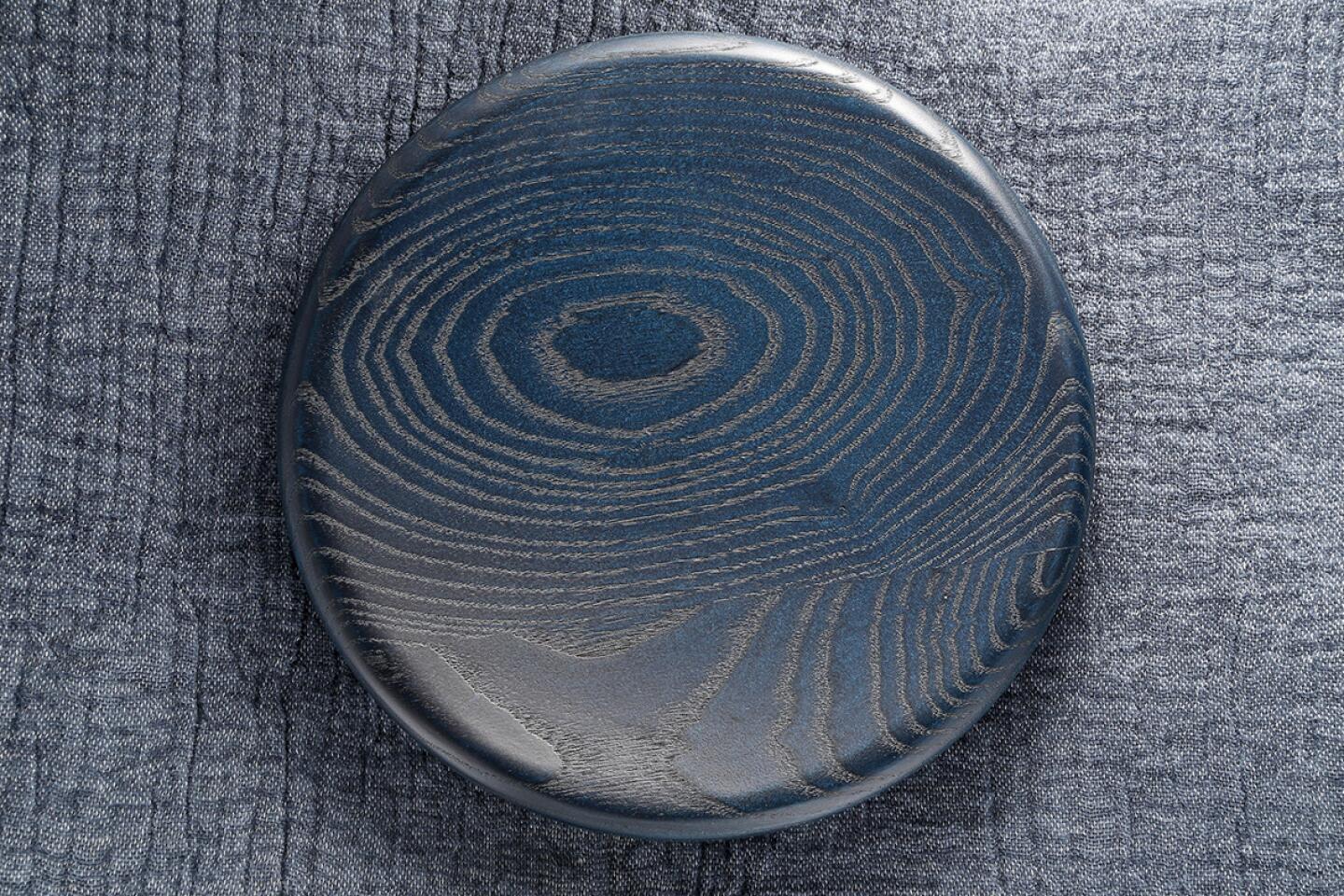 An indigo-stained wooden bowl by 100xbetter on an Deep Ocean throw by Coyuchi.
(Gary Friedman / Los Angeles Times)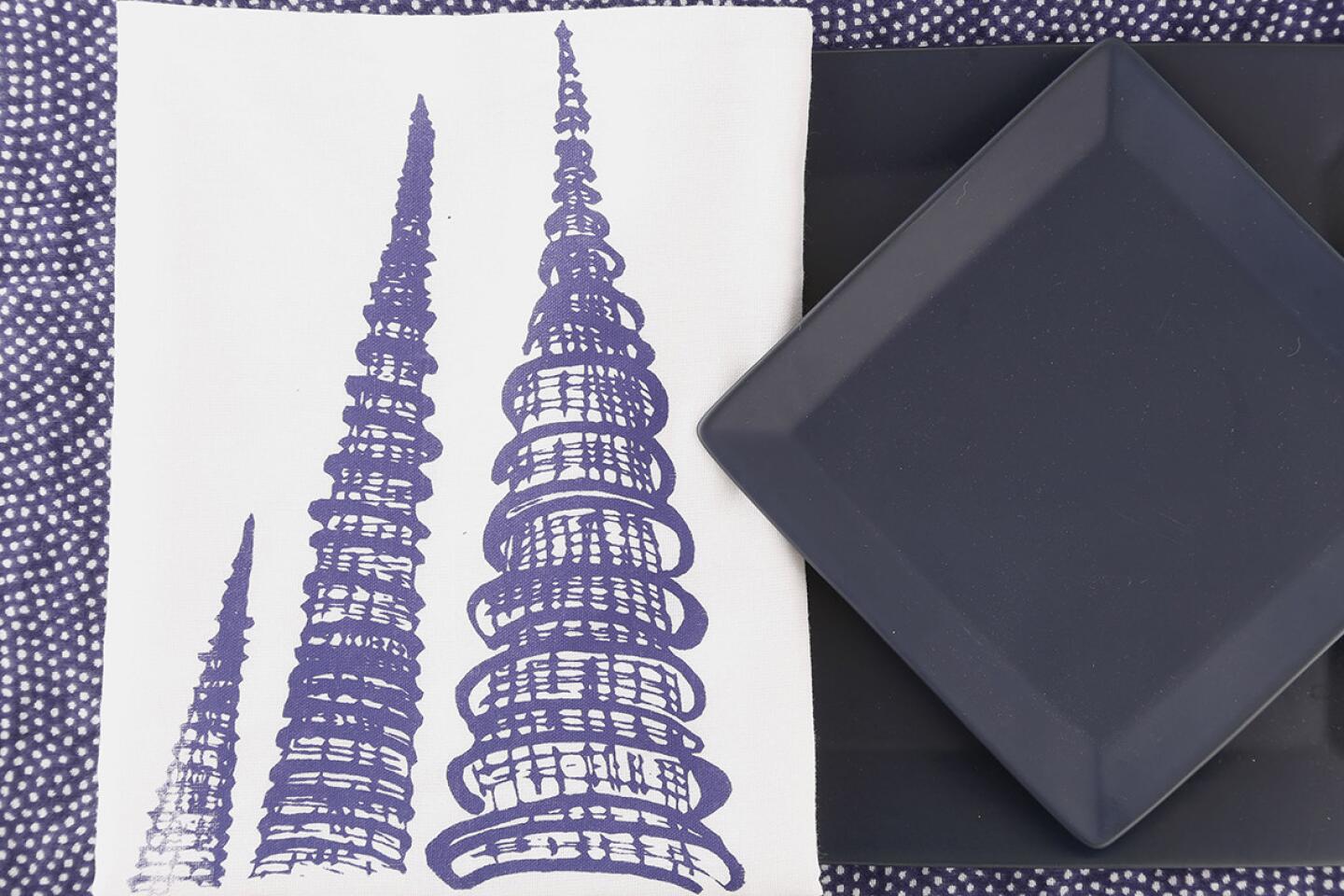 An indigo-printed tea towel depicting the Watts Towers, Mood Blue plates from CB2 and an indigo-dot hand towel from Waterworks.
(Gary Friedman / Los Angeles Times)
From rediscovered design classics to brand-new innovations, from the ceiling to the floor, 15 easy pieces and smart ideas for making more of your house in 2015.
Spring bouquets
"Floral patterns feel fresh again for chairs, headboards, curtains and bedding," says Los Angeles designer Susann Thomason Tunick. Here are three ways to make rooms blossom:
1.
For an edgy floral look, try fabrics with large blooms on dark backgrounds. The 17-inch square linen pillow from Furbish Studio ($90), is a homage to Manhattan designer Rose Cumming (d. 1968), who created classic chintz fabrics, including Kimble, purchased by the roll, as shown here, from Offthefloornow.com.
2.
Adopt a wallflower. Known for petite prints beloved in the 1980s, Laura Ashley — yes, that Laura Ashley — is staging a comeback with larger-scale floral wallpaper, including this Geranium print in soothing pastels (one roll that is 21-inches wide by-32 feet long is $48). Or dish up a smaller dose of a floral garden party pattern with Dogwood, a wallpaper print on a melamine dinner plate ($22) by designer Jeffrey Harris.
3.
Take your crafting to Victorian heights with an English tapestry cross-stitch kit. Check out Camellia Blossom (from Elizabeth Bradley's new Blooms collection; the kit ($230) takes about 120 hours of stitching. Or you can just buy the pillow ($580) from Elizabeth Bradley Home.
Emotional outlets
4.
Ditch ugly plugs, extension cords, power strips and rechargers for electrical connections with a more uplifting personality: Conway Electric's Exto+4 ($95) is part of a collection of sturdy and colorful tamper-resistant American-made power strips with cloth-covered cords so handsome that you'll want to show them off. Shaped like an outdoor spigot, the Power Tap USB charger for smartphones ($27.50) adds an amusing touch to traditional wall outlets. aeropostale.com.
Warm and fuzzy
5.
The yarn spun from South American alpacas is warmer than wool, hypoallergenic and so lustrous that it looks beautiful even in its natural colors. The Elizabeth Bradley Home Diamond Herringbone fringed throw ($290) is woven in Yorkshire, England. The 22-inch square Alpaca Pebble Knit pillow cover by Coyuchi ($248) is made by artisans in Peru. Feather and down insert, $24.
Iron Lady
6.
Fifty years ago, Los Angeles designer Cleo Baldon (1927-2014) designed a Minimalist iron and oak stool that referenced campaign stools and director's chairs and suited both Modernist and Mediterranean Southern California homes. Today, it looks every bit as handsome for a home bar or kitchen counter, and the basic black X-frame is an antidote for those weary of silver- and gold-toned metal legs. Vintage 1965 stools, available in two heights ($2,200 per pair) at Reform Gallery, Los Angeles.
Beach, bath and beyond
7.
Sun or dry yourself artistically with one of Artware Editions' 12 limited-edition towels featuring the work of artists such as John Baldessari, Jeff Koons and Barbara Kruger. The Versace-meets-hip-hop confection seen here is by Los Angeles-born Kehinde Wiley, the subject of a mid-career retrospective at the Brooklyn Museum this spring (and, yes, those are reproductions of his paintings seen in Lucius Lyon's mansion in Fox's "Empire.") The 100% cotton towel ($95) measures nearly 5 by 6 feet.
Resurfacing
8.
Engineered as a replacement for the mineral mica in electrical parts, high-pressure plastic resins became the laminate product we now know as Formica. The company has tapped Jonathan Adler to update Formica with bright colors and patterns, including Greek Key and malachite (from $17 per square foot at Lowe's). The designer unveiled the collection at the KBIS kitchen and bath show in Las Vegas last week.
No kidding?
9.
Shopping in the kids' department can yield savings and style. Combining English-style turned wood rails and a Swedish silhouette, the Jenny Lind daybed from the Land of Nod ($699) is a versatile piece. Just add a standard twin mattress and linens, and you've got a child's bed or an adult sofa.
Dog doze of summer
10.
Let your pets laze poolside — or bedside — on a bed made from indoor-outdoor solution-dyed acrylic, the same fabric that Brown Jordan uses on its classic patio furniture. Available in seven patterns, including solids, dots and dialed-down awning stripes, such as the Madeline pattern, shown here, and in three sizes (from $125 at the manufacturer's flagship in the South Coast Collection in Costa Mesa) or from Brown Jordan.
Kitchen magicians
11.
Since its introduction in 1995, Ikea has sold 7.7 million kitchen cabinets from its Akurum collection. Now the Swedish design superstore is replacing it with the comparably priced Sektion, an even more modular system with integrated lighting, interior organizers and drawers-within-drawers. The new kitchen components are scheduled to arrive in Ikea stores on Feb. 2.
Floor show
12.
If those classic 1-inch hexagonal floor tiles feel ho-hum, supersize them: Known for kitchen and bathroom renovations, the L.A. interiors firm Design Vidal has created a collection of 9-inch hexagonal concrete tiles with Mexican, Middle Eastern, mystical and animal motifs ($9.95 per tile), designvidal.com.
Local designer and Maison21 blogger Christian May offers various shades of 9-inch cowhide "tiles" in his Shapes collection for 27 Ground ($100 per square foot) at Woven Accents in Los Angeles, wovenonline.com.
Que serape
13.
The serape stripes of Mexico and the geometric motifs of Native American textiles can bring a vibrant and affordable splash of Baja color and Southwestern style to modern California interiors. From CB2, handmade braided palm pendants Diego ($129) and Frida ($99.95) pair easily with the hand-painted Poncho vase ($14.95), . The Roxy rocking chair ($525) by Onefortythree is handmade in Nevada from molded plywood with a natural walnut veneer and cushions covered in Pendleton wool in a Navajo cross pattern.
It's a cinch
14.
The drum- and cube-shaped upholstered stool has devolved over the years into a cheap and clunky chunk of furniture. Chase Wills of L.A. furniture design firm Brandon + Bradley has tailored a shapely alternative: Inspired "by women's summer dresses with a high-waist belt," the multi-purpose Cinch stool (made to order for $550) is upholstered in colored felt with a leather belt. Designer Laura Kirar puts a fashion spin on lighting with Arterior's cinched Tassel Lamp, which has the fringe benefit of navy and black silk-polyester strands and a black shade lined in gold paper ($795).
Baby, it's you
15.
Designed to stimulate an infant's curiosity and visual acuity, mobiles are often made in bright colors and goofy shapes. However, it's recommended they be removed from over the crib as soon as baby is able to sit up. This Blabla Kids Pom Pom mobile comes in three calm color schemes, including this gender-neutral mix of Dijon yellow, blush and blue, which looks so good that you may be tempted to put this baby in the corner of your own room. $160 from Broome Street General Store in Silver Lake.