Dishing Dirt with Anjelica Huston: The home that 'Prizzi's Honor' bought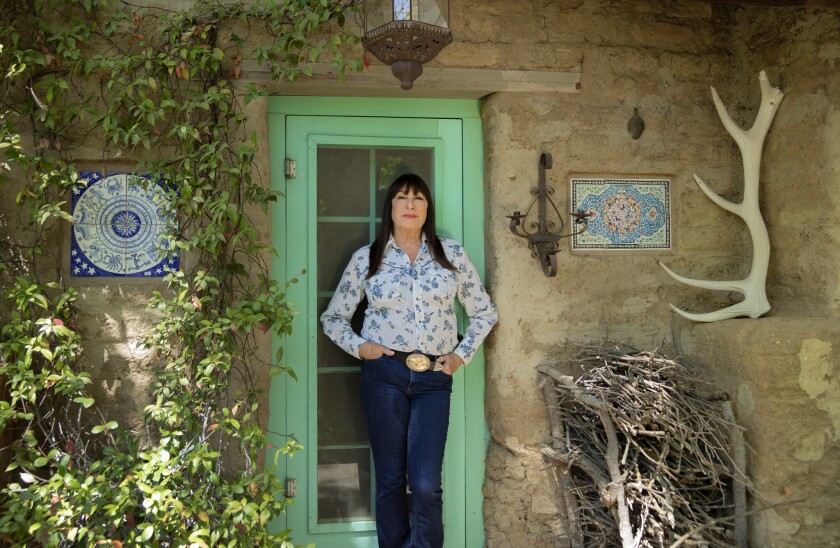 The topic is gardening, the day is easy and bright, but being this close to Oscar-winning actress Anjelica Huston feels slightly ... well, dangerous.
Maybe it's her Cheshire cat smile. Or her wide, seemingly all-seeing eyes. Or maybe it's just because Huston has played so many badass characters: an evil stepmother ("Ever After"), a murderous con artist ("Grifters"), a mobster's girlfriend ("Prizzi's Honor"), and, most recently, in "John Wick 3," the "principal of assassin school," she says, flashing that smile again.
Huston is a tall woman, striding confidently to the rose garden on her sprawling, wildish ranch in Three Rivers, a California town of about 2,000 residents, set in the foothills of the Sierra Nevada. She has a long shovel in her hand, and there's this tension as she walks, like she's holding a secret we'll soon be sorry to learn.
It isn't until her visitors exclaim about her abundant roses, the blooming trees and the general floral splendor of her gardens that Huston's commanding presence softens.
"You really like them?" she asks anxiously.
Yes, she is told. Yes.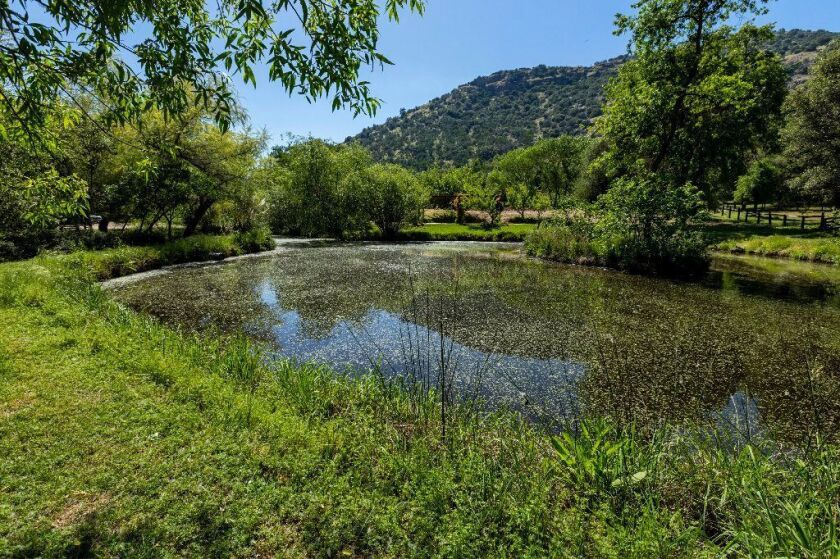 When Huston bought her 38-acre Flying Heart Ranch in the mid-1980s, the nicest description of it would have been "rustic," based on photos taken at the time that she shares with her visitors. She calls it the ranch that "Prizzi's Honor" bought, the dark comedy directed by her father, John Huston, that earned her an Academy Award for supporting actress in 1986.
The main adobe house and smaller bunkhouses were nondescript and in disrepair. The large pond was a dull brown, and the surrounding land was mottled grass and mud, studded here and there with huge oak trees and a few stray palms. But as she peered inside the 1930s-era adobe house, Huston said she fell in the love with the big fireplace, and the rest felt like an adventure.
"I didn't tell anybody about this place for two or three years," she said, "because this was the first place that was truly mine. It may not have looked like much, but I paid for it with my own money, and that felt significant at the time. And I loved the idea that you can go in and make a place better than you found it."
She kept her main residences in Los Angeles, where she dabbled in gardening starting in the mid-1970s. At her house in Beverly Glen, for instance, she shared her garden with deer and raccoons, "who ate all the goldfish in my fountain."
And when she was living with Jack Nicholson on Mulholland Drive in the 1970s and '80s, "I tried to grow roses, but it was tough," she said. "It was midsummer, and I was in a bikini…. I was always longing for a tan, but have you ever planted a rose in a bikini? And then Jack decided he wanted to plant bamboo for privacy around the house, which kind of obliterated my roses …. and that was that."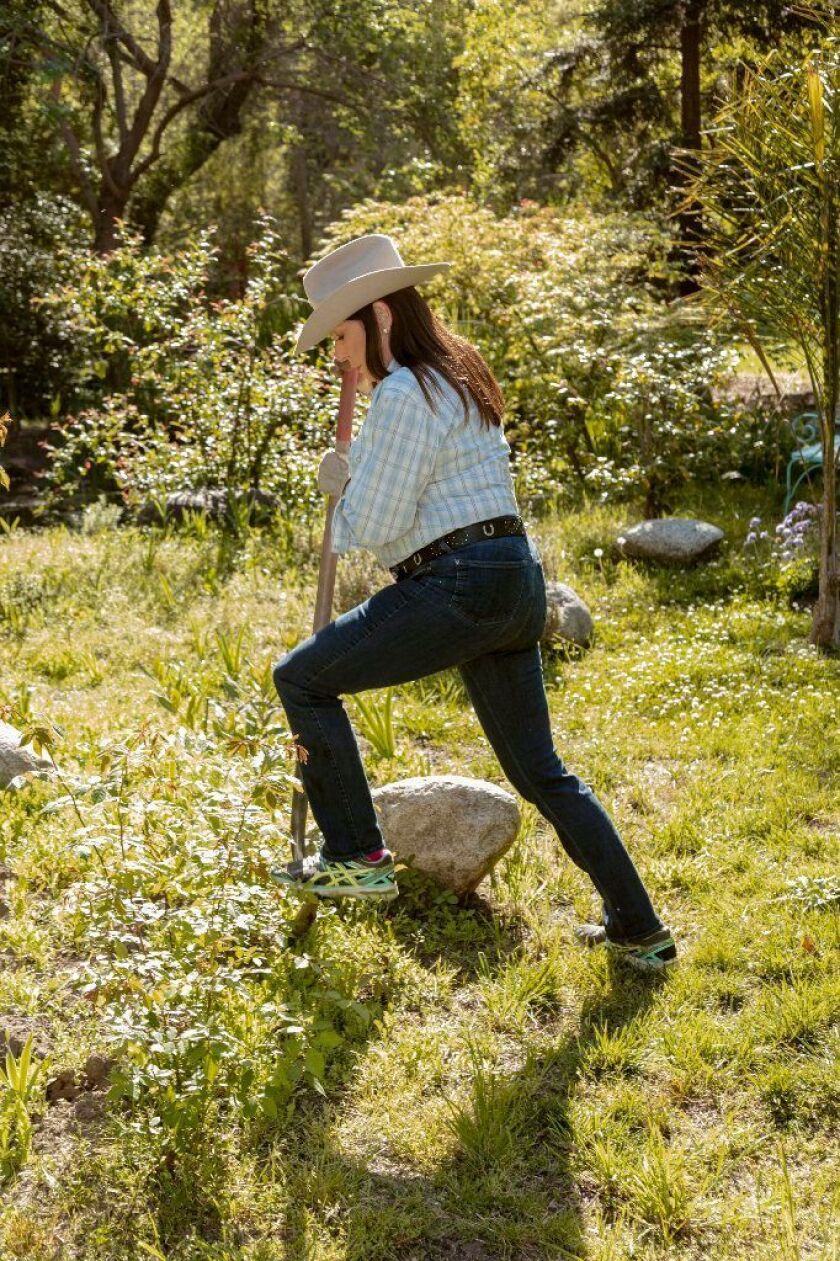 Huston still lived in L.A. after she bought the ranch, but visited often, always laden with plants. "I never came up without at least five to 10 things to plant," she said. "I loved flowers, but I also always planted a tree. I love digging holes and filling them with plants. It's very satisfying."
Eventually, a woman working at the ranch advised her to slow down. "She said, 'My boyfriend said you shouldn't plant any more trees here,' and I said, 'What are you talking about?' But you know, he was right, because things were apt to grow on top of each other, and I don't like to cut anything down. And now I have endless trees that are falling all over…."
Like the giant mulberry tree that dropped a huge branch into her rose garden a few years ago, destroying most of the roses and requiring her to start anew. And the regular repairs she has to do after the deer dine on her blooms.
"My friends laugh at me for trying to create an English garden at 4,000 feet in the Rockies, and I quite agree, it's completely insane, because all I do is replant roses."
But the Los Angeles native got the gardening bug in Ireland when she was a child, living in a Georgian manor called St. Clerans. Her father had purchased the estate. It was nearly an hour's drive from Galway, the nearest town, so it grew much of its own food, and had stables, Norman castle ruins and a guest house, where she, her older brother Tony, and mother, Enrica "Ricki" Soma, mostly lived.
Huston mostly remembers her mother at the manor because her father was usually away making films. Soma, a former model and prima ballerina, directed the gardening but didn't really do much digging.
"I remember her pointing quite a bit," Huston said with a laugh, and giving instructions to their "ancient gardener Odie Spellman, who claimed at one point that a Mary Poppins wind had carried him from St. Clarens to Carbon one day, and we totally believed him."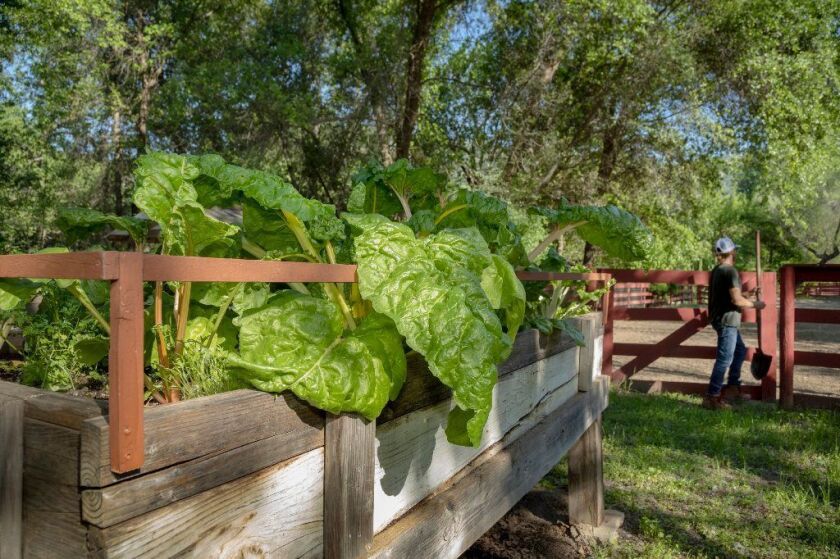 When Huston fell in love with the flower gardens she saw during a train ride in Switzerland, her mother encouraged her interest.
"It was in the spring, I guess, and there were all these postage stamp gardens with pansies and violets and tulips and roses — just very, very noisy with color. When we got back to Ireland, I told my mother, 'I want a garden.' She gave me a little bed, about 6 by 12 feet, and said, 'Why don't you try growing nasturtiums?' "
Huston visualized creating a heart-shaped bed of nasturtiums, "but, of course, it didn't turn out like that. They were a bit grizzled at the end," but that was partly because she was distracted by other things, like exploring the castle ruins, looking for fairies in the trees or "foraging" in the garden, nibbling on carrots or gooseberries.
"We would often have a graze in the garden and nobody complained, which was great, because it gave me a whole relationship with growing your own food. That always appealed to me."
Huston's parents separated when she was about 10, and her mother took her and her brother to London, to live in a house along a canal in Little Venice with a wild garden in the back. It was much smaller than St. Clerans but still a source for food, even in the spring, when Huston was often sent to the garden with a potato peeler to dig up young dandelions because her mother loved them in salads.
Her father was an "open air kind of guy," she said — "I see him walking into rooms with a Donegal cape and a hat, smelling like the Irish moors" — but it's her mother (who died in a car accident when Huston was 17) that she thinks of and misses most in the garden. "She had a lot to do with my response to nature and the outdoors," Huston said.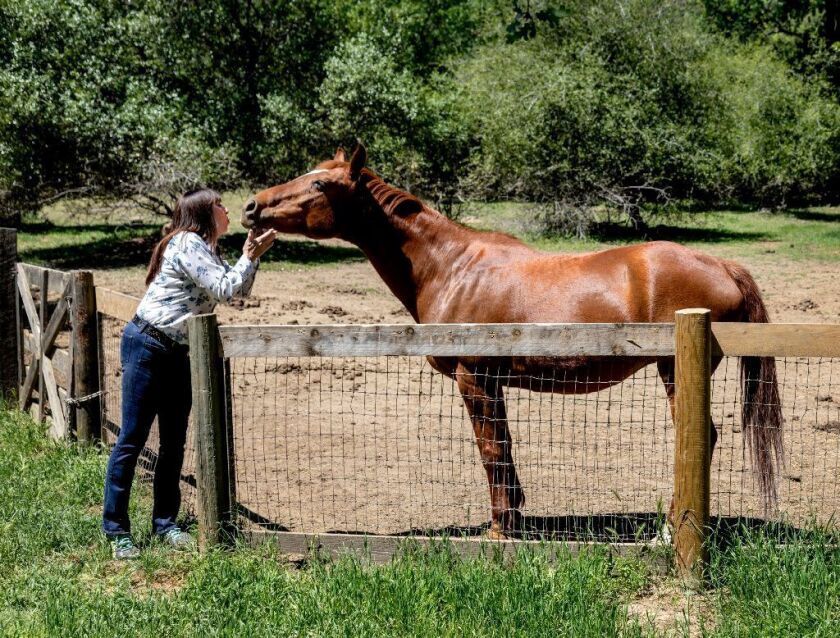 It took years of tending, but slowly, Huston and her helpers have created what she longed for at Flying Heart — a shady refuge with secret places dotted with fragrance, color and an ark's worth of animals, including chickens, horses, sheep, goats, pigs and Ayla, a massive Anatolian shepherd dog who keeps the cougars away.
"She calls it her 'Old McDonald's Farm,' " says Blake Bashoff, a former actor and the brother of Jaclyn Bashoff, Huston's longtime manager, who lives at the ranch full-time as its caretaker, as well as chef whenever Huston is in town.
There's a large vegetable garden circled by a fence that only partly keeps nibbling critters at bay — "We have enough to share," Huston says, laughing — and a raised-bed garden for growing greens, shaded by a towering thicket of bamboo that also protects the chicken house. The rose garden has a tree swing, next to the turquoise bunkhouses-turned-guest-houses, and the "Garden of Allah" — so named because three palm trees suddenly took root in the midst of oak, redwood and pine — is crowded with iris and climbing roses next to a little pond.
"I don't practice strange rituals," she said and laughed. "I just like to name areas on the ranch so everyone knows what we're talking about, instead of having to say, 'You know, down there.' "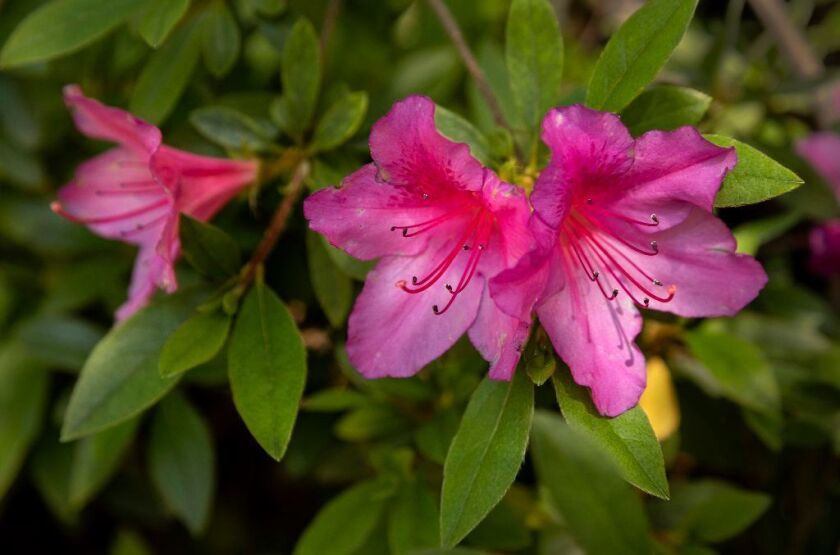 Lilies, roses and other flowers are planted helter-skelter around the house. Huston added more trees — pomegranates, quince and magnolia — near the old orchard by the adobe house that includes a variety of venerable citrus trees and an heirloom Arkansas Black apple tree. When she learned a neighbor was tearing out a small olive grove, she arranged to dig up the trees with a backhoe and planted them on her property too: "They last forever and they're incredibly prolific."
With the garden bounty, they make gift baskets to give away at the holidays that include homemade salsas, jellies made from pomegranate or apples and quince, Meyer lemon curd, dried apples and persimmons and goat milk soap. The kitchen in the adobe house is fairly small so Huston is now building a large kitchen and dining area near the adobe house, overlooking the pond, to better accommodate visitors and make gift projects easier.
Huston loves the ranch's wild, slightly overgrown quality, very different from the angular and beautifully austere home in Venice, designed by her late husband of 16 years, artist Robert Graham. The Venice house was Graham's space, she said, with a courtyard that allowed for only a very spare garden, and the ranch was hers, where he always felt slightly out of place.
When Graham died in 2008, she dealt with her grief by digging a hole in the hard-packed earth by the courtyard. "It was the hardest ground you can imagine, like pavement, but it was just the act of making that hole and putting my heart into it; the physicality of digging hard and digging deep. It was the only thing that made me feel better."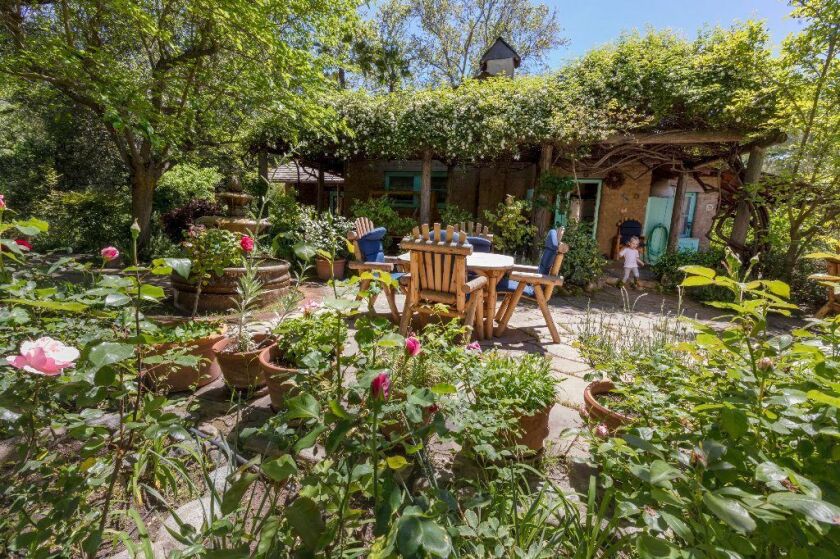 Her goal was to plant an avocado she'd grown from seed, and as she dug, she said other members of her household came out to dig too. "All our staff, the guys who worked in the studio and the housekeeper … they were bringing little things and putting them in the earth," she said.
"It was a kind of joining together with our pain over losing Bob," Huston added, "a very primitive thing, and a cathartic moment for me, to realize that a garden can be anyplace."
The avocado grew into a good-sized tree by the time she sold the house in 2014. "It's a pot dispensary now and I think they cut down the tree for parking," she said and shrugged. "But I couldn't have stayed, no way."
Her new "town" house in Pacific Palisades has a mature but relatively manicured landscape she is trying to disrupt a little at a time. She's started with her deck, a jungle of potted roses and strange trees, like the thorny, towering Pachypodium rutenbergianum she rescued from the Paramount lot after it was discarded from the set of "The Coneheads."
That's kind of Huston's M.O. — rescue and refuge. "I never had children of my own," she said. "It freed me up to do other things, but now I like creating a place for others to come. It's about the joy of seeing something grow and becoming its temporary proprietor. I don't know if the land is ever truly ours, but we are the gatekeepers, the guardians, and the point is to leave a place better than you found it."
In the garden
Favorite tool: Corona classic hand pruners, which Huston calls by their British name: secateurs. She has several pairs, says ranch caretaker Blake Bashoff, "and when Anjelica's at the ranch, all you hear is clip, clip, clip, clip."
Can't-be-without garden item: A sturdy, long-handled Razorback shovel. "I love to dig holes. There's something incredibly connecting about making holes in the dirt and putting things in there…. You make a hole and put your heart in it."
Favorite thing to grow: Anything that blooms, but especially roses, for their fragrance and color. "I like to be able to go out to the garden, cut roses and put them in a bowl. What's better than that?"
Favorite shopping place: Luis' Nursery in Visalia, about 30 miles west of her ranch. "I stop there every time we come up, or I get an itch to go into town. They always have something I want, and it's so much more satisfying than Rodeo Drive ... and economical."
---
The essential weekly guide to enjoying the outdoors in Southern California. Insider tips on the best of our beaches, trails, parks, deserts, forests and mountains.
You may occasionally receive promotional content from the Los Angeles Times.