New gardens at the L.A. Zoo show us how we can help birds at home
Allen's hummingbird in one of the demonstration gardens at the L.A. Zoo.
(Al Seib / Los Angeles Times)
Los Angeles Zoo bird curator Mike Maxcy believes small changes can have a huge effect — in the garden and in wildlife.
"Habitat loss is the worst, but you can mitigate it," he said. "During this time of year we have a mass migration of birds from the Pacific Flyway. It's important to remember that there are small things we can do to help them."
Prompted by 2018's designation as the Year of the Bird, the zoo planted six bird-friendly demonstration gardens earlier this year in an effort to create a template for visitors to use in their yard, patio or porch at home.
The small, inconspicuous gardens are planted in underused pockets throughout the zoo. Each is marked with a sign representing California, Baja California, South America, Australasia, North America or Africa as well as plant identification and pictures of birds you might spot in the garden.
If not for the signs and nest boxes, you might not notice them — and that's significant.
"We want visitors to see firsthand that it's not complicated to help birds," Maxcy said. "You don't need a lot of space."
Logs, bushes and decaying plant matter offer birds protection from predators while attracting high-protein bugs for them to eat. "So many organisms can live on leaf litter," Maxcy said.
Nest boxes offer shelter, and water features provide birds a place to bathe and drink. (Tip: Don't place bird baths near windows, which birds might crash into.)
"Everything is so dry," Maxcy said. "Any kind of water feature is going to be a lifesaver."
Here, the L.A. Zoo shares its plant lists for the six gardens in an effort to encourage others to create bird-friendly gardens at home. Plant these low-water plants and prepare to see hummingbirds, spotted towhee, mockingbirds, dark-eyed junco, hermit thrush and a sparrow or two.
"Even if you want to keep your lawn, you can put down a rotten log, add a water feature or plant some sage," Maxcy said.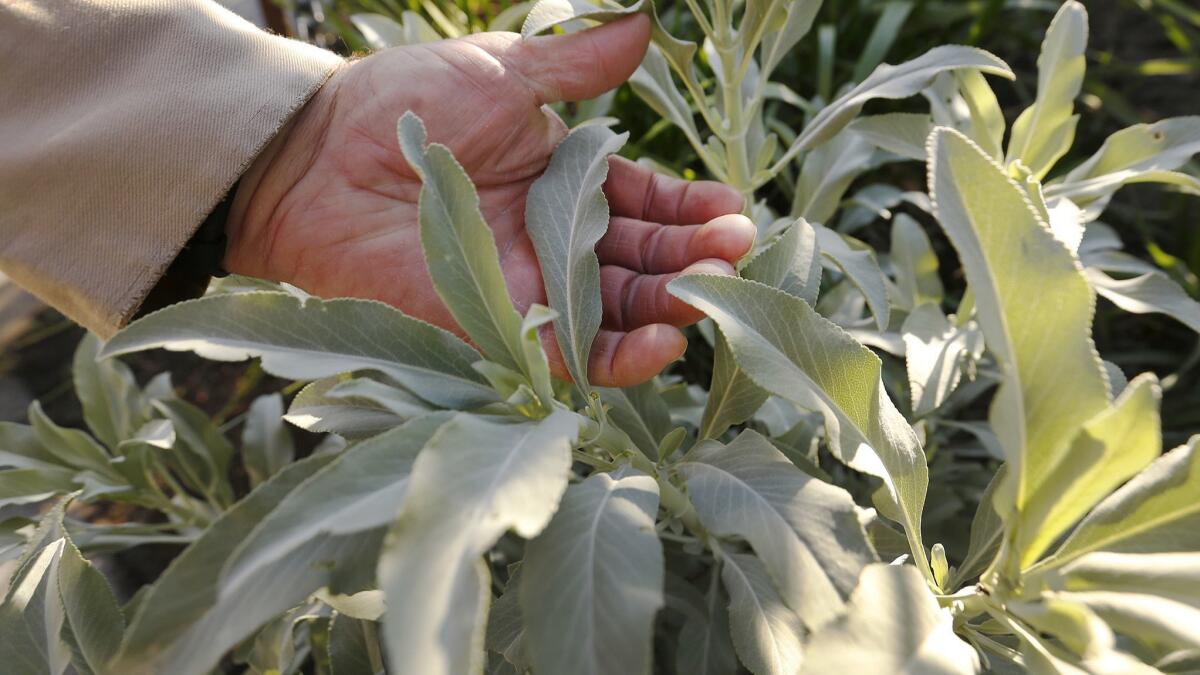 California Garden
(near Sea Life Cliffs)
Toyon, Heteromeles arbutifolia: The bright red berries of the toyon, found in chaparral communities throughout California, is a favorite with robins and waxwings in winter.
California fuchsia, Epilobium canum: Found throughout the Southwest, this plant is an important nectar source for hummingbirds due to its late-season blooms.
White sage, Salvia apiana: Known for its use by Native Americans for food, medicinal, and spiritual purposes, native sages are pollinated by bumblebees and attract hummingbirds.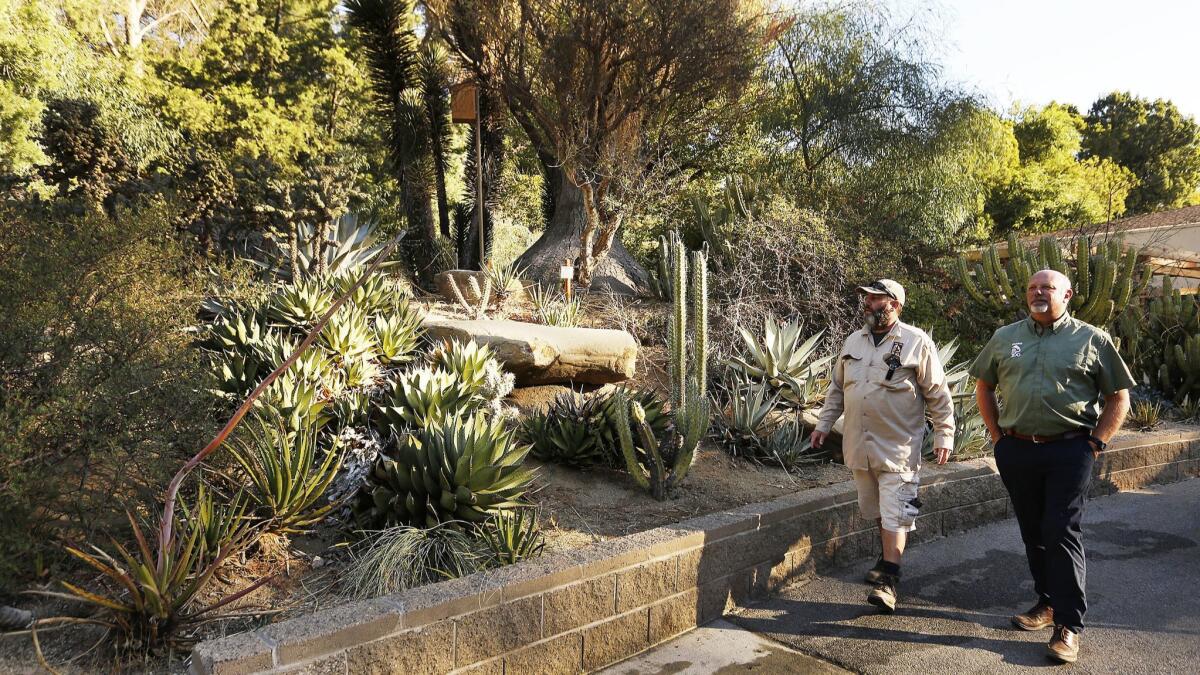 Baja California Garden
(near the zoo/administration offices across from Sweet Treats)
Bottle palm, Beaucarnia recurvate: This large perennial, which is native to Mexico, provides shelter and nesting sites for birds.
Elephant tree, Bursera microphylla: Related to frankincense, this aromatic shrub provides perching and food for birds.
Elephant bush, Pachycormus discolor: This flowering member of the cashew family offers perching and food for small birds.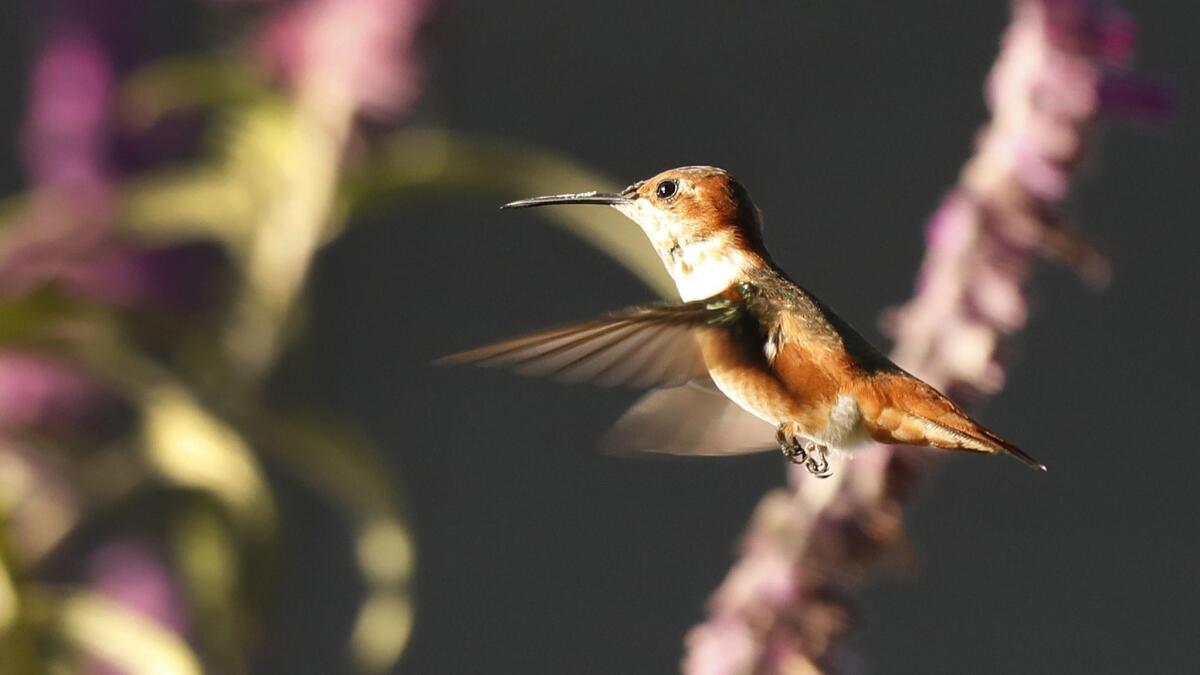 North America Garden
(near the African painted dog habitat)
California coffeeberry, Rhamnus californica: This shrub's berries are an important food source for wildlife.
Hummingbird sage, Salvia spathacea: Hummingbirds are drawn to the pretty flowering spikes of this native sage.
Lindheimer's beeblossom, Oenothera lindheimeri: A food source for birds and pollinators.
Australasia Garden
(near the entrance to Campo Gorilla Reserve and Churro Factory)
Ohi'a Lehua, Metrosideros collina 'Springfire': This flowering evergreen tree in the myrtle family is a source of nectar for birds and pollinators.
Parney's cotoneaster, Cotoneaster parneyi: This shrub features clusters of small white flowers that produce bright red berries in fall and winter — a popular food source for birds.
Dwarf bottlebrush tree, Callistemon hybrid: Native to Australia, the bottlebrush species serves as a source of nectar for birds and pollinators.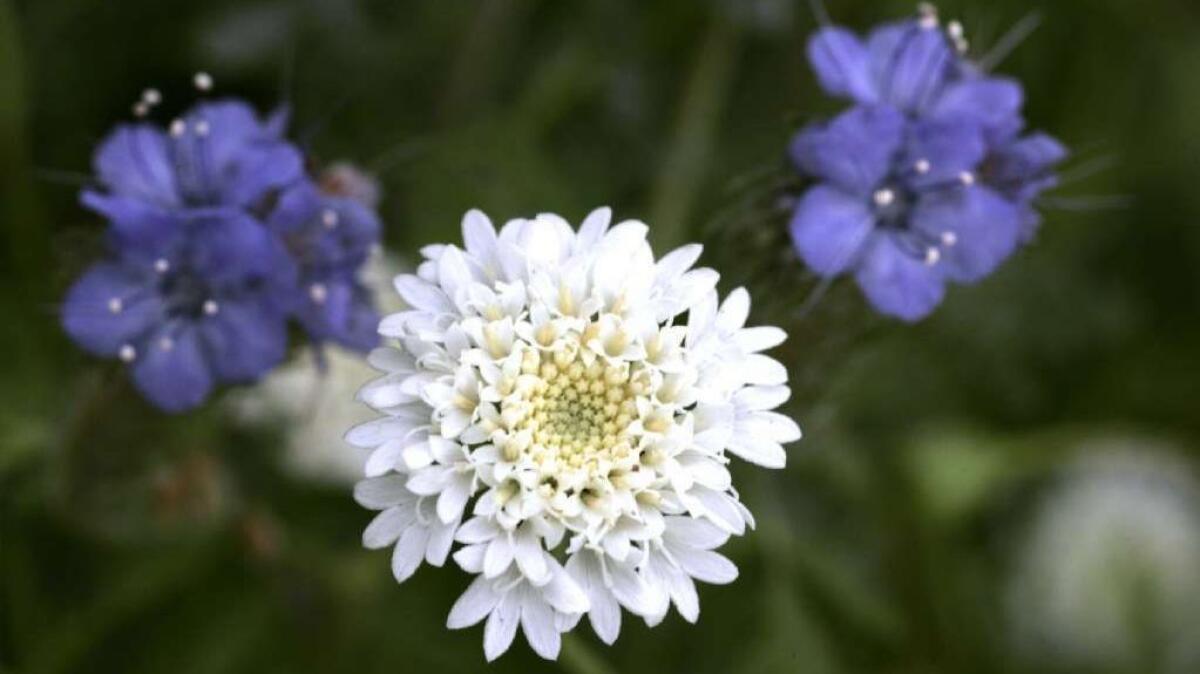 Africa
(near the gerenuk/African lion habitats)
Snowball viburnum, Viburnum tinus: The black-berried shrub attracts smaller birds to its fruit.
Bird of paradise, Strelitzia regina: Native to the eastern coast of South Africa, the official flower of the city of Los Angeles is a nectar source for birds.
Pincushion flower, Scabiosa farinosa: Both birds and insect pollinators are attracted to this shrub's lavender flowers.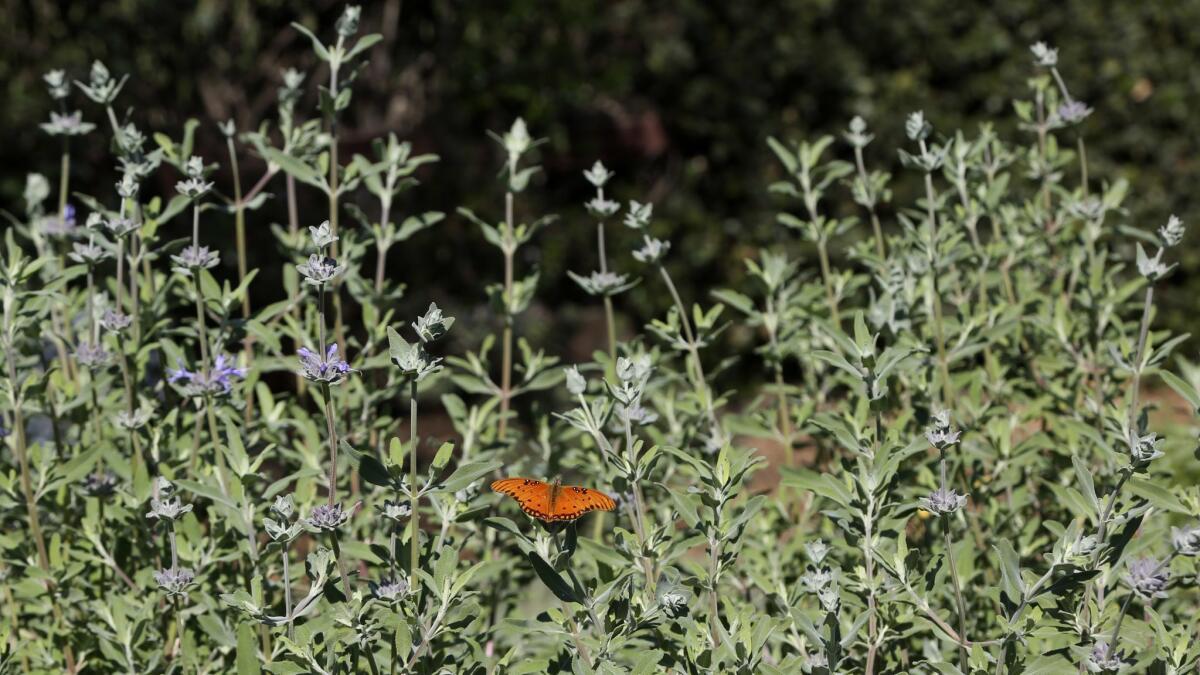 South America Garden
(on the main zoo road just past the entrance to Rainforest of Americas)
Red powder puff, Calliandra haematocephala: Under the right conditions, this evergreen shrub can bloom year round, providing food and shelter for birds.
Coahuila sage, Salvia coahuilensis: This beautiful sage's purple flowers attract hummingbirds and other pollinators.
Sword fern, Nephrolepis exaltata: This fern provides birds with hiding areas and nesting materials.
The Los Angeles Zoo and Botanical Gardens
Where: 5333 Zoo Drive, Los Angeles
When: 10 a.m. to 5 p.m. daily
Cost: $16 to $21
Info: lazoo.org
ALSO:
Bird lovers get together to see how many species they can identify in L.A. in 24 hours
Before & After: A boring backyard is transformed with outdoor 'rooms' for entertaining and play
Photos: Ready to scratch the grass? Here are 27 inspiring lawn-free yards
More California gardeners go native