Folia Collective, a houseplant lover's haven, reopens in roomy new Eagle Rock digs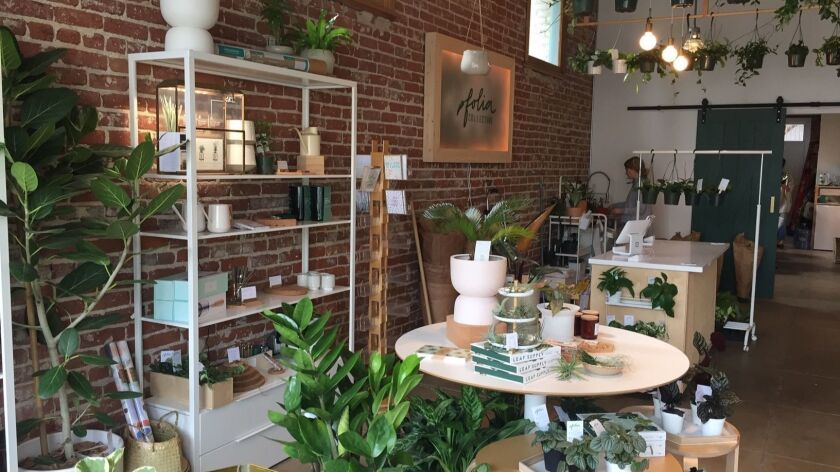 Being an expert on houseplants — and how to help them — can be demanding for a plant purveyor like Danae Horst.
"People get stressed out about their plant problems," says Horst, who opened the plant boutique Folia Collective in 2017. "We spend a lot of time every day answering questions. We get 10 to 20 DM's a day from people asking us what is wrong with their plant."
Situated in her tiny showroom in the Burlington Arcade in Pasadena, Horst watched as her shop grew from a specialty retail outlet into something more.
"People wanted to come in on their lunch break and be around the plants," Horst says. Some customers wanted to host their own events in the airy, plant-filled shop, she says.
In an effort to accommodate the demand for events, Horst recently moved the store to a bigger location on a tree-lined street in Eagle Rock.
The new showroom is just as charming as the original, with exposed brick walls, rays of sunlight and abundant floor space. The floor plan is divided in half by a sliding barn door with a stockroom in back and a showroom that can host as many as 30 in front.
The inventory remains the same — houseplants in all shapes and sizes, each tagged with specific care instructions; accessories for plant addicts such as candles, cards and hand-focused creams; and an array of pots that, says Horst, are "actually made for plants." They'll even drill a drainage hole for you for $3. Potting and repotting services are offered as well.
Looking ahead, Horst plans to host a live podcast for Bloom and Grow radio, as well as workshops on the basics of potting a plant. Expect plant puns aplenty ("I'm Stuck on You" placed on a cactus for Valentine's Day), as well as custom gifts. There is even talk of a book club and yoga in the shared outdoor space out back.
Initially nervous about the move, Horst is thrilled with how the new location is resonating with the community.
"I wanted to create something that people felt was theirs," she says. "That's why we installed a couch in the new store, so that people can come in and have a place to sit and enjoy the plants."
When a customer texted her that she needed some "plant time" after suffering two losses, Horst knew that her goal was a success.
"I told her come in and hang out on the couch," Horst says. "That is the special thing that I wasn't anticipating: We are fostering a welcoming environment."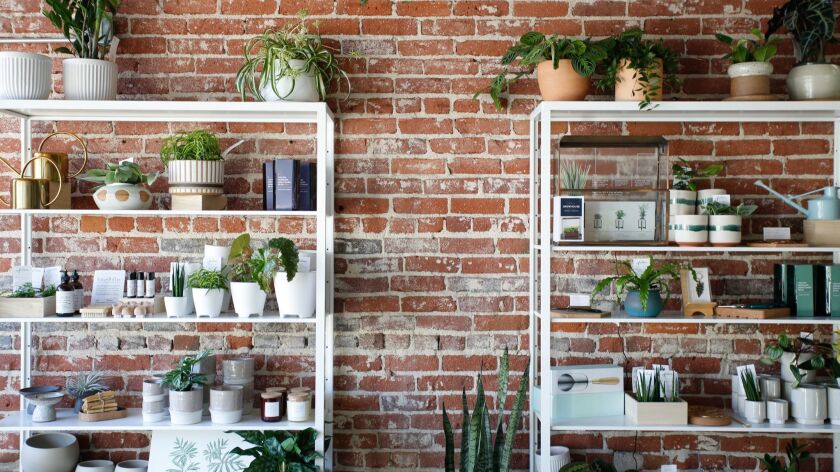 Folia Collective
Where: 5117 Eagle Rock Blvd., Eagle Rock
Hours: 11 a.m. to 7 p.m. Tuesdays through Saturdays and noon to 5 p.m. Sundays.
Info: foliacollective.com
ALSO:
They don't own homes. They don't have kids. Why millennials are plant addicts
Before & After: A boring backyard is transformed with outdoor 'rooms' for entertaining and play
Before & After: See the dramatic 'jewel box' garden makeover
---