Books to give and get this season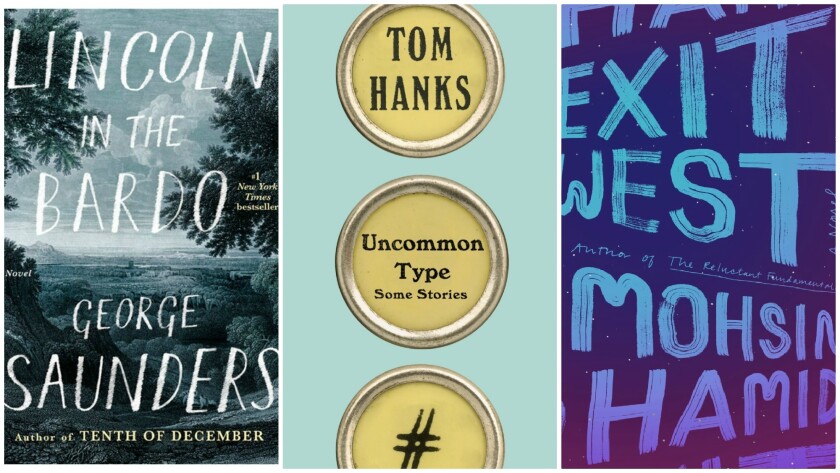 A book makes for a perfect gift. What's more, it's easy to wrap. Prices can vary widely depending on where you shop [insert a shout out to your favorite local retailer here!], so look around before you buy.
Look who's back!
"Origin" by Dan Brown. The author of "The Da Vinci Code" is back with a new Robert Langdon thriller. The novel starts in Bilbao, Spain, and then sends Langdon on a chase across Europe to unlock secrets about the beginning of humankind.
Race, and America
"We Were Eight Years in Power" by Ta-Nehisi Coates. The new collection of essays from the National Book Award-winning nonfiction writer challenges readers to think deeply about the history and present of race in America.
Not just for kids
"Turtles All the Way Down" by John Green (published by Dutton Books for Young Readers). The new YA novel from the author of the sensational book-turned-film "The Fault in Our Stars" is a powerful tale for teens (and adults) about anxiety, love and friendship.
A Refugee's tale
"Exit West" by Mohsin Hamid. This novel from the author of "The Reluctant Fundamentalist" is about two refugees in an unnamed foreign city who seek to escape violence and are swept up by strangeness and history.
Tom Hanks, author
"Uncommon Type" by Tom Hanks. It's no surprise that Hanks, the most likable movie star of our time, is a delightful storyteller. His first book is a collection of 17 short stories (one in screenplay form) that are tied together by a loose typewriter theme.
Insight into genius
"Leonardo Da Vinci" by Walter Isaacson (published by Simon & Schuster). Issacson, author of the bestselling biography of Steve Jobs, is a biographer of geniuses. To his pantheon, which includes Ben Franklin and Albert Einstein, he adds Leonardo Da Vinci.
Instagram poet
"The Sun and Her Flowers" by Rupi Kaur. The 25-year-old Kaur is wildly popular on Instagram — and in bookstores. This, her second collection, is designed to be read as one long poem. The only trouble with giving this as a gift is her fans may already have ordered it.
Father-and-son horror
"Sleeping Beauties" by Stephen King and Owen King. What says father-and-son togetherness like co-writing a horror novel? In this first-ever collaboration between the two, most of the women in an Appalachian town fall asleep and are then surrounded by mysterious cocoons. Waking them up leads to trouble. (Bonus: King's other son, Joe Hill, has a new book too: "Strange Weather," a collection of four novellas).
A page-turner
"Little Fires Everywhere" by Celeste Ng. A page-turner about the tensions just under the surface of an affluent suburban neighborhood. Teen friendships, mothers with agendas, a pending adoption all snowball in this novel about who makes and breaks the rules.
---
Please consider subscribing today to support stories like this one. Already a subscriber? Your support makes our work possible. Thank you. Get full access to our signature journalism for just 99 cents for the first four weeks.
---