Gifts for video game lovers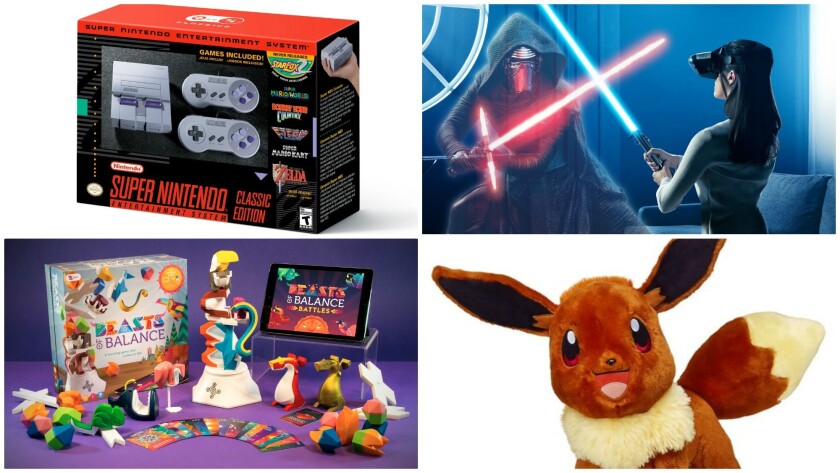 Gifts for the gamer on your gift list. (Nothing says you can't gift yourself too.)
Classic Super Mario
Though this itty-bitty retro gaming console may be relatively hard to find, it's worth the hunt, as it represents some of Nintendo's best work. "Super Mario World" expanded the universe for our favorite plumber, and games like "Earthbound" brought serious topics to the home console. $79.99. nintendo.com
Battle for romance
Scott Pilgrim's "Precious Little Card Game" pits you — and up to three of your friends — against one of the dreaded evil exes from Bryan Lee O'Malley's "Scott Pilgrim" series. But don't worry — damage will be dealt, but no hearts will be broken. $45.00. renegadegamestudios.com
Soon-to-be classic Super Mario
"Super Mario Odyssey," Mario's first-adventure for the Nintendo Switch, looks to be one of the oddest in the series yet — and remember, this is a game with walking mushrooms. Here, Mario has a magical hat with the ability to possess everything from cars to dinosaurs. Yet nothing is weirder than seeing Mario run around a New York City-like universe. $59.99. nintendo.com
Explore L.A. history
Rockstar Games is updating and reissuing its acclaimed 2011 effort "L.A. Noire," which draws inspiration from well-known SoCal crimes of '40s, for modern consoles. While wannabe detectives may find it over-emphasizes combat, "L.A. Noire" helped define modern adventure games. $39.99-$49.99. rockstargames.com
Yes, there's a 'Star Wars' game ...
You know the drill. Lightsabers. Blasters. Jedi. Stormtroopers. "Star Wars Battlefront 2" brings back the popular action franchise, this time with a greater emphasis on narrative and single-player battles. $59.99. ea.com
… and even more 'Star Wars'
Become a Jedi, you will. Remember Luke's training scene in "A New Hope"? "Star Wars: Jedi Challenges" is sort of like that and more. Using augmented reality technology the headset transports users to a number of virtual worlds, giving players the illusion of yielding a real-life lightsaber. $199. www3.lenovo.com
Build your own theme park
Why ride a roller coaster when you can build one? In the board game Coaster Park, players will compete to build the coolest — and safest — roller coasters. $49.95. pandasaurusgames.com
Catch 'em all!
If the "Pokémon GO" craze has died down, that doesn't mean the critters are any less adorable. Check out Build-A-Bear's Pokémon collection for some of the oddest — yet cutest — plushies in any dimension. $60. buildabear.com
It was a dark and stormy night …
Someday you'll write that book, you say. Well, get inspiration with Story Master, a creative-driven card game in which players must string together a short tale using just five words. $20. board2deathgames.com
Tame the beast!
Jenga is fun and all, but it's time to stack with animals — and to make it interactive. The colorful Beasts of Balance is an inventive game that works with one's tablet or phone to add a heightened level of strategy to the thrill of piling on. $99. beastsofbalance.com
---
Please consider subscribing today to support stories like this one. Already a subscriber? Your support makes our work possible. Thank you. Get full access to our signature journalism for just 99 cents for the first four weeks.
---