Holiday gifts for music lovers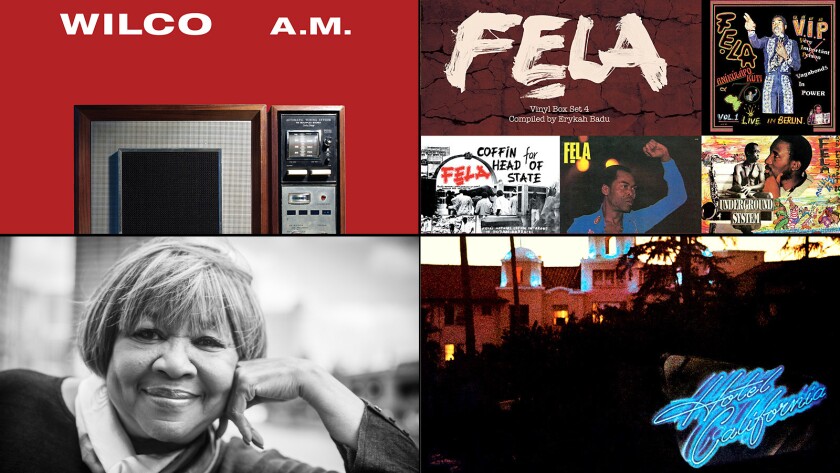 If music be their food of love, read on:
R.E.M. rarities
Twenty-five years ago R.E.M. took another unexpected turn with "Automatic for the People," an album that spawned such hits as "Man on the Moon" and "Everybody Hurts." It also revealed a more sparse, emotional and heart-wrenching side of the band. A three-disc edition, with a Blu-ray, commemorates the release with never-before-heard rarities. $85. remhq.com
Wilco, reissued
Over the past two-plus decades, Chicago's adventurous rock band Wilco has continually reinvented itself. Its first two albums — "A.M." and "Being There" — represent the band's rootsy yet ambitious beginnings. Both are getting reissued, with fixings. $14.98-$110. wilco-reissue-store.com/
Tom Petty, remembered
"American Girl." "I Won't Back Down." "Free Falllin.'" "Even the Losers." This list could go on for days, but chances are you're already singing along. The death of Tom Petty this year brought to an end one of the most impressive and consistent hit-making careers in rock 'n' roll history. Relive the band at its most energetic with the four-CD set "The Live Anthology." $24.98. store.tompetty.com
'Hotel California' 40th anniversary
The Eagles' "Hotel California" will be reissued in a deluxe 40th-anniversary edition this holiday season, pairing the remastered original studio album with 10 live tracks recorded at the Forum in Inglewood around the time the work was released. The album itself became one of the bestselling albums of all time and logged eight weeks at No. 1 in 1977. It also helped define SoCal roots rock. $19.98-$99.98. eagles.com/
Underground American rock
Hüsker Dü is finally getting the retrospective treatment. "Savage Young Dü" is a must for fans of underground American rock, as the band had a punk fierceness but an adoration of all-things melodic. The band long resisted the reunion circuit, and drummer Grant Hart passed in 2017. This collection charts the band's early growth. $40-$85. numerogroup.com
Collector's edition
The creator of Afrobeat, Fela Kuti was a cultural leader as well as a musical revolutionary, as his timeless sounds reflected the spirit of the times. R&B great Erykah Badu curated this seven-album collection, for which only 3,000 copies will be made. $120. fela.net/
First time in the U.S.
Hiroshi Yoshimura may be little known outside of Japan, but investigate this one for fans of ambient, electronic music, for which Yoshimura was an innovator. So-called environmental music, this is the first time his debut album, "Music for Nine Post Cards," has been officially available in the U.S. $13-$20. lightintheattic.net
Transgender pioneer
Jackie Shane has been absent from music since 1971, and in those decades Shane has become something a soul legend, known in part for being a transgender pioneer. "Any Other Way" is the first attempt at a definitive collection of her riveting rhythm and blues. $25 numerogroup.com
For Disneyland superfans
Disneyland is a big part of SoCal nostalgia, and so much of that mood is captured by the music. Disney has released vinyl picture discs for three famous attractions — the Haunted Mansion, Pirates of the Caribbean and It's a Small World. Music that you can't get out of your head, for the moments you want them in your head. $21.98 each. disneymusic.shop.musictoday.com
Soundtrack to the Civil Rights era
Mavis Staples is an American treasure, and her work with the Staple Singers provided a soundtrack to the Civil Rights era. She's back with "If All I Was Was Black," a rather topical look at how little times have changes. Her lived-in voice is full of life, and the arrangements are subtly funky. $11.99-$19.99. anti.com
---
Please consider subscribing today to support stories like this one. Already a subscriber? Your support makes our work possible. Thank you. Get full access to our signature journalism for just 99 cents for the first four weeks.
---