Holiday gifts from the L.A. Times Test Kitchen
If you're considering homemade gifts for the holidays this year, there are plenty of ways to get creative in the kitchen. Not only are crafty gifts a thoughtful and creative way to show how much you care, they're a great way to stay on budget during the holiday season.
From chocolate-dipped pretzels to batches of freshly baked cookies and candies, gifts can range from ideas that come together quickly to more involved recipes. Homemade gifts also make great projects for kids.
The following are three unique gift ideas, each tailored to specific tastes:
Please the home cook or grilling fan in your life with a jar of homemade hickory-smoked sea salt. Bake up a tray of homemade granola for loved ones, personalizing each batch with dried fruit, nuts, chocolate chips or a combination of all three. And for something extra unique, infuse your own spiced cinnamon whiskey — the gift takes almost no time to prepare but is sure to be remembered. (Try a splash — or two — in the holiday eggnog.)
For additional gift ideas, we've compiled 25 of our favorite homemade holiday gift recipes, including cookies, marshmallows, caramel corn and more.
Play our gift guide game and find the perfect presents »
HOMEMADE GRANOLA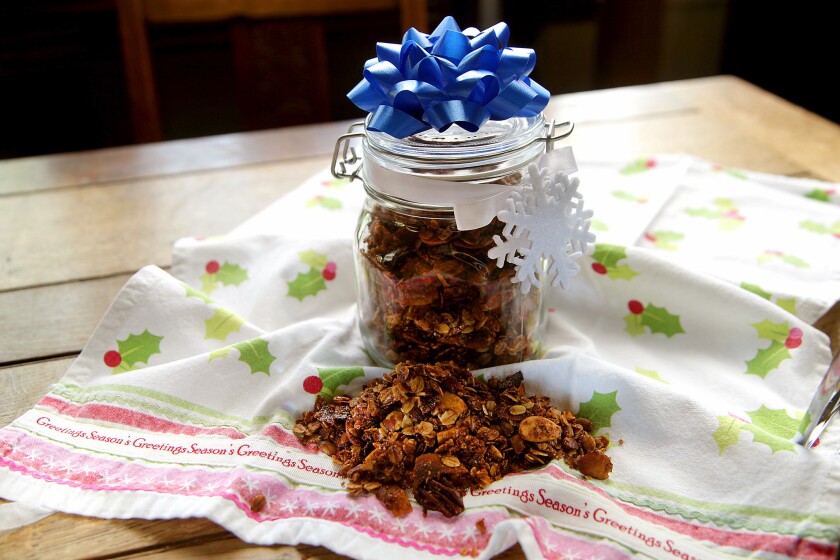 Recipe in our California Cookbook: Homemade granola »
Store-bought granola can be great, but it's hard to achieve the depth of flavor you can get by making it yourself. Combine oats, nuts shredded coconut with spices and sweetened with dark brown sugar and a drizzle of maple syrup, then bake until fragrant and nicely toasted. Once it's cooled, customize with a variety of flavorings to suit any particular tastes.
About 1 hour, plus cooling time. Makes about 2 quarts granola
3 cups old-fashioned rolled oats
1/4 cup plus 2 tablespoons wheat bran
1 cup pecan halves
1 cup sliced almonds
1 1/2 cups unsweetened flaked coconut
1 teaspoon salt
1 teaspoon ground cinnamon
1/2 teaspoon ground nutmeg
1/2 cup dark brown sugar
2/3 cup maple syrup or honey
1/2 cup canola or vegetable oil
Dried fruit, cacao nibs or chocolate chips, if desired
1. Heat the oven to 350 degrees.
2. In a large bowl, toss together the oats, wheat bran, pecans, almonds and coconut. Stir in the salt, cinnamon, nutmeg and brown sugar. Pour over the maple syrup and oil, mixing well to combine.
3. Spread the mixture out onto a rimmed baking sheet lined with parchment paper and bake, stirring occasionally, until the mixture is toasted to a nice, even golden brown, about 45 minutes.
4. Cool, then fold in the dried fruit, cacao nibs and/or chocolate chips to taste, if using. The granola will keep, sealed in an airtight container and stored in a cool, dry place, up to 2 weeks.
Each ¼ cup: Calories 183; Protein 4 grams; Carbohydrates 20 grams; Fiber 3 grams; Fat 11 grams; Saturated fat 3 grams; Cholesterol 0; Sugar 8 grams; Sodium 76 mg
Note: From Noelle Carter. Unsweetened flaked coconut can be found at select well-stocked supermarkets as well as cooking stores and online. Sweetened shredded coconut may be substituted, but decrease the brown sugar slightly to account for the sweetness of the coconut and note that the coconut will brown more quickly in the oven.
HICKORY-SMOKED SALT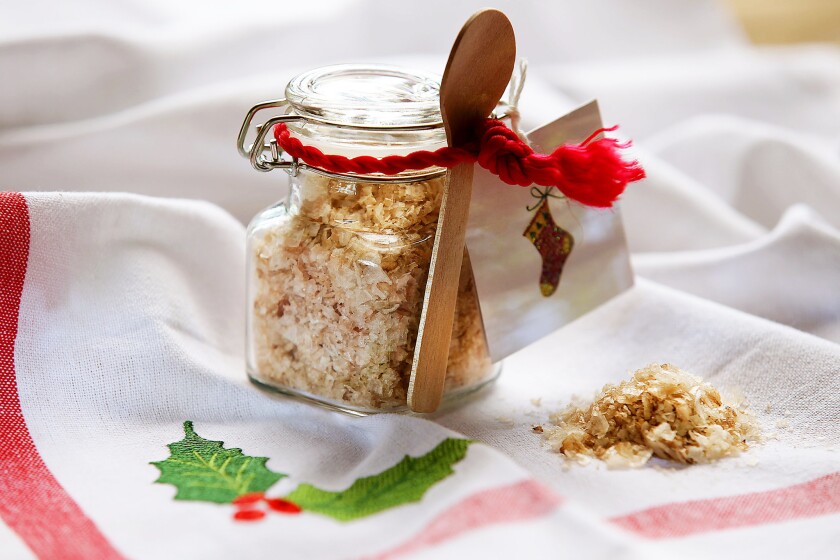 Recipe in our California Cookbook: Hickory-smoked salt »
Smoked salts are a simple yet thoughtful way to please the avid cook in your life, whether you flavor with hickory, mesquite or more subtle notes of pecan, cherry or alder. To flavor your own salt, slowly smoke coarse sea salt in a thin layer indirectly over smoking chips until the desired flavor is achieve. Use the salt to add a smoke flavoring to steaks and chops, roasted vegetables, or even as a flavorful rim to Bloody Marys or other cocktails.
1-2 hours. Makes 1 quart salt
1 quart coarse sea salt, preferably Maldon
Hickory chips, for smoking
Prepare your smoker for indirect smoking: Spread the salt in a shallow layers on rimmed, perforated pans (or fashion a rimmed "pan" out of heavy-duty foil, punching a few holes in the bottom using a skewer) to smoke over indirect heat. Smoke the salt, adding wood chips or shavings as needed, to continuously coat the salt with smoke particulate until the desired flavor and intensity is achieved. Turn off the smoker, and, when the salt is cool enough to handle, cover and store in an airtight container at room temperature. The salt will keep for months.
Each 1/8 teaspoon: Calories 0; Protein 0; Carbohydrates 0; Fiber 0; Fat 0; Cholesterol 0; Sugar 0; Sodium 290 mg
Note: From Noelle Carter. In lieu of hickory chips, you can flavor the salt with any type of wood and/or dried herbs or spices.
HOMEMADE CINNAMON-SPICED WHISKEY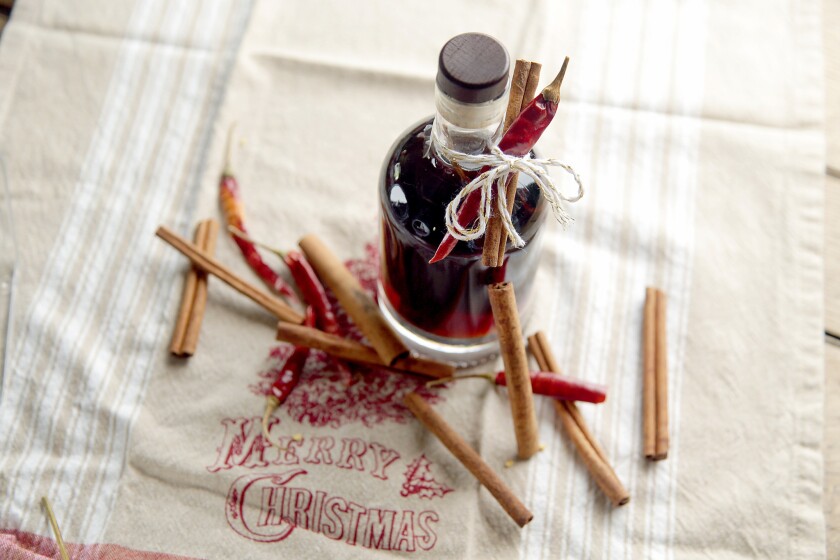 Recipe in our California Cookbook: Homemade cinnamon-spiced whiskey »
Sure you can find commercial spiced whiskey at any major supermarket, but have you ever considered how easy it is to make yourself? Flavor a bottle with brown sugar, and steep with a handful of cinnamon sticks and a dried red chile or two for a few days just until the flavor is right. One taste, and you may never want to try store-bought again.
5 minutes, plus steeping time. Makes about 750-ml flavored whiskey
1 (750-mL) bottle of whiskey, preferably bourbon
½ cup brown sugar
6 cinnamon sticks
2 dried red chiles
1. Pour the bottle of whiskey into a large, sealable nonreactive container. Add the brown sugar, stirring until it is dissolved. Add the cinnamon sticks and chiles. Cover and place in a cool, dark place for 3 to 5 days, or until desired flavor is achieved. Remove and discard the cinnamon sticks and chiles. The whiskey will keep, at room temperature, for 3 to 6 months.
Each ounce: Calories 82; Protein 0; Carbohydrates 4 grams; Fiber 0; Fat 0; Cholesterol 0; Sugar 4 grams; Sodium 2 mg
---