Illustration by Giordano Poloni / For The Times; animation by Jess Hutchison / Los Angeles Times
What's the ultimate gift for the food lover among your friends and family members? We sought gifts that are delicious, make life in the kitchen easier or bring a festive vibe to the table — and found something for everyone, whether practical or whimsical (sometimes both).
Plus, many are from local Los Angeles businesses, or are available online, of course.
Who wouldn't appreciate a pantry gift box stocked with food and crafts from California and Mexico, an elegant (and portable) coffee grinder, fish tongs for all those trendy sardine tins, fancy tomatoes or a mug that's also a work of art?
If you make a purchase using some of our links, the L.A. Times may be compensated.
Working on your holiday shopping? We've got you covered with recommendations for the best gifts to find in L.A.

L.A. in a Jar and 12 Days of Holiday Cookies zines
Give the gift of DIY jam and cookies. L.A. Times Food produced two cookbook zines: "L.A. in a Jar" and "12 Days of Holiday Cookies." The first is an all-you-need guide to preserving the best of California's spectacular fruit from season to season: apple butter, berry jelly, stone fruit jam and citrus marmalade. The latter contains recipes and tips for making holiday cookies that are L.A. in spirit: citrusy gingerbread palm trees, rosy-pink rugelach and creme pies with a golden spin. Both were written by cooking columnist Ben Mims. — Betty Hallock
$14 each at Shop LA Times
Eat My Socks
Fun socks are like dad jokes. The cheesier the better. Eat My Socks is a company that turns your favorite foods into socks. A stack of blueberry pancakes, a wheel of Camembert cheese, sushi rolls, tacos, paella and a full English breakfast are all cozy socks you can wear around the house. Each pair is printed and packaged to look like the real thing. I'll be making gift baskets with some picnic-provisions socks: the baguette, the wedge of blue cheese, the supreme salami and maybe a bottle of red wine socks too. You can find the full menu online and a few of the more popular pairs (the sushi!) at L.A. some retailers. — Jenn Harris
From $15.95 at Eat My Socks
California Heat spice blend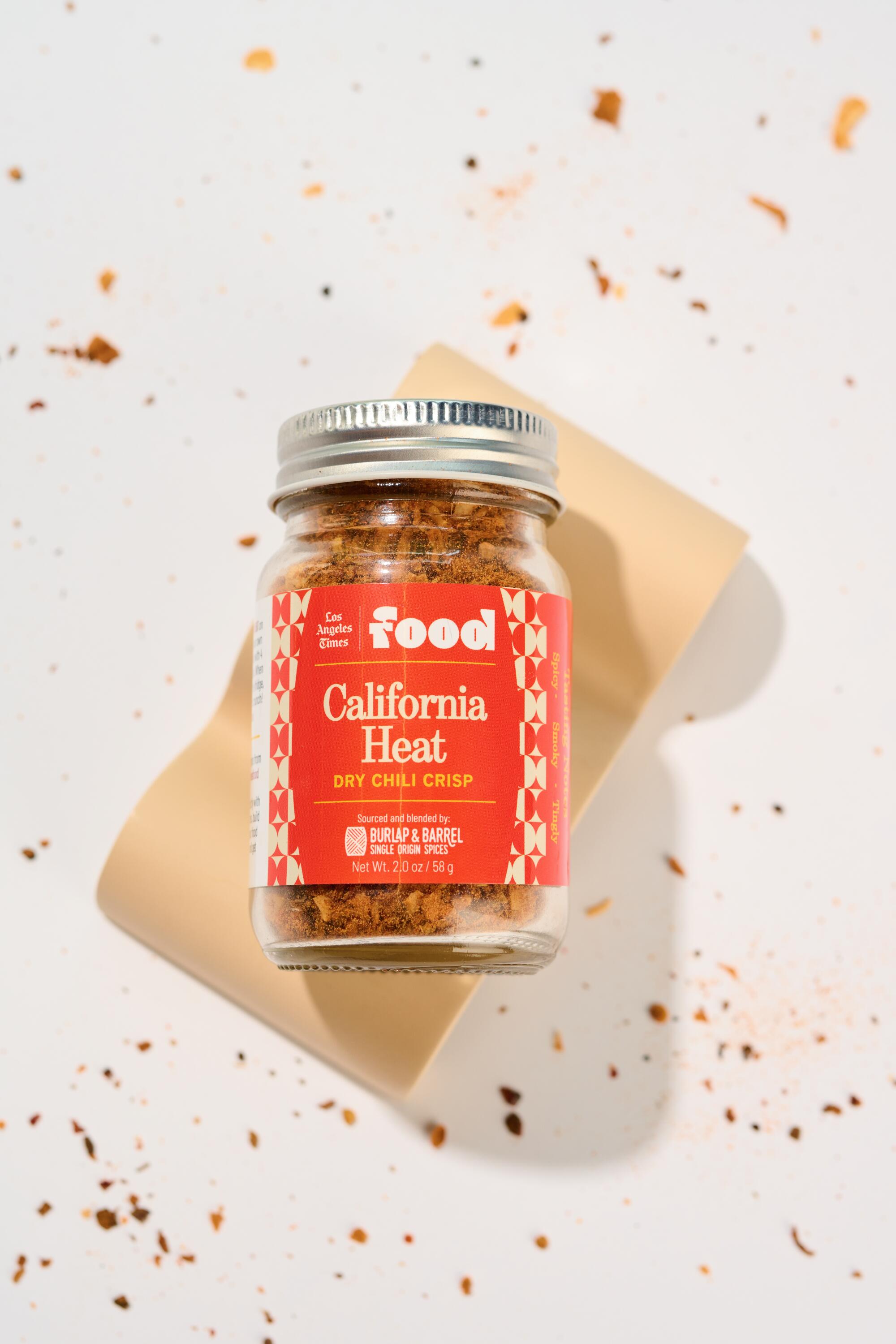 The L.A. Times Food staff teamed up with Burlap & Barrel to create a spice blend in a genre of its own. Inspired by the fiery-tinged crisps and oils we love, we made an easy-to-use sprinkle, capturing the essence of California flavors — citrus-y and spicy. Mexican chiles, Southeast Asian lemongrass and Middle Eastern black lime are ingredients that also speak to some of our favorite cuisines across L.A. The red jalapeños and smoked chipotle are grown in California at Fire Tongue Farms. And the wild Timur pepper (a cousin of tingly Sichuan peppercorns) and Zanzibar black pepper bring their distinct fruity, lemony qualities. Make room in your spice cabinet for California Heat. — B.H.
$11.99 at Burlap & Barrel
Fishwife fish tongs, hats and more
Confession: I'm a tinned fish girlie. I remember eating canned sardines in tomato sauce as a child when my nanny would pair them with rice for an after-school snack. Like many, I was reintroduced to tinned fish during the pandemic when it became a luxury pantry item, with a slew of women-led brands launching on the West Coast. Fishwife leads the pack with responsibly sourced tins of sardines with preserved lemon, slow-smoked mackerel and creative collaborations like smoked Atlantic salmon canned in Fly by Jing's Sichuan chili crisp. Nab a pair of stainless steel fish tongs for easily extracting seafood from its tin or celebrate the anchovy lovers in your life with a bundle that includes a jungle-green "Anchovy Club" hat with banana-yellow scrawl, a tin of Cantabrian anchovies in extra virgin olive oil and snacking toothpicks. Look out for limited-edition Fishwife gear announced via Instagram. — Danielle Dorsey
$27-$140 at Fishwife
Peter Shire coffee mug
Born and raised and still working in Echo Park, ceramic artist Peter Shire's sculptural interpretations of the teapot in the 1970s scored him an invitation to work in Milan with Ettore Sottsass, a founder of the Memphis Group that revitalized product design in full, bold color. These coffee mugs are accessible works of art, and surprisingly comfy to hold. They are, as Sottsass once said about Shire's work, "fresh, witty and full of information for the future." Which is exactly what I want to drink my coffee from. — B.H.
$90 ($81 for members) at LACMA Store
Explore the most captivating experiences in California, whip up 12 days of holiday cookies, find recipes for the best jams and preserves and much more with gifts from Shop L.A. Times.
Casa Marrazzo jarred tomatoes
These might be the ultimate jarred tomatoes. Casa Marrazzo began as a small family farm in 1934 and is known for the quality and careful packaging of its Campania tomatoes — not only the San Marzano DOP (the label for protected designation of origin) but other varieties such as Piennolo, Ercolano and Corbarino. The newly designed tapered glass jar is meant to be saved: It's emblazoned with screen-printed graphics of kitchen tools created by Auge Design — stylized potholders, graters, spoons, cups. Whole San Marzanos are packed with basil. Ercolano yellow cherry tomatoes and the salty-sweet pomodorini Corbarino are preserved in brine. Use the brine in your tomato martinis. And don't throw out the jar: Keep it for storing grains, spices or other staples, or as a container for flowers, your philodendron cuttings or all those attempts at growing an avocado tree from a seed. — B.H.
$15 at Mad Rose Specialty Foods
My Everyday Lagos
"My Everyday Lagos: Nigerian Cooking at Home and in the Diaspora" is the first cookbook from New York Times columnist Yewande Komolafe, written with the deftness of a seasoned pro. Komolafe has been developing recipes influenced by her Nigerian heritage for almost two decades. Her recipes eschew pandering to Western cooking methods and tastes and instead offer up the cooking true to Nigeria. Meanwhile, her writing evokes the warmth and grace of a teacher guiding you through the process in real time. With extensive primers such as those for fermented pantry staples and starches, Komolafe's book is an indispensable cookbook that extends our knowledge beyond the "general Africa" tomes to real understanding of regional cooking in Nigeria and West Africa. For anyone who loves exploring the world through cookbooks, it's a must-have. — Ben Mims
$35 at Penguin Random House
Porlex Mini Grinder II
When my countertop burr grinder broke, I picked up this slender, portable grinder from my local coffee shop: It turns out it's a keeper! I've hand-cranked coffee beans with it every morning for more than a year. Its ceramic burr set, made in Kagoshima, Japan, is adjustable (mine's set for pour-overs), and compared to the Porlex Mini Grinder I, the Mini Grinder II produces more ground coffee with the same number of rotations. It's slim, durable, elegant and, for traveling coffee geeks, fits inside an Aeropress. — B.H.
$84 at Porlex Grinders
Smallhold mushroom dust trio
These mushroom powders are the latest umami boosters from urban fungi farmers Smallhold. Each seasoning blend is meant to represent Smallhold's respective farms in Los Angeles, Brooklyn and Austin. The sweet and spicy L.A. version combines trumpet mushrooms with sea salt, maple sugar, soy sauce powder, gochugaru, aromatics and black sesame seeds. Use it to coat vegetables or tofu, mix it into a meat marinade or spaghetti sauce, or sprinkle it on your scrambled eggs. The Brooklyn blend is a crunchy, 'shroomy rendition of everything-bagel seasoning, and the Austin blend is smoky and BBQ-esque. I love the jars' hefty, domed wooden lids, which means more containers to save rather than throw away when all their contents are gone. — B.H.
$29 at Smallhold
Sunset Cultures vinegars and jams
I've been a fan of Sunset Cultures' kombucha made from farmers market produce for years. Now, Balo Orozco, the owner of Sunset Cultures, is making fruit vinegars with the same vibrancy and lush fruit flavors as his kombucha, using up excess fruit so nothing goes to waste. He's also working with David Prado, formerly the maestro behind Sqirl's world-famous jams, to make Prado's fruit preserves with the same eye toward sustainability and zero waste. Both products are great gifts for anyone, whether their tastes are more savory or more sweet, looking to enjoy Southern California's produce in a new, sustainable form. — B.M.
$17-$20 at Sunset Cultures
Aceto balsamico of Monticello
In a farm nestled in the high desert of central New Mexico, Steve and Jane Darland have spent the past few decades crafting Italian-style balsamic vinegar with only one ingredient: certified organic Italian grapes raised on the Darlands' land. The result is their aceto balsamico of Monticello — a 21-year aged traditional balsamic. In the early 1990s, the Darlands left their hectic life in the Bay Area for the 50–or-so-person village of Monticello (pronounced with an "s," not a "ch"), where they planted more than 2,000 grapevines. Their concoction is aged in rare wood casks from Modena, Italy. The resulting balsamic vinegar is incredibly viscous with a nuanced flavor. Drizzle some of this elixir on vanilla ice cream or prosciutto-wrapped melon slices. — Cindy Carcamo
$42-$154 at Organicbalsamic.com
Woon Dumpling candles
Woon, the Historic Filipinotown restaurant from mother-and-son team Keegan and Mama Fong (Julie Chen Fong), turns out bowls of chewy beef noodles, plates of five-spice chicken wings and pillowy bao left and right. Their plump, hand-formed dumplings can be found seared fresh on Friday and Saturday nights or in frozen form to take home, but for those who want their dumplings on full display, the Fongs will do you one better. Woon sells a trio of dumpling-shaped soy-and-beeswax candles, which come three to a pack and are made by local artist Cindy Uhm, who crafted a mold from Mama Fong's frozen dumplings. Given their compact size, their burn time ranges from five minutes for the smallest candle to 21 minutes for the largest; these are ideal for display or, as Keegan Fong prefers, to use in lieu of birthday candles on a cake. Now that's festive. Find them in the restaurant's online shop or look for the little white-and-red Chinese food takeout box filled with dumpling candles at stores such as Wine and Eggs. — Stephanie Breijo
$16 at Woon
Alta pantry sauces
Want to spice up your home cooking game à la one of the best restaurants in L.A.? West Adams' "Cali-soul" restaurant Alta Adams recently expanded its line of pantry items. Smoked oil plays a pivotal role in chef/co-owner Keith Corbin's cooking at Alta Adams (and soon it will at Locol too, which is set to reopen). Using a technique that co-owner/chef Daniel Patterson developed at his now-shuttered two-Michelin-starred restaurant, Coi, the wood-smoked safflower oil lends a meaty (but totally vegan) hint to greens, red beans, breaded tofu and other dishes, and can be used as a cooking or finishing oil. The longtime favorite Fresno-chile hot sauce is bright and packs a unique bite thanks to the peppers' heat mingling with white wine vinegar, all made in ode to Crystal hot sauce, Corbin's favorite. The newest addition, a smoked-apple barbecue sauce, is just-right sweet, gloriously smoky and laden with Dijon mustard, honey and warming spices — ideal for meats and marinades or as a condiment on, well, just about anything. — S.B.
$12 each or $32.40 for all three at Alta Adams or at 5357-5359 W. Adams Blvd., Los Angeles
Kitchen goods from the Wax Apple
Juliana Hung started the Wax Apple in 2017 as a love letter to Taiwan and a way to connect with home and her family. Hung, who grew up in Taiwan and studied industrial design at ArtCenter in Pasadena, has carefully curated her shop with items that remind her of "a day with my grandmother in Taiwan." Many of the pieces have rich backstories, or are selected with an eye toward local artisans and materials. Kitchen knives from Maestro Wu are literal bombshells — made from salvaged artillery shells fired at the Kinmen Islands. Hinoki chopsticks are made with Taiwan cypress wood, and Taiwan beer glasses are made for drinking, well, Taiwan Beer (although you can drink what you like from them). Orders received after Dec. 6 will ship after the holidays. — Lucas Kwan Peterson
$10-$125 at the Wax Apple
Zeroll ice cream scoop
The scoop of scoops. A favorite among culinary professionals and product reviewers, the Zeroll has been effortlessly scooping ice cream since 1933. The sleek handle is equally suited for righties and lefties, and there are no levers, sweepers or other moving parts to hamper the process or results. It easily rolls well-formed orbs that readily release from the scoop. The magic is in the heat-conductive fluid inside the otherwise hollow handle. The liquid responds to body heat and warms the metal of the scoop just enough to create the little bit of melt that allows it easy entry into even the hardest ice cream and then to glide right through it. I first used it as an ice cream shop employee in the last century. One caveat: Heat from the dishwasher will deactivate the magic fluid in the handle. Hand wash it in warm, soapy water. — Julie Giuffrida
$24.99 at Zeroll Original Scoops
Jacobsen sea salt slide tins
Most people who cook for a living have a high salt tolerance, and I'm no exception. And I've lost count of the amount of times I've been out to dinner at a fancy restaurant and needed salt but didn't want to offend the chef by asking for it. So instead, I keep a tin of Jacobsen Sea Salt in my pocket for those emergency seasoning moments. It makes a great gift for anyone else in your life who's always asking the server for the shaker. It's slim and discreet, which you'll have to be to get that pinch of salt from the tin to that bland crudo on the table. — B.M.
$6 at Jacobsen Salt Co.
P.F. Candle Co. persimmon cider candle
You can often tell the quality of a great restaurant by how their restrooms are kept. And many of the best I know always have a P.F. Candle Co. candle burning in the restroom. In business in Los Angeles since 2008, many of their best fragrances hew toward floral or alpine notes that bring the smells of California — whether it's the redwood forests, the beach or the desert — into your home. While I'm not often a fan of food-scented candles, theirs are always done with restraint, and their new persimmon cider candle is no different. It smells like a fresh-baked persimmon cake and bubbling cinnamon cider at once, but without any cloying aromas of either. It makes a great gift for those who love to smell their food as much as they love to eat it. — B.M. (Shop for the new L.A. Times Plants X P.F. Candle Co. California native plants candles here.)
$24 at P.F. Candle Co.
The Los Angeles Times Community Fund builds vital service programs and initiatives within The Times and Greater L.A. Tax-deductible donations support literacy programs, local charities and more. Donate now.
Alta Baja pantry box
Delilah Snell, owner of Alta Baja Market in Santa Ana, handpicks a collection of some of her customers' favorite staples and accompanies it with meal ideas and recipes. Lucky recipients receive a treasure trove of delicious items from her specialty store and cafe, which features food and crafts from California, Mexico and the American Southwest. The box includes a pound of beautiful blue corn meal from Ancestral Foods, a Native-owned company based in Albuquerque. It's the same cornmeal that Snell uses for the popular blue cornbread she makes and serves in her cafe. The recipe comes with the box. But I'm most excited about all her hand-crafted spices — from a zesty citrus pepper made with local limes and lemons to a spicy Chimayo green chile salt that's perfect on eggs. Snell also includes a bag from her sister business Daughter's Granola. — C.C.
$82 at Alta Baja Market (or save yourself the shipping cost and pick up at the store inside 4th Street Market at 201 E. 4th St. in Santa Ana)
Building Block 'bubble carafe'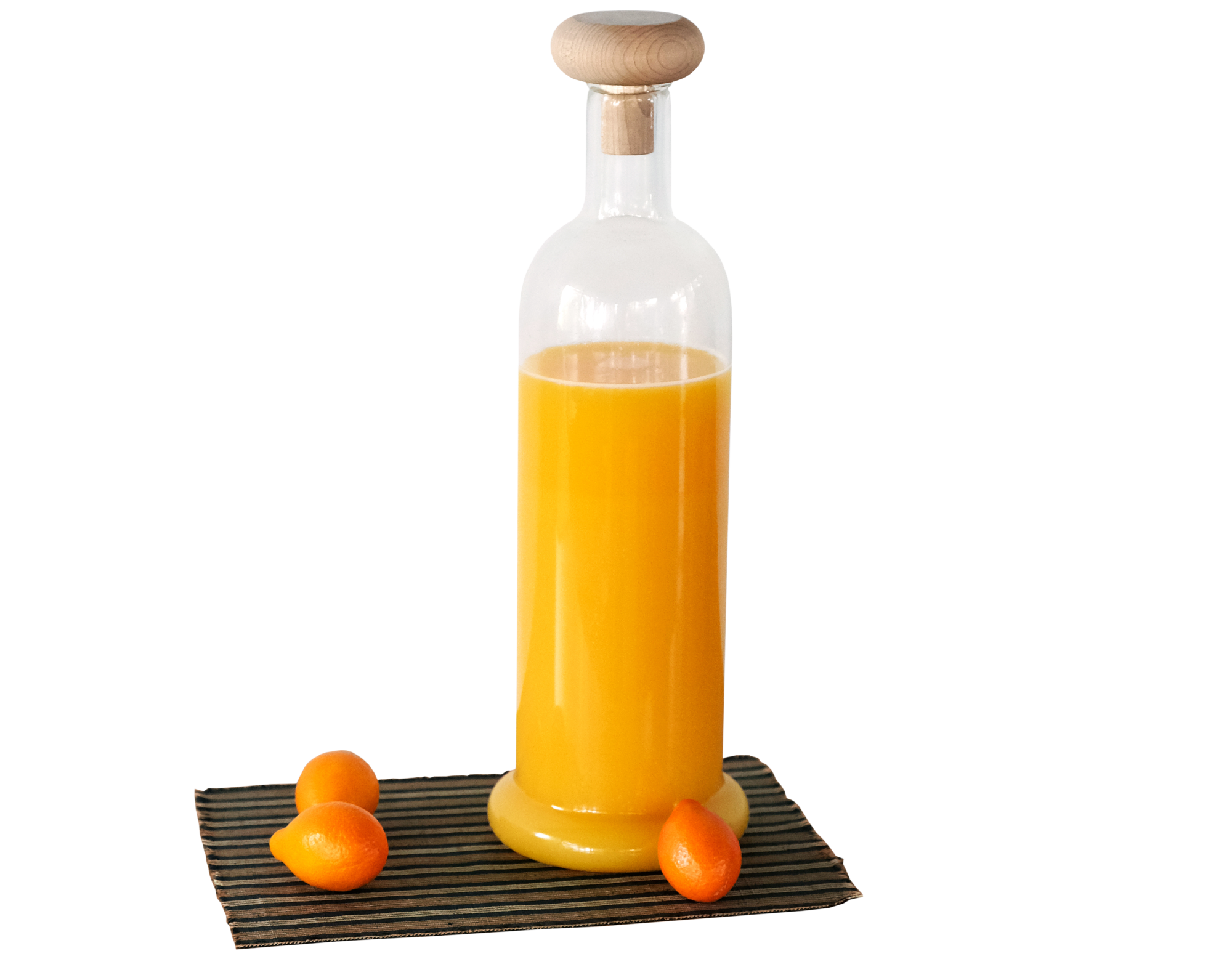 Building Block, an independent L.A. accessories brand with a studio in Chinatown, recently branched out to sell a small selection of home goods. Founded by sisters Kimberly and Nancy Wu, their online shop now includes ceramic dishes such as scalloped bowls and coffee pour-over sets made by artist Takeshi Omura and this hand-blown glass bottle, called the "bubble carafe" for its bulbous base. It holds 25 ounces (or 740ml), which is nearly a whole bottle of wine, and has a sculptural wooden stopper. It's handsome enough for pouring Barolo and easygoing enough for orange juice. — B.H.
$175 at Building Block
Prices and availability of items in the Gift Guide are subject to change.
More gift guides
Get our L.A. Goes Out newsletter, with the week's best events, to help you explore and experience our city.
You may occasionally receive promotional content from the Los Angeles Times.