Don't make these 5 mistakes when buying luxury sheets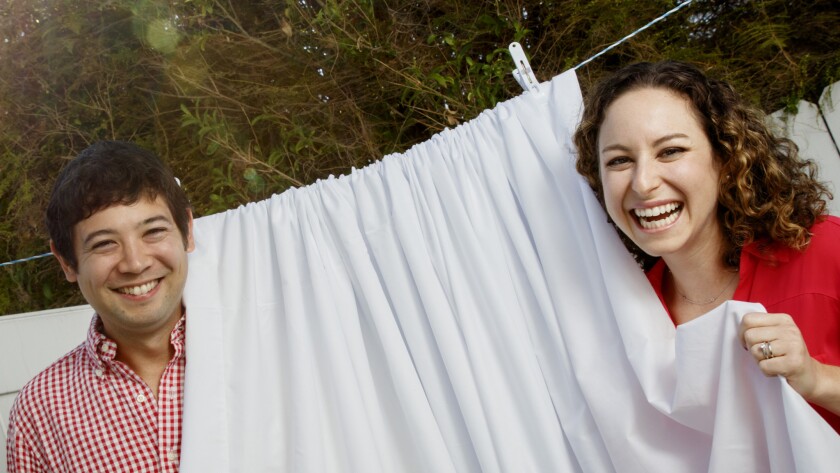 We spend as much as one-third of our lives asleep. It only makes sense to invest in a good night's rest by finding the perfect set of sheets, so we asked Jimmy and Stephanie MacDonald, founders of Redondo Beach-based Authenticity 50, for some tips.
The husband-and-wife team has scoured the country for partners that would allow their company to produce bedding made in the U.S., in the process learning what makes a great set of sheets.
Unlike other companies that claim their products are made in the U.S.A. based on where their cotton is grown or their bedding is sewn, Authenticity 50 offers sheets that are made domestically from seed to stitch. The cotton is grown in the San Joaquin Valley; the thread is spun in Georgia; and the fabric is woven, cut and sewn in the Carolinas. Items are sold online at authenticity50.com with a refund if, after 100 nights, customers aren't satisfied.
Here's what the MacDonalds have to say:
1. Extra long cotton fiber is extra better
"If you want to have high-quality sheets, you need quality cotton," says Jimmy. That means extra long staple cotton, a cotton fiber that is 1 3/8 inches or longer. The additional length allows the cotton to be spun into a durable single-ply thread that can then be woven into a softer, finer fabric.
Since fiber length is rarely touted, an easy way to check is to see whether the sheets are made of Supima cotton. "The Supima Assn. of America knows every grower it works with, so when you say Supima cotton, it has a verified provenance," Stephanie says.
Stephanie McDonald, co-founder of bedding maker Authenticty 50, demonstrates a technique for folding a fitted sheet.
Cotton provenance has been a hot topic lately, especially after Walmart and Target dropped products from Welspun India Ltd. over allegations that the manufacturer had mislabeled sheets as being made of high-end Egyptian cotton. The Cotton Egypt Assn., the organization that licenses and certifies suppliers using Egyptian cotton, estimates that as much as 90% of products labeled "Egyptian cotton" are fakes. The Supima association, on the other hand, has more stringent quality control.
2. Choose percale unless you have sensitive skin
"Percale weave is the best to sleep in, except for those with extra sensitive skin," says Jimmy. Because percale has one horizontal yarn for every vertical yarn in the weave, it results in a more breathable sheet, which can stand up to repeated washing.
Sateen, in contrast, features four vertical yarns for every horizontal yarn, which results in a tighter weave and a smoother hand feel, but it can be more susceptible to piling.
3. Count the stitches
Construction is key. "Make sure your sheets are not made cheaply," says Stephanie. A telltale sign of good sheets is the presence of high-grade elastic all around — not just in the four corners.
If you're extra vigilant, break out the ruler and make sure there are 10 or more stitches per inch on your sheets. Or simply peek into the stitching of the pillowcase. "That'll give you an indication of what the rest of the sheets are going to look like," says Stephanie.
Stephanie and Jimmy McDonald, co-founders of bedding maker Authenticty 50, demonstrate their duvet burrito roll trick - a quick and easy way to fit a duvet into its slipcover.
Cheaper sets are made with five to seven stitches per inch. Jimmy says. "More stitches per inch costs more to manufacture, because it takes longer for the sewing machine to finish, but the sheets won't fall apart after multiple washes."
4. Wrinkles welcome
Wrinkles may be a good thing when it comes to sheets, the MacDonalds say. To create wrinkle-resistant fabric, the sheets are treated with a resin that releases formaldehyde, a chemical closely associated with embalming fluid. "I don't want to be laying my face in something that's been cooked in a known carcinogen," says Jimmy.
Rather than search for wrinkle-free sheets, try placing your sheets on your bed as soon as they're done drying. The leftover heat from the process will help you smooth out the wrinkles by hand.
5. Look for an honest thread count
"The highest thread count with a percale weave is 350 and 500 for sateen," says Jimmy.
Anything above that is a marketing ploy where manufacturers use multi-ply yarns instead of stronger single-ply ones. "It's like braiding hair," says Jimmy. "You take yarn and spin them together to make one thick yarn to make the fabric. But that creates lower-quality, heavy yarn, which tends to unravel, pill or break." Given that sly bit of math, an 800-count sheet could really be a 200-count sheet made using four-ply yarn.
---