We profiled a family's Idyllwild cabin just before the fires. What happened to them?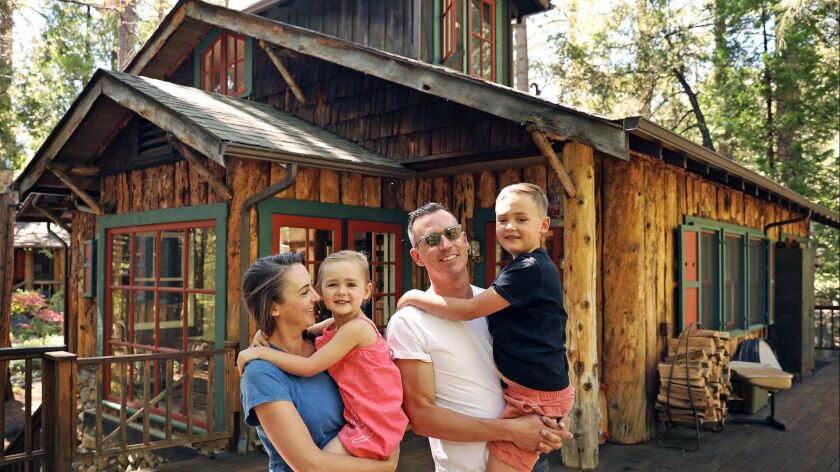 Our July 20 profile on Catherine and Michael Donovan and their Idyllwild cabin generated a big response from readers who worried about the couple and their two children following the Cranston fire.
Now that the fire is contained, readers wondered, is the family — and their cabin — safe?
Catherine Donovan emailed to let us know that the family returned to Idyllwild on Monday and were "exhausted, but thankful."
Her email continues:
"Our family evacuated on Wednesday afternoon [July 25] and fortunately we had enough time to grab photos, the kids' art and other sentimental belongings along with our Silver Streak trailer. As we were loading boxes into our cars we noticed a hawk, two deer and a butterfly go into the yard. It was this amazing moment in the chaos and a reminder of why we moved here. Things looked bleak when we drove down the mountain along the 243 wondering what, if anything, we'd come back to. We stayed with friends in the Carlsbad area and were looped in on happenings in Idyllwild from a handful of contacts that stayed in town."
The good news is the property is exactly as they left it along with the small mountain town's village square, shops and restaurants. The town even received some rain on Tuesday.
Catherine credits firefighters and other first responders who are still working to contain the fire.
"Many residents both live and work in town so the fire has had a double impact," Catherine said. "The sooner visitors are back eating, hiking and enjoying nature the better. We did a quick loop through town this evening and the community's spirit is unbroken."
ALSO:
Leaving L.A. behind for a small-town mountain retreat
Years of preparation helped prevent a fire disaster in Idyllwild
---