Cranston fire in Idyllwild 29% contained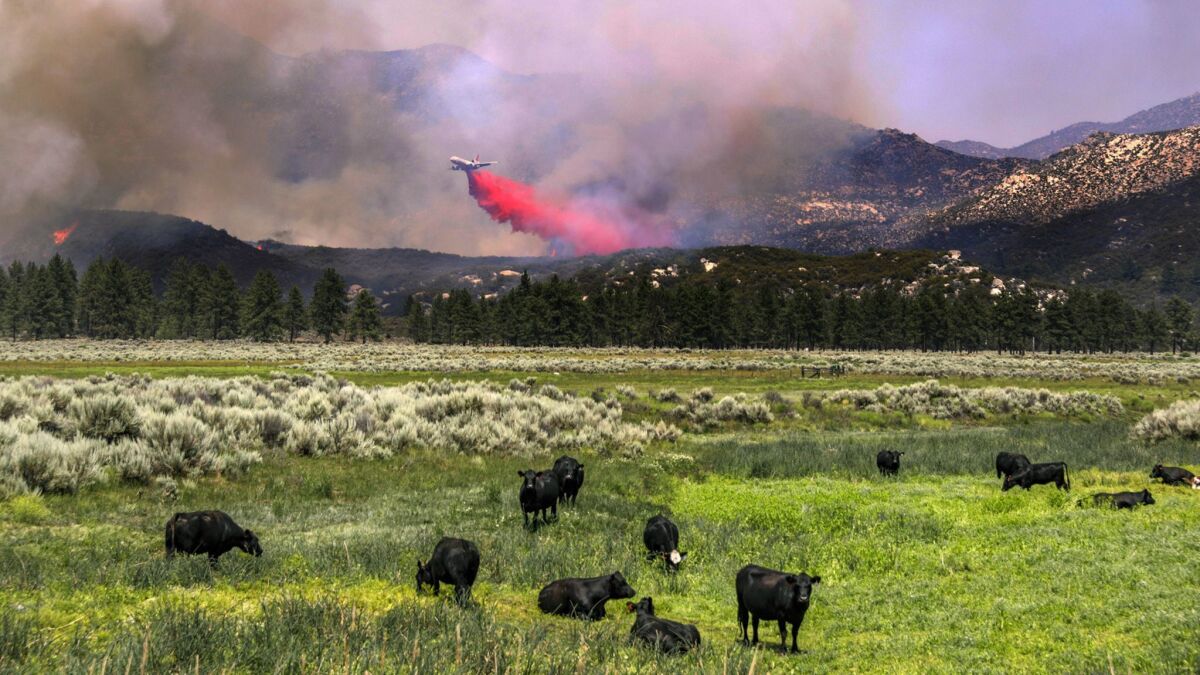 Firefighters battling a 13,100-acre wildfire in Riverside County continued to make steady progress Saturday against the stubborn blaze, which has forced the evacuation of thousands of residents in and around Idyllwild.
The Cranston fire was 29% contained as of Saturday evening, with more than 13,100 acres burned. Authorities say it was started by an arsonist Wednesday morning.
For the record:
11:10 a.m. July 30, 2018This article states that Yosemite National Park was closed due to the fire. Only parts of the park, including Yosemite Valley, are closed. This article also states that Cal Fire bulldozer operator was killed battling the Ferguson fire on the day it erupted. He died the following day.
Evacuations remained in place for 7,000 people, including residents and campers at Mt. San Jacinto State Park.
Firefighters Saturday concentrated on the south ridge east of Idyllwild to keep the fire from spreading to Fern Valley, said Rebecca Miller, a spokeswoman with the U.S. Forest Service. She said the strong, upslope winds could affect suppression efforts, with timber, brush and chaparral acting as fuels.
Fire-control resources are stretched thin by other fires around the state. Still, more than 1,300 personnel were helping battle the blaze, including from the Cal Fire Riverside unit, the Idyllwild Fire Protection District and Riverside County Fire Department.
Two firefighters were treated for minor injuries, Miller said.
Fire officials credited years of pre-planning for helping to divert a major disaster. Efforts included the removal of thousands of dead and dying trees, construction of miles of firebreaks, and detailed evacuation plans.
The community's disaster plan was based on a variety of fire scenarios that identified staging areas for firefighters, equipment and safety zones, as well as escape routes for evacuees, officials said.
Brandon N. McGlover, the Temecula man authorities say started the Cranston fire, was charged Friday with starting nine separate fires. All nine were set Wednesday in the Idyllwild, Anza and Sage areas. He faces 15 felony counts: one of aggravated arson, five of arson of an inhabited structure and nine of arson of forest or wildland.
McGlover, 32, pleaded not guilty to all 15 charges and a judge set his bail at $3.5 million, according to the Riverside County district attorney's office. If convicted on all counts, he faces up to life in prison.
Authorities estimate the fire could be contained by Aug.9.
Meanwhile, Yosemite National Park remains closed as the Ferguson fire burns well into its second week, taking a firefighter's life and consuming 51,600 acres. The vegetation fire, which started July 13, continues to threaten thousands of structures.
A Cal Fire bulldozer operator was killed battling the fire on the day it erupted and seven others have been injured since, officials said.
Firefighters were working on a new containment line along the northern perimeter of the fire that has shrunk the amount of available fuel for the fire, officials said. As of Saturday, the fire was 30% contained.
Full containment is expected Aug. 15. The cause of the fire remains under investigation.
Times staff writer Marisa Gerber contributed to this report.
andrea.castillo@latimes.com | Twitter: @andreamcastillo
---
UPDATES:
8:20 p.m.: This article was updated with the latest containment and acreage figures for the Cranston and Ferguson fires.
This article was originally published at 12:25 p.m.
---
The stories shaping California
Get up to speed with our Essential California newsletter, sent six days a week.
You may occasionally receive promotional content from the Los Angeles Times.